Last Updated on June 8, 2023 by andrewtk
Maybe this post should be called 'Best Books For Affiliate Marketers', rather than 'Best Affiliate Marketing Books'.
Because it is more a list of books that are useful to affiliate marketers, rather than a collection of books all about affiliate marketing, and affiliate marketing only.
I don't really see the point in writing a post that lists six or seven books all about affiliate marketing and how it works, because, well, once you know how it works, you know how it works.
Better to offer up a list of a few books that I reckon are all seriously useful to affiliate marketers.
That's why these books cover everything from the basics of affiliate marketing, through to SEO, writing great copy and marketing funnels.
Basically the skills you're going to need to be a great affiliate marketer.
If you're one of those tedious tl;dr types, here's a quick list that might be able to hold your toddler-like attention span…
Best Affiliate Marketing Books
From Nothing
Affiliate Marketing: Launch a Six Figure Business…
Crackerjack Selling Secrets
SEO 2020
DotCom Secrets
Purple Cow
Everybody Writes
If you want to read just a little bit of background on each of these top books, here it is…
#1. From Nothing
Author: Ian Pribyl
Skill Level: Beginner
Ian Pribyl did himself proud when he turned-out this book.
From Nothing is a step-by-step tutorial on starting your own affiliate site and turning it into a profitable business.
While it's true to say that this book is aimed at affiliate marketing beginners, I've been affiliate marketing for a few years now and I still found it a great read.
Not just a great read, but a useful read. It never hurts to check the foundations of your business and make sure you haven't forgotten any important basics.
It shows that Ian Pribyl is himself a successful affiliate and online marketer. He has an impressive 15 year track record of building, and sometimes flipping, a number of websites across multiple niches.
Something I really love about this book is that Ian assumes readers have a budget of just $100 to get off the ground, and so its approach is to show you how to do just that.
When it comes to pure affiliate marketing books, this is a top read and I can't recommend it highly enough.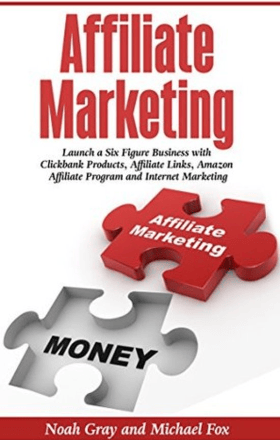 #2. Affiliate Marketing: Launch a Six Figure Business…
Author: Noah Gray & Michael Fox
Skill Level: Beginner to Intermediate
This is very detailed pure affiliate marketing book.
And it really does start at the very beginning, including a brief (thankfully) history of affiliate marketing.
It goes on to explain just about everything you could want to know when starting out. It covers the definition of affiliate marketing, how to get started, potential pitfalls, plus info on a few beginner friendly affiliate programs and networks.
The book also digs into areas such as niche analysis and selection, developing your content strategy, getting traffic, conversion optimisation and SEO.
It's only fair to point out this book contains quite a few proofreading errors, and it could be better structured, but, personally, I can forgive them these annoyances and still rate it as a must-read for anyone looking to get started in affiliate marketing.
#3. Crackerjack Selling Secrets
Author: Ben Settle
Skill Level: Intermediate to Advanced
Crackerjack Selling Secrets is a short little gem, written with perfect clarity by the very gifted writer/copywriter Ben Settle.
I'm on Ben Settle's email list, which I should say is not for the fainthearted, as he emails everyday, sometimes twice a day and occasionally three times a day.
This guys is a lifelong student of both writing and human behaviour.
And that's why this book is not about the 'how to's of affiliate marketing but about understanding what influences people's buying decisions.
What makes people buy? What makes people buy from the people they buy from?
This is a hard subject to cover without sounding shady. Sounding like you just want to relive someone of their hard earned money and never hear from them again.
But that is not what this book is about.
Ben Settle is all about being long-term greedy. That is to say, that if the first time you make a sale to somebody, they are delighted with what they bought from you, they are highly likely to buy from you over and over again.
This is a book of tried and tested selling principles that deliver without you ever having to feel like you've duped someone, or pressured them into making a purchase they didn't really want to make.
When you get to the stage of your affiliate marketing adventures as to start really thinking about how and what you write, make this the first book you turn to.
#4. SEO 2020
Author: Adam Clarke
Skill Level: Beginner to Intermediate
Writing a book all about SEO is a pretty brave thing to do, because it's a constantly and rapidly changing subject.
Adam Clarke has done a great job with this one as at the time of reading, it looks to be bang up to date.
SEO 2020 covers everything from how google works, through the technicalities of properly optimising your website for improved rankings, to how to use pay-per-click advertising to market your business online.
This is a quick read (maybe two or three hours) that provides a comprehensive round-up of SEO essentials.
#5. DotCom Secrets
Author: Russell Brunson
Skill Level: Intermediate to Advanced
If you know anything about Russell Brunson you will know that has a something close to a life-long obsession with sales funnels.
I think he started out getting interested in direct-mail advertising when he was about thirteen or fourteen. This was way back in the dayas before the internet.
Russell's enthusiasm for his subject really shows through in this book.
I would absolutely recommend this as a must read for anyone who is at that point where they want to start trying to maximise every visitor interaction on their website.
This book will show you how to turn leads into qualified subscribers, subscribers into buyers, and buyers into brand enthusiasts. When you have brand enthusiasts, you have a real business on your hands.
#6. Purple Cow
Author: Seth Godin
Skill Level: Intermediate to Advanced
Seth Godin has brilliant marketing mind and this book is one of his very finest.
As I've come to expect from anything written by Seth Godin, this book is thought provoking, as well as being easy to read. When reading his books I generally find myself spending as much time staring into the middle distance while thinking, as I do reading.
The crux of this book is that you should be confident in not following the crowd as it will be you ability to stand out from the crowd that will be a big factor in your marketing success.
If you choose to build a site that is identical to a bunch of others, instead of creating something unique, then what is going to make people pay attention to you and your site?
The answer is absolutely nothing. So be brave enough to be a little different.
#7. Everybody Writes: Your Go-To Guide to Creating Ridiculously Good Content
Author: Ann Handley
Skill Level: Beginner
If your plans as an affiliate marketer are to outsource all of your content writing then this one will be of little interest to you.
Personally I like writing my own content and choose to outsource other tasks rather than this one.
That's why I like this book by Ann Handley so much, because it's all about how to write better and better content.
At the heart of this great read is to pretty much forget what you were taught at school about writing and instead learn to write engaging content that draws people in by connecting with them.
When I'm starting out writing a new piece of content, I always use the twelve-step process that is taught in this book.
This is my essential book to own, read and use if you are serious about taking your content writing up by a few levels.
Can You Learn Affiliate Marketing From A Book?
I think what you can learn from a book is the foundations and framework of affiliate marketing.
That's fine, and it will get you some of the way, but what really sets the super-successful affiliate marketers apart is their bang up to date, cutting edge knowledge.
And to this end, a decent affiliate marketing course (which I know are not easy to find) will be continuously updated by the course owners, to make sure that their students stay ahead of the pack.
This is not to say that the pure affiliate marketing books I've mentioned above aren't worth your time, they are, because they'll give you a great foundation knowledge. I'm just not certain that alone they will give you the all the tools needed to become really successful.
Best Affiliate Marketing Books – Wrapping It Up
It's a bit of a mixed bunch that I've listed above.
We've got some out-and-out affiliate marketing books as well as a number of books focusing on very specific skills.
And that's what affiliate marketing is about, understanding the way the whole thing works, and then developing your skills in the key areas.
P.S.
If you're thinking about maybe spending some cash on a course to fast-track your affiliate marketing success…
…check out my post all about who I believe are currently offering the best training courses for affiliate marketers.
Want More Stuff Like This?

Straight To Your Inbox
Then sign-up to thedoublethink free newsletter and get strategies I only share with subscribers...for free!
Thank you for subscribing.
Something went wrong.