Last Updated on January 5, 2022 by andrewtk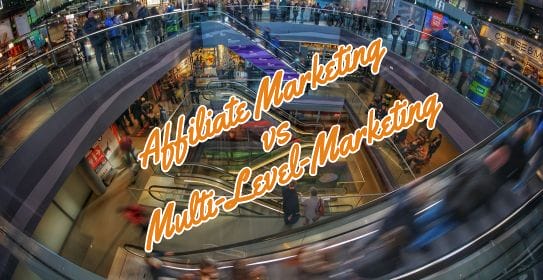 Having experience of both, and having settled on one, I know which is my personal preference.
But thankfully, we are all different, and that's why I thought I'd write this unbiased Affiliate Marketing vs MLM head-to-head post.
Can't decide which path to follow? Let's try and un-muddy the waters for you a little…
What is Affiliate Marketing?
Affiliate Marketing is simply promoting the products and services of third-party product owners, and these days, it's usually all online.
The product owner supplies the affiliate with a referral link and when somebody clicks on that link, and then goes on to make a purchase, the affiliate gets paid a commission.
As an affiliate marketer you are free to promote numerous different products and services and earn commissions from each of them.
You do not sign-up exclusively to one product owner.
Most affiliate marketers tend to pick a selection of products that all fit into one niche, and thereby appeal to the group of people who share that common interest.
So for example, I might decide on the camping niche.
I would build a website, and/or a Facebook page, or say a YouTube channel, all about camping. I would add valuable content and hopefully get a following. And I would promote my product links to my following.
Done right, affiliate marketing is very scale-able.
If you want to find out more, try this post about exactly how affiliate marketing works.
What is Multi-Level Marketing?
Often abbreviated to MLM, also referred to as Network Marketing, and sometime labelled as Pyramid Schemes.
MLM businesses distribute their products/services via person-to-person sales.
So you are selling directly to other people, possibly at your home, or their home, or maybe online.
In general, there are two ways to make money with MLM:
You go out and make sales to anyone you can convince to buy the product or service;

You recruit new distributors and make commissions based on what they sell to their own customers.
Here's the real kicker…
…when the people that you personally recruited, in-turn go out and recruit new distributors themselves, all of these extra new recruits will also form part of your network.
And yes, you will also earn commissions based on what all of these folks go out and sell.
And so it goes on, and on, and on.
If you didn't know already, I'm sure you'll be coming to realise that this business model is as much about building your network of product distributors, as it is about selling products yourself.
Probably more so, if you want to make the real big bucks!
Here's a neat little network marketing commissions calculator that may help you visualise how much you're dreaming of earning.
Affiliate Marketing vs MLM – 6 Big Differences
#1. Start-Up Costs
Affiliate Marketing
Pretty minimal cash outlay when you set out as an affiliate marketer, which is a big attraction.
If you're going to go down the route of affiliate marketing via your own website, there will clearly be an outlay of your own time, which can be considerable.
But, you don't have to start with a website. There are plenty of affiliate marketers who start out using other platforms such as Instagram or Facebook.
Personally I would always advise new affiliate marketers to consider investing some money in themselves when they are starting out. You can seriously ramp up your chances of success by joining a high-quality affiliate marketing course.
Multi-Level-Marketing
Extremely variable probably sums it up best.
Some MLM companies require you to pay-to-join, and the figure can be pretty steep.
All require you to buy your upfront stock of products, which is entirely fair enough. You just need to keep this in mind as a cost coming your way when you are planning your start-up budget.
#2. Product Options
Affiliate Marketing
This is undoubtedly one of the big attractions of affiliate marketing.
You have close to total control over the products or services you sell. It's not all in your hands though. A product owner may decline your request to market their product…and it does happen.
That said, you still have an almost endless number of products to chose from, so it becomes more about learning how consistently pick long-term winners.
Multi-Level-Marketing
With MLM you have the range of products available from your chosen MLM company.
So if it's Avon, you can only sell the Avon range. If it's Herbalife, only the Herbalife range.
#3. Commission Arrangements
Affiliate Marketing
This is usually pretty straightforward. Commission rates are all agreed upfront so not much tends to go wrong in this area.
You will definitely want to find out about both the cookie duration, and convention, being used by the product owner as these will potentially impact how attractive an offer is for you to market.
Other than that, you'll probably want to run a few checks to make sure the product owners affiliate tracking software is logging the clicks on your links correctly…and as long as they are, you are good to go!
Multi-Level-Marketing
In a word…complicated. And frustratingly so.
Variable commission rates dependent on all sorts of different variables.
How much product have you sold? How much has your network sold? What level are you at in the network? How many new recruits did you sign-up? How many did your downline network sign-up?
Man alive, Multi-Level-Marketing companies seem to love convoluted!
#4. Sales Targets
Affiliate Marketing
I believe there are a very small number of product owners that impose some arbitrary minimums for their affiliate's to achieve in order to remain approved on their programs.
Mostly that is not the case.
Mostly it's whatever targets you want to impose upon yourself.
Multi-Level-Marketing
The majority of MLM companies do impose some kind of minimum sales targets on their members.
As far as I know they are quite low so not a massive concern. But if you miss them often you will have your membership stripped…read the small print when you sign-up.
#5. Business Support
Affiliate Marketing
It's just you and your laptop! You either love that idea, or you hate it.
Multi-Level-Marketing
The bid MLM companies seem to do a pretty good job at rolling out business support to their membership.
It's in their interests to try and make sure that members have got the best resources possible to help maximise both sales and recruitment.
#6. Sales Style
Affiliate Marketing
This is all very much done at arms length.
You're going to be the face of your website, or YouTube channel, or whatever other channel you've chosen. But it's highly unlikely you're ever going to be making any face-to-face sales pitches.
Multi-Level-Marketing
Well you might as well get your head around this now…
…with MLM, you are going to be pestering just about everyone you know, to either join your network and help out trying to make you rich, or at the very least buy your stuff.
If you're over the age of twenty, you've done pretty well if you have so far avoided the invite round to a friends house…you're thinking it's a mid-week party, a bit odd, but hey, you roll with it.
It is not a mid-week party.
Your friend, soon to be relegated to the status of casual acquaintance, has sold you one, big time. You've just arrived at their MLM recruitment evening! Ain't you the lucky one!
Affiliate Marketing vs MLM – Wrapping It Up
I think that if you really feel like you are a born, out-and-out salesperson, then maybe MLM could be a good road for you to go down.
But remember, you don't need to be only comfortable selling your stuff to friends, family and whoever else will listen…
…you also need to be super comfortable selling your friends, family and whoever else will listen the MLM 'business opportunity' itself. Personally, I cringe at the thought.
So it's no surprise to say that for me affiliate marketing is the clear winner. But hey, thankfully we are all different.
Whichever way you choose to go, approach it with your eyes wide-open.
Want More Stuff Like This?

Straight To Your Inbox
Then sign-up to thedoublethink free newsletter and get strategies I only share with subscribers...for free!
Thank you for subscribing.
Something went wrong.