Last Updated on April 1, 2022 by andrewtk
Copywriting and content writing is an essential skill for any business.
But it can be difficult to produce high-quality copy without the help of a professional writer.
And as we all know, turning out decent content takes time. A lot of time.
That's where ai copywriting tools come in!
This type of software uses artificial intelligence to help you write better copy, quicker.
Much quicker! Like, 4 X quicker!
In this blog post, we will discuss exactly what ai copywriting software is, as well as its strengths and weaknesses.
We will also take a look at the 5 best ai copywriting tools currently available and discuss their features and benefits!
Enough chat, let's get going…
What Is AI Copywriting Software?
AI copywriting software uses artificial intelligence to help you write better marketing copy and web content.
AI or 'artificial intelligence' is computer programming that allows machines to perform tasks that would otherwise require human intelligence.
These machines are often programmed with algorithms that allow them to rapidly and accurately learn from experience.
Currently, the vast majority of ai copywriting tools are using GPT-3 technology.
AI copywriting software learns what to write by analyzing the text that you provide it with, then analyzing existing content from the web and processing it into something new, and usually plagiarism-free.
It then uses this information to improve its own writing skills. This software is constantly learning, so the more you use it, the better it will get!
How You Can Benefit From Using An AI Copywriting Tool
Copywriters and marketers can benefit from using AI copywriting software in a few ways.
First, it can help you to quickly come up with ideas for attention grabbing titles and headlines, topics, and content.
The best thing that using an ai copywriting tool has done for me, is to drastically improve the time it takes to get the first draft down.
I've tripled the amount of content I can produce and publish across my sites.
The software can also help you to improve your writing style and make your copy more readable.
Additionally, AI copywriting software can help you to optimize your content for search engines, making it more likely to be found by potential customers.
AI Copywriting Benefits And Limitations
When it comes to AI copywriting software, there are some clear benefits – such as the ability to quickly create high-quality content that is consistent with your brand voice.
I used to spend a couple of hours getting my first draft down for a new post. but using Jasper AI, it takes me about twenty minutes.
However, there are also some limitations to consider.
For example, ai copywriting tools can't always account for all the nuances of human communication, and they may not be able to produce content that is truly tailored to your specific audience.
Additionally, AI copywriting software can be expensive, so it may not be feasible for smaller businesses or organizations.
What Is The Best AI Copywriting Tool?
#1. Jasper AI
Jasper AI is an artificial intelligence tool that automates the production of web content for your website, social media channels, online ads etc.
It employs cutting-edge natural language processing and machine learning to generate readable, engaging, and SEO-friendly text in a matter of seconds.
You can utilize dozens of templates or produce unique material using Jasper's "Boss Mode" function,
Jasper AI is one of the best AI copywriting software tools available.
It's the ai copywriting software that I'm using.
Key Benefits
Quickly create high-quality content
Helps to optimize your content for search engines
Gets you a professional copywriter without paying an arm and a leg
Creates marketing copy that exceeds expectations
Creates articles, blog posts, white papers, social media posts and more
Comes with a huge library of content templates
Pricing
Users can choose from a monthly or yearly subscription plan based on expected usage. The cost of the simplest package is $29 per month, and it allows you to produce short-form text.
Boss Mode, the most popular service, starts at $59 per month and lets you utilize all of the sophisticated features, including Jarvis Commands and a 3,000 character look-back.
Both plans come with a 7-Day money-back guarantee.
#2. Copy AI
CopyAI is a platform that uses artificial intelligence to generate content for businesses.
It can be used by anyone looking to create professional-quality marketing content in a fraction of the time without sacrificing quality.
CopyAI has been designed from the ground up with powerful AI and machine learning algorithms, giving marketers access to generated copy that will never sound robotic or lack style.
And thanks to its intuitive interface, CopyAI is easy enough for even non-marketers and beginners to use…so you don't need a degree in computer science or years of experience coding just to get started!
Key Benefits
A standout feature of CopyAI is how simple it is to get started.
You simply need to provide just a few words to start generating copy, such as Instagram captions, product descriptions, facebook ads etc.
What sets Copy AI apart, however, is its collection of idea-generating tools. Whether you're looking for a viral post concept or just don't know how to start a new piece of blog content, CopyAI will get you fired up.
Pricing
There are two plans you can choose from.
The "Solo" plan costs $420 a year (charged monthly at $35) or $49 if you opt to pay on a rolling monthly basis.
The "Multiple Seats" package is more suitable for larger enterprises and is priced on request.
Get Copy AI's 7-Day Free Trial.
#3. Outranking AI
Outranking AI is a software tool for copywriting and content marketing.
It's designed to automate the process of writing articles, blog posts, landing pages, SEO-optimized webpages, or other types of text that need to be optimized for search engines.
Outranking AI can also analyze data from your website and suggest changes in order to improve its ranking on Google.
It's available as a desktop application or a plugin for WordPress websites.
Key Benefits
Outline Builder and Topic Writer save time and can produce a 1,500-word doc in under 30 mins
Compares your content to competitors and enables you to outdo them with your fresh content
Optimize and fine-tune your current pages and push you further up the SERPs
If your writers use Google Docs to create articles, Outranking is simple to integrate
Directly import content from the Outranking editor into WordPress with their WordPress plugin
Pricing
The Starter plan is the simplest and most basic plan, at $39 per month. It includes 10 documents, unlimited AI writing, and 10 SERP analyses in addition to all of the essential features.
The Growth plan is ideal for individuals seeking to expand their company using Outranking. It costs $79 per month and provides you with 30 documents, unrestricted AI writing, and 30 SERP analyses.
The Professional plan is for small and medium-sized businesses, agencies, and enterprises. It costs $159 a month and allows you to generate 100 documents, 100 SERP analyses, unlimited AI writing, and add up to three team members to work on projects.
Get Outranking's 7-Day Free Trial.
#4. Copysmith
Copysmith is a AI copywriting tool that can help you write better content faster.
It uses artificial intelligence to analyze your content and give you feedback on how to improve it.
Copysmith also offers a plagiarism checker to make sure your content is original.
Copysmith uses a variety of AI technologies, including natural language processing and machine learning, to help you write better content.
Key Benefits
Copysmith has a wonderful selection of tools for time-crunched marketing personnel and copywriters.
Copysmith can even produce a complete FAQ section for you, as well as unlimited product descriptions, if you run an online business.
Do you have a slogan for your business that would help it grow? Copysmith can transform your brand concept into appealing, memorable marketing copy.
Pricing
Starter: $19/mo
Professional: $59/mo – For the power user taking their copy to the next level.
Enterprise: Contact for pricing – For small team collaboration across projects.
Get Copysmith's 7-Day Free Trial.
#5. Writesonic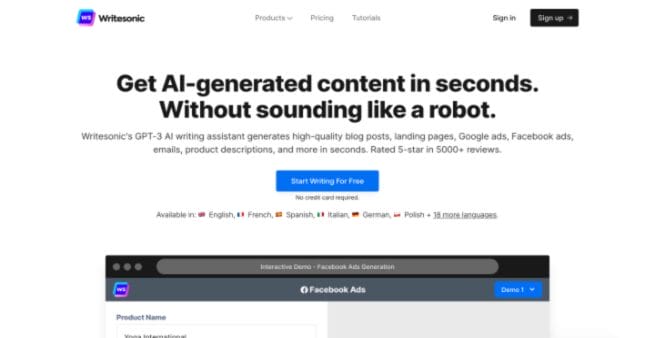 In seconds, Writesonic's GPT-3 AI writing assistant produces high-quality blog entries, landing pages, Google advertising, Facebook advertising, emails, product descriptions, and other internet content.
With a rating of 5 stars from over 5000 customers, it's clearly doing a lot of things right.
Key Benefits
Writesonic is perfect for marketers who want to let go of the more routine writing activities, such as writing SEO meta descriptions.
The landing page creator is one of the main attractions of Writesonic. You can quickly generate a fully optimized, engaging landing page simply by providing just a little seed data.
Pricing
Basic: $15/month
Professional: $45/month
Startup: $95/month – For startups and small businesses.
Agency: $195/month – For businesses and agencies who need copywriting at scale.
Get Writesonic's 7-Day Free Trial.
Will AI Replace Copywriters?
AI copywriting software is a new trend in the world of content marketing. These tools are designed to make the job of writing easier, faster and more efficient.
And some people worry that AI will replace human writers altogether.
In my opinion, AI will not entirely replace most copywriters.
AI can assist but cannot fully replace effective copywriters because it has no understanding of emotions and empathy, the two most essential qualities of powerful marketing copy.
Will AI Replace Content Writers?
Some of the AI copywriting software listed above may be able to replace some content writers, but as far as things stand at the moment, none of them can entirely replace decent content writers.
Best AI Copywriting Software – Wrapping It Up!
Copywriting is a skill that can be difficult to master, but with the help of AI copywriting software, it can become much easier…certainly quicker to get the first draft nailed at the very least.
In this blog post, we discussed what AI copywriting software is and how it can benefit you.
We also took a look at 5 of the best AI copywriting tools currently available and discussed their features and benefits.
Overall, using AI copywriting software can help you write better copy faster and more easily.
However, like all tools, there are both strengths and weaknesses to consider before making a decision about whether or not to use them.
So weigh your options carefully before choosing the right tool for you!
Want More Stuff Like This?

Straight To Your Inbox
Then sign-up to thedoublethink free newsletter and get strategies I only share with subscribers...for free!
Thank you for subscribing.
Something went wrong.