Authority Hacker Pro Review…
…a Quick SnapShot:
EFFECTIVENESS
USEABILITY
SUPPORT
PRICE

Summary:
Are you genuinely Interested in taking your affiliate & authority sites to the next level?..

…if yes, the guys at Authority Hacker know exactly how to get you there, and they share it all inside this outstanding course!
 
Authority Hacker Pro…is it open?
No need to kick off this Authority Hacker Pro Review by introducing you to the idea of affiliate marketing and what it's all about.
Because if you're seriously considering investing in Authority Hacker Pro, it's pretty likely you're already running a site and making a few bucks from it every month.
That's what the Authority Hacker Pro program is all about, getting your site from making in the region of $3,000 to $10,000 a month…
…to something in the region of $10,000 to $25,000+ a month.
Serious stuff! Exciting stuff!
Just in case you don't already know, Authority Hacker run two courses:
Authority Hacker Pro: For intermediate and advanced marketers who already have a profitable website, or two, and are looking to kick on to the level of advanced affiliate.
The Authority Site System 3.0: A complete system for how to start, build, and grow, highly profitable affiliate and authority sites. Aimed at beginners and intermediates.
This review is all about Authority Hacker Pro…but I have also written a full review of 'The Authority Site System' if you fancy reading that too.
…is Authority Hacker Pro the right Affiliate training course for you?
It may well be if you are an existing site owner, either struggling with the question of what to do next to really push on, and/or, how to do that thing to really push your site on.
AH Pro will solve both of these problems for you.
Let's start at the very beginning…
What Even Is Authority Hacker Pro?
Authority Hacker Pro is a complete affiliate marketing training program, first created by Mark Webster and Gael Breton just a few years back.
Both of these founders had been running their own successful affiliate marketing business for a number of years before creating this course.
Since it's launch in 2015, the Authority Hacker Pro training has been almost constantly updated to reflect latest best practises.
In fact, these guys spend so much time revamping their training program…
…that they're only able to open it up to new entrants twice, sometimes three, times a year.
Yes, the bad news is that Authority Hacker Pro is closed more often that it's open.
Authority Hacker Pro – Is It The Right Course For You?
This is a top course costing a fair few big bucks.
Does it deliver?
Let's have a look at what's inside.
Authority Hacker Pro – What's Inside?..and how it can make you a top-level Affiliate Marketer
There is an absolute ton of content inside AH Pro.
Let's start with a simple high-level overview of the whole course and how it's structured.
Very basically, AH Pro is delivered across 17 blueprints, each of which contains a number of modules to work through. Inside each module you will find both video and text lessons.
I tend to think of each of these blueprints as being a course in itself.
The 17 Authority Hacker Pro blueprints are split into these 6 main categories:
Content (4 blueprints)
Convert (4 blueprints)
Engage (4 blueprints)
Link Building (3 blueprints)
Site Speed (1 blueprint)
Start (you'll see why 'Start' is at no. 6 in a minute)
The full course is put together in modular format, so you can start with whichever blueprint you choose. there is no prescribed order to work through.
So that's the outline structure of everything you're going to get inside of AH Pro.
Let's take a closer look at what's inside each of the categories:
Authority Hacker Pro – Categories & Blueprints
Category #1: Content (4 Blueprints)
Blueprint #1: Growth Hacks Tips & Tricks
This blueprint contains a bunch of tips and tricks that you can use as standalone tactics to give your site a boost.
These are highly implementable lessons of only about 5 to 10 minutes each meaning you can get going in no time.
This blueprint is updated very regularly with new tactics, so you'll want to make sure you keep an eye on it.
Affiliate Marketing Tips – (4 Lessons)
Onpage SEO and Content Tips – (5 Lessons)
Website and WordPress Tips – (3 Lessons)
Management – (1 Lesson)
Link Building Tips – (5 lessons)
Blueprint #2: Editorial System
In this blueprint you'll be shown how to run a team of content creators, link builders, SEOs, editors and everything in between with super efficiency.
You'll get all the information you need to make this work, plus a bunch of done-for-you templates that will save you endless amounts of time.
Creating an Asana Work Environment – (4 Lessons)
Day to Day Usage – (6 Lessons)
Content Templates – List Post – (8 Lessons)
Content Templates – Single Review – (6 Lessons)
Content Templates – Roundup Review – (6 Lessons)
Content Templates – Alternatives – (6 Lessons)
Content Templates – Vs – (6 Lessons)
Content Templates – Question Post – (5 Lessons)
Content Templates – How to Post – (5 Lessons)
Content Templates – Industry Roundup – (5 Lessons)
Blueprint #3: Building Your Editorial Team
Building quality content at scale is hard…which I'm sure you already know!
This blueprint will teach you exactly how you can solve this massive problem that all authority site owners face when growing their sites.
How to Build Your Content Team – (14 Lessons)
Blueprint #4: Keyword Research
This is a clearly explained, easy to implement keyword research method that can be quickly executed and easily taught to employees.
Introduction to Keyword Research – (5 Lessons)
Preparing Keyword Research Documents – (4 Lessons)
Keyword Research Tactics – (7 Lessons)
Implementation – (3 Lessons)
---
Category #2: Convert (4 Blueprints)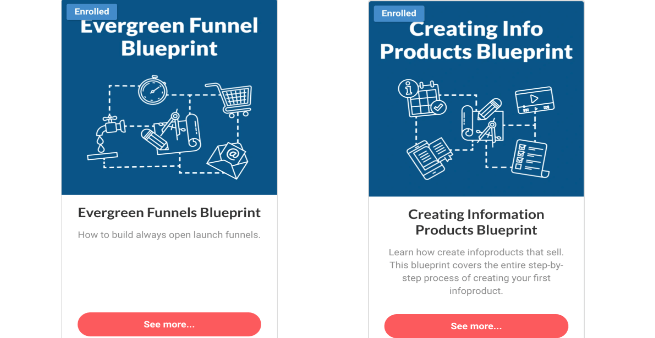 Blueprint #1: Evergreen Funnels
This blueprint shows you how you can use evergreen scarcity to build a powerful marketing funnel.
You'll also learn about the different approaches you can take with your funnels and when you should use each of them.
Evergreen Funnels – (9 Lessons)
Blueprint #2: Creating Info Products
This is all about how to carry out market research on potential info-products. How to test and validate your ideas, without having to first create them.
And of course, how to actually create your info-product.
Deciding – (3 Lessons)
Understanding – (2 Lessons)
Doing – (5 Lessons)
Infoproduct Bonuses – (2 Lessons)
Blueprint #3: Selling Your Site
I know you're not thinking about this right now, but one day, you will.
This blueprint will teach you how to evaluate your site, where to list it and. how to close the deal to make sure you maximise your profits.
Preparation – (4 Lessons)
Listing and Negotiating – (4 Lessons)
Closing the Deal – (3 Lessons)
Case Studies – (2 Lessons)
Blueprint #3: Affiliate Marketing
How to find and drive traffic to top quality, high paying affiliate offers.
You will also learn how to presell offers with content and how to link keywords and offers.
Plus real-life setups of mini funnels that are making sales for the Authority Hacker guys right now.
Affiliate Marketing – (9 Lessons)
Real Life Setups – (5 Lessons)
---
Category #3: Engage (4 Blueprints)
Blueprint #1: Lead Magnet Creation
In this blueprint you will find out how to create the highest converting lead magnets for your business.
You will also be given Authority Hacker's two recommended lead magnet templates, as well as learning the right way to deliver lead magnets.
Lead Magnets – (8 Lessons)
Blueprint #2: Giveaways
In this blueprint you'll learn exactly why giveaways are such a great lead generation tool.
As well as this, you will be shown how to setup your giveaways, promote them and eventually monetise them.
Giveaways Setup – (2 Lessons)
Promotion – (8 Lessons)
Blueprint #3: Content Promotion
In this blueprint you learn how to find and use social communities to promote your content, as well as how to build your own social channels to spread your content further.
Plus a content golden nugget to get your subscribers to help with content promotion.
Befriending Influencers – (5 Lessons)
Leveraging Social Communities – (7 Lessons)
Content Nuggets – (3 Lessons)
Blueprint #4: Email Marketing
In short, this blueprint is about properly segmenting your subscribers and thereby effectively monetising your email list without burning it.
Email Marketing – (4 Lessons)
Broadcast Email – (5 Lessons)
Automation – (8 Lessons)
Email Marketing FAQ's – (1 Lessons)
---
Category #4: Link Building (3 Blueprints)
Blueprint #1: Guest Posting
When it comes to guest posting, the devil is in the detail.
Authority hacker have spent years perfecting the process to get the very best results, and they share it all in this blueprint.
Prospecting Strategies – (5 Lessons)
Email Prospecting – (7 Lessons)
Initial Sending – (9 Lessons)
Negotiation – (4 Lessons)
Submissions & Tracking – (4 Lessons)
Blueprint #2: HARO
Help A Reporter Out (HARO) is a great way to build high quality links.
HARO link building isn't that hard, but most people get it badly wrong. This blueprint will show you how to get it right.
Editorial Links with HARO – (10 Lessons)
Blueprint #3: Shotgun Skyscraper
The basic technique of the Shotgun Skyscraper method is simple, but the links are won dependent on how it's executed.
This method works so well that the Authority hacker sell it as a standalone course for something like $997.
Link building is the hardest part of SEO, but this blueprint will show you how to do it effectively and at massive scale.
Shotgun Skyscraper 101 – (3 Lessons)
Keywords & Content – (3 lessons)
Gathering Prospects – (4 Lessons)
Data management – (5 Lessons)
Initial Outreach – (4 Lessons)
Negotiation – (11 Lessons) 
Advanced Tactics – (13 Lessons)
SOPs & Job Descriptions
---
Category #5: Site Speed (1 Blueprint)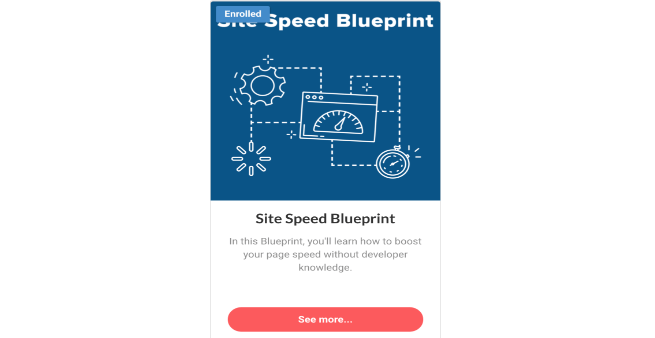 In this standalone blueprint, you will learn how to boost page speed without a developer. You will learn a number of different methods to boost site speed for all budgets.
Pre-Requisites – (1 Lesson)
Free Improvements – (1 Lesson)
Paid Improvements – (2 Lessons)
---
Category #6: Start (1 Blueprint)
You remember how at the start of this Authority Hacker Pro review I mentioned how Authority Hacker run two main courses, well this is the other one that is aimed at new affiliate marketers.
Even though this course sells for $997 itself, you get it thrown in with AH Pro.
And it's this very course that set me on the right track in affiliate marketing a few tears back.
---
6 Powerful Ways Authority Hacker Pro Can Turn You Into A Super-Affiliate…
#

1.


Scaling up your content production for massive results;
Authority Hacker will teach you exactly how to put a high-quality content production process in place. From researching the topics and keywords, through to how to provide content writers with guidelines and reviewing their work.
#

2.


Link Building for big ranking gains;
The bane of every affiliate marketer and authority site owners life. But it has to be done, so you might as well do it right. The link building blueprints in AH Pro give you three clear and proven strategies for building high-quality, powerful links.
#

3.


Lead Magnets that actually work;
AH Pro has a ton of valuable lessons all about lead magnets and how to use them effectively. learning how to do this will boost your conversions endlessly.
#

4.


Higher conversions with evergreen funnels;
I thought I had my funnels working well until I employed the strategies that I learnt inside AH Pro. The funnel blueprints could be wrapped up and sold as a course all on their own.
#

5.


Building your site portfolio;
You may of course be more than happy running just the one site. I know I was until it started to dawn on me that I had all of my eggs in one basket and that maybe diversifying could be a good idea.
The training inside AH Pro shows you every piece of detail you need to research, validate an set-up a new site, from scratch.
#

6.


Because they make it so easy to follow;
All of the quality course content in the world would be useless if it wasn't put together in a crystal-clear, easy-to-follow way.
AH Pro is all the more powerful because of how easy it is to dive into any chosen blueprint, follow the whole topic through, while at the same time implementing what you've learnt.
Before we take a run-down the extra stuff you get on top of the core training program, let's some questions answered…
Authority Hacker Pro Review – FAQ's
Does AH Pro come with a money-back guarantee?
Yes, Authority hacker Pro comes with a 30-Day 100% money-back guarantee, no questions asked!
Does the AH Pro course go out of date?
Mark and Gael are constantly updating the program. Regardless of when you buy in, you will always be given access to the updates.
Are there any high-quality AH Pro alternatives?
For the level they are pitching this at, which is intermediate to advanced site owners looking to push into the $10k to $25k+ per month income bracket, I don't believe there are any viable alternatives right now.
Is AH Pro a good choice for affiliate marketing beginners?
Not really. The Authority Site System is their course aimed at beginners. Read my full TASS review if you think it could be a better fit for you.
Here's what you get on top of the course material itself…
Lifetime Access To Authority Hacker Pro Community
Do not under-estimate the value of a great community resource.
They are a rare thing.
I mean, community resources are not rare, every online course has got one. But a great one, it's almost unheard of.
Authority Hacker give you access to their 'AH Pro' private Facebook group. And here you will find some incredibly knowledgable affiliate marketers, all very willing to help you out as and when you have questions.
This is a small community of online marketers who are all still actively growing their businesses by creating, publishing and promoting content.
If you get to a point where you feel stuck, or simply feel that things aren't going your way…this is the place to come, because they all genuinely want you to succeed, and they will help you get back on track.
Done-For-You Templates & SOP's
I love this.
It's all well and good signing up to a course and devouring all of the great content.
But that usually leaves you with an absolute ton of work to get through.
And you are going to have to get through a ton of work if you really want to get the best results out of this course, but…
…the guys at Authority hacker have taken a massive amount off your table with their suite of done-for-you templates and SOP's.
That's right, when you watch one of the AH Pro course videos and the guys are telling you about how to go about something like a different style of email outreach, or providing a content writer with your set of requirements, they then provide you with all of the templates that you're going to need.
On top of this, you will also get all of their Standard Operating Procedures. These are of huge value, not only for yourself but particularly if you want to outsource some tasks as it walks you through the processes step-by-step.
Member Support
I was recently reading an AH pro review on another site, and the site owner said that the support offered by Authority Hacker was poor.
Well, by the time I got to that part of their review I already knew it was a fake review, mainly because the writer didn't seem to know whether they were talking about Authority Hacker Pro, or Authority Hacker's entry level course 'The Authority Site System'.
I've only had cause to contact the AH support once, and they got back to me within one hour, and solved the problem.
Before writing this review I made up a couple of fake reasons to contact the support again, just to test their response times. Both of these times they got back to me within two hours.
The AH support is excellent. The team get back to you quickly and they are extremely knowledgable and courteous.
Will Authority Hacker Pro Work For You?
Well you already know I can't give you a definitive answer to this one.
But maybe you can ask a few questions of yourself that may reveal how good or bad your chances could be.
Let's take these for example:
Do you have a super strong work ethic?
Are you absolutely committed to taking action on this?
Do you have at least an hour a day that you will spend going through the AH Pro course and building your business?
Are you willing, and able, to not only invest in the cost of the course but also invest in a few pro tools?
Are you prepared to get involved in the AH Pro community and seek help when you need it?
If you've answered yes to all of the above questions, you might just be in decent shape.
Here's a few more:
Do you have track-record of buying online courses and not taking massive action on them?
Are you the type of person that takes every one of life's set-backs like it's a bullet-wound to the chest?
And if you have answered no to these two, as well as yes to the previous five, I would say you're definitely looking like you have a pretty good chance.
AH Pro – A Few Of My Favourite Bits
Here's a quick roundup of my favourite parts of the current AH Pro training…
1. Affiliate Marketing Blueprint
Maybe it seems a bit odd that as a reasonably experienced affiliate marketer I'm listing this blueprint as one of my favourite parts of the course.
I just find it relentlessly valuable. I go back to this blueprint time and time again because it keeps me thinking about the basics and stops me getting lost in the higher level stuff.
2. Growth Hacks, Tips & Tricks Blueprint
I absolutely love this whole blueprint because it gets you out of the blocks real quick with some easy wins.
I say easy wins, but it was all stuff that I hadn't thought to do, but they were easy to act upon and had genuine impact.
This is a mixed bag of all sorts of different tips and tricks, and it's all valuable.
3. Evergreen Funnel Blueprint
You will not find too many online courses that have brought together such a breadth and depth of knowledge, all in one pace and made available to you.
You ask, and one of the twenty-one hand-picked FBA experts will answer your question.
4. The AH Pro Facebook Community
I've already banged on a fair bit about how valuable this resource is.
I think that the reason why I'm so hung up on it is because of how completely useless most online course communities are.
Trust me when I say I have been a member on a ton of course facebook communities…
…and most of them are just full of Bs merchants trying to look like they know what they are talking about.
This does not happen in either the AH TASS community, or the AH Pro community. Both are populated with people in a similar boat to you who will share their knowledge if they have it, and won't bullshit you if they don't.
Authority Hacker Pro Review – Wrapping It Up
Without doubt, this an outstanding course.
Gael and Mark put so much time into constantly updating the entire program that you know you're being shown up-to-the-minute, cutting-edge strategies and techniques.
And that's good to know when you're looking to move your online business up to the next level.
This program leaves you wondering about very little, as they've just about covered every base.
Got Any Questions About AH Pro?
Drop me a line, I'd love to hear from you.
Just sign-up to thedoublethink email group in the box below.
Once you receive the welcome email from me, you'll have my contact details so you can email me your questions directly.
P.S.
If you've tied to sign-up with Authority Hacker Pro and have found that they're currently closed; don't worry too much, just put your name down to be advised when they re-open.
I promise you it is worth waiting for.
Want More Stuff Like This?

Straight To Your Inbox
Then sign-up to thedoublethink free newsletter and get strategies I only share with subscribers...for free!
Thank you for subscribing.
Something went wrong.