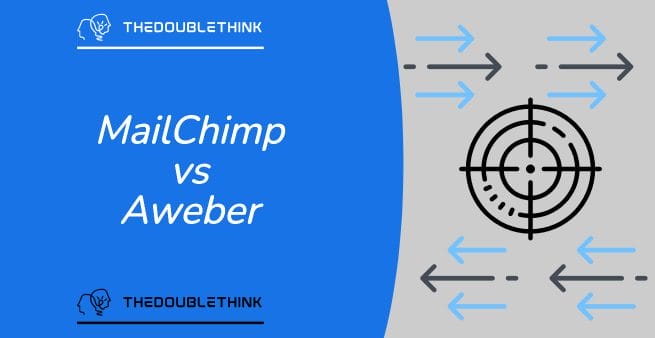 AWeber and Mailchimp – undoubtedly two of the most well-known email marketing solutions out there.
Which is best?
And much more importantly…which is best for you and your online business?
I've used both AWeber and Mailchimp extensively over the last five years, so I have a pretty good feel for their strengths and weaknesses.
In this article I'm going to try and share with you a bit of what I know about both of them.
So that hopefully, you can make a better informed decision than maybe you would have otherwise.
AWeber vs Mailchimp: A Bit of Background
Neither of these providers are 'Jonny come lately's' who have just arrived on the scene to make a quick buck.
AWeber was started way back in 1998.
Both were founded with a similar goal of making email marketing accessible and manageable for small businesses.
And Mailchimp was founded way back in 2001.
They've both been pretty successful in pursuit of their goals.
They each have sizeable global client bases made up of small to medium sized businesses, as well as sole traders and online entrepreneurs.
What Does An Email Marketing Service Provider Actually Do?
Basic functions almost always include the following:
Email template creation and/or pre-made templates

Subscriber list maintenance

Import mailing lists

Sign-up forms

Email distribution to subscriber

Automate emails to subscribers through autoresponder function

Create e-newsletters

Statistics and reports (open rate, click through, forwards)
In addition to these basic functions, any online marketer should make sure that their email service provider offers:
Excellent email deliverability

Responsive and helpful support
Both AWeber and Mailchimp provide all of the above features plus more.
They are both feature rich as well as being competitively priced.
What Will An Email Service Do For You?
Better targeted and personalised content

Improved brand recognition

Increased sales

Better customer relationships

Increased traffic to your website

Increased customer retention
So which one should you choose for your email marketing needs?
Let's take closer look inside each of these leading email marketing service providers.
This seems like a good place to start…
Interfaces
Without doubt, the clutter-free interface of Mailchimp is easy on the eye.
But, at times this minimalist approach actually makes it quite difficult to find your way around.
The small primary menu, and lack of drop-down menus, tend to leave you scrabbling about for the function that you're looking for.
Of course you get used to it over time, but it is pretty annoying for new users.
AWeber, on the other hand, doesn't have the same slick looks.
But, it's primary navigation menu clearly shows all the important options, and hovering over any menu item reveals related secondary options.
Bottom line…
Mailchimp's interface is aesthetically pleasing but less intuitive.
AWeber's interface is less beautiful but actually easier to navigate.
Score After Round One
AWeber: 1
Mailchimp: 0
Importing A Subscriber List
If you're looking to switch email marketing services, you probably already have an existing email list that you'll want to import.
You can of course do this with both AWeber and Mailchimp.
And they both allow you to do this using CSV files or simply copy and pasting.
While it was pretty simple do carry out the import task with both, I found it a little easier with Mailchimp.
Score After Round Two
AWeber: 1
Mailchimp: 1
Message Types
AWeber offers five different types of email options from its main menu:
Drafts – Saves new messages to draft status before you decide which broadcast status to apply

Campaigns – Automated messages enabling content customisation based on subscriber actions set by you

Legacy Follow-Up Series – Send automated follow-up emails to your list at pre-set time intervals

Broadcasts – Simply one-off emails that you can send to your list at anytime

Blog Broadcasts – RSS feed that will send blog posts to your list by email
Mailchimp refers to all email messages as campaigns and they have four main campaign types available:
Regular Campaigns – Customise your content and select whether to send immediately or schedule for a future date

Plain Text Campaigns – No formatting options but the most straightforward type of email you can send

Automation Campaigns – Automate your email distribution according to specific subscriber triggers that you set

A/B Testing Campaigns – Test alternative message subject lines, send times etc. within a campaign
I've always been pretty happy with the different types of message options available with both providers.
They both cover everything you need and both do it well.
I'll call this one a draw.
Score After Round Three
AWeber: 1.5
Mailchimp: 1.5
Email Templates
On the face of it, you would think that the sheer number of email templates AWeber put at your disposal would knock anything Mailchimp can do into a cocked hat.
AWeber have an enormous 700 templates while Mailchimp offer 100 templates.
Both provide responsive design so all of their templates resize for different devices.
The thing though, is this…
Mailchimp allows you much greater design flexibility, even enabling you to build your templates from scratch.
Score After Round Four
AWeber: 1.5
Mailchimp: 2.5
Sign-Up Forms
If you want to grow your email list to a decent size, you'll need some well designed, good looking sign-up forms to entice your visitors with.
With AWeber, you can either design your own, or use one of their templates before connecting them to your site or landing page.
Creating sign-up forms with Mailchimp requires some HTML expertise.
And I don't have much/any HTML knowledge.
So…this in my book is a big win for AWeber.
Score After Round Five
AWeber: 2.5
Mailchimp: 2.5
Email Newsletter Editing
If you're not doing this already, you should seriously consider making email newsletters a part of your e-marketing strategy.
An email newsletter will help you in further developing your existing subscriber list.
You can use them to push put informative content of all types.
If you going to go down this road, you will want your email service provider to have an easy-to-use email newsletter editing function.
Fortunately, both AWeber and Mailchimp are strong in this area.
They both use an intuitive drag-and-drop editor, making it very easy to change just about any element of your newsletter.
The decider for me here, is that AWeber has a visual builder, allowing for quick changes on the fly that are immediately visible.
The Mailchimp builder is slightly more clunky as you will need to keep switching from edit, to save, to view etc.
Score After Round Six
AWeber: 3.5
Mailchimp: 2.5
A/B Testing
Also known as split testing.
A/B testing is simply comparing two versions of the same thing, to find out which performs better.
You create a control version, and a variation, and then you compare their respective conversion rates.
A/B testing enables you to do more with your existing traffic.
You can A/B test just about any element of your content, but you should only ever test one element at a time.
In Mailchimp's Standard Plan you can test subject lines, content, from names, send times, and what percentage of people on your list will receive your test emails.
Mailchimp Premium Plan offers A/B testing that's a lot more sophisticated. Enabling you to test up to eight variations of your emails and e-newsletters.
Until recently AWeber's split testing capability was a little weak.
But not any more.
Now all of AWeber's membership levels let you A/B test all of these different elements:
Varying subject lines

Pre-header text

Email designs or templates

Images vs. GIFs vs. no images

Body copy

Call-to-action text or placement

Background and button color variations

The actual time you send the message
I prefer the new AWeber split testing capability over Mailchimp's.
Score After Round Seven
AWeber: 4.5
Mailchimp: 2.5
Integrations
Both of these email service providers integrate with all of the major e-commerce platforms like WooCommerce, Shopify etc.
They've both got all of the big social media platforms covered.
Mailchimp has a a few more integration partners albeit they are the lesser known names.
Mailchimp takes this one.
Score After Round Eight
AWeber: 4.5
Mailchimp: 3.5
Segmentation
Segmentation is all about how you sort your subscriber list into related subsets.
Segmenting your email list means you can send your emails to the subscribers who are most interested in the topic.
This means you don't end up bugging the subscribers who you know are not interested in certain topics.
If you segment your list properly, you will get less unsubscribes and better open rates.
Both AWeber and Mailchimp provide extensive segmentation options and they are both pretty easy to put in place.
In my book, this one has to be a draw.
Score After Round Nine
AWeber: 5
Mailchimp: 4
Autoresponders
An Autoresponder is a pre-set series of emails.
You set up your autoresponder to send the emails in your series to your mailing list subscribers at pre-defined intervals.
This saves you loads of time in the long-run and means you can fully automate your marketing campaigns.
AWeber have massively ramped up their autoresponder functionality over the last year or so.
Before this big upgrade I would have put Mailchimp ahead of AWeber on this one, but not anymore.
I make this one another win for AWeber.
Score After Round Ten
AWeber: 6
Mailchimp: 4
Email Deliverability
Deliverability is about making sure that your carefully crafted emails make it into your subscriber's inboxes.
Email deliverability can be effected by all sorts of factors, including the spammy-ness of your subject lines, quality and nature of your emails content etc.
Both AWeber and Mailchimp have a zero tolerance approach to the sending of spammy emails, as well as to the sending of unsolicited emails.
Because of this you will find that they both have very high delivery rates, in the region of 99%, which as exactly what you want as a legit marketer.
Both AWeber and Mailchimp are leading the pack in this area, so this round can can only be called a draw.
Score After Round Eleven
AWeber: 6.5
Mailchimp: 4.5
Landing Pages
The addition of the landing page feature is a pretty new one to AWeber.
Mailchimp have had theirs running for a little longer.
And they are both okay, straightforward use and stable when building.
Both also have quite a few starter templates that you can use to get you going.
I do think though, that if you're really serious about putting together some outstanding landing pages, you'll probably be best served going with one of these dedicated landing page builders.
Both okay to get you out of the blocks, so this one too is a draw.
Score After Round Twelve
AWeber: 7
Mailchimp: 5
Pricing
AWeber:
All very straightforward and easy to understand.
There are 6 plans available all offering identical features.
With AWeber it's the number of subscribers on your list that determines which plan you fall into.
Pricing of AWeber Plans:
Free Plan

Up to 500 subscribers: $19 per month

501 to 2,500 subscribers: $29 per month

2,501 to 5,000 subscribers: $49 per month

5,001 to 10,000 subscribers: $69 per month

10,001 to 25,000 subscribers: $149 per month
For those of you lucky enough to have a list of more than 25,000 subscribers, you'll need to give AWeber a call for for a price quote.
Mailchimp:
There are 4 Mailchimp plans.
Less plans than Aweber but a lot more confusing as to what you're getting with each one.
Each plan has a different feature set to the next, and the cost of each is dependant on how many subscribers you have.
Pricing of Mailchimp Plans:
Free Plan

Essential – from $9.99 per month

Standard – from $14.99 per month

Premium – from $299.99 per month
Here are some of the differences between the Mailchimp plans:
Number of Subscribers

Number of Account Users

Send Limits – limits how many emails you can send per month in each plan

Support — no support for the 'Free ' plan, telephone support for 'Premium' plan

Advanced Segmentation — 'Premium' plan only

A/B testing — paid plans only
AWeber vs Mailchimp – The Free Plans
Both AWeber and MailChimp offer free plans. Here's a bit of background as to how each of them works:
AWeber Free Plan
Aweber's free plan allows you to use most of the features of AWeber while your subscriber list remains below 500.
So you will get access to most of AWeber's functionality with paying a single dollar.
Mailchimp Free Plan
Mailchimp's free plan runs for as long as you want it…but it is very restrictive as to the features available, so you won't get a true feel for what's on offer inside the paid plans.
Also, Mailchimp's free plan is ad-supported, which means that the Mailchimp logo will be added to your footer.
I love the simplicity of AWeber's pricing structure and I hate the complexity of Mailchimp's. So this one is a straight up win for AWeber.
Score After Round Thirteen
AWeber: 8
Mailchimp: 5
Who Might AWeber Be Best For?
AWeber is ideal for small, medium and large enterprises with email marketing in their sites, just as much as it is for solopreneurs just getting started with their online business.
A few reasons to go with AWeber rather than Mailchimp:
AWeber has significantly more templates

More straightforward autoresponder set-up

Autoresponder functionality at a much better price point

Easy editing via the real-time editor in the e-newsletter builder

Access to a library of stock images

Better support options

No send limits
Who Might Mailchimp Be Best For?
Mailchimp is great for anyone just getting out of the blocks with online marketing, and who might be on a tight budget.
Here are a few good reason why you might want to go with Mailchimp:
Free plan available

Very extensive autoresponder options

Multiple languages possible for confirmation pages

Huge number of integrations available

Better RSS to email functionality
AWeber vs Mailchimp…Which Is Best?
In truth, both of these email marketing service providers are excellent.
The round-for-round results above indicate that AWeber is the best.
And I guess if I simply went with my gut feeling as to which I prefer using, it would be AWeber again, so these results stack up in my view.
But that's not to say it's the best option for you.
These are both well-established tools that you can use to seriously advance your email marketing onto the next level.
Used well, they can both help you grow your business.
Have I Made This Worse For You?
Yeah okay.
You clicked through to this post thinking I was going to give you some huge clarity in your buying decision.
Tell you that one of these options is great and one really bad.
But instead of that, what I've done is make your head pop.
How's this for an attempt to offer a little bit of guidance:
If I had to give up one, never to use it again, I would go with AWeber.
Get In Touch
Drop me a line if there's something that you really want to ask about my user experience with either AWeber or Mailchimp.
You can either use the contact form on this site, which will send an email into my inbox.
Or you can leave it in the comments section directly below.
Want More Stuff Like This?

Straight To Your Inbox
Then sign-up to thedoublethink free newsletter and get strategies I only share with subscribers...for free!
Thank you for subscribing.
Something went wrong.