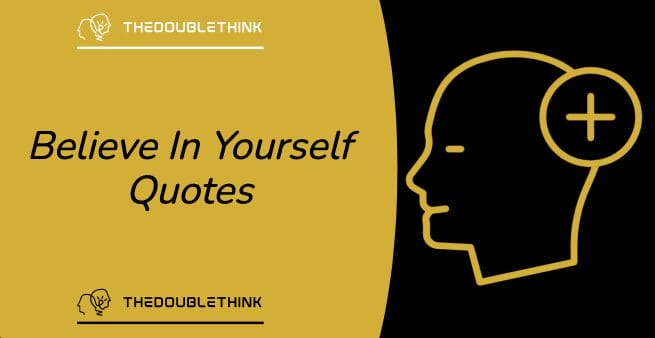 Most of us, at some time or another, suffer a dip in self-confidence and self-belief.
And these wobbles are entirely normal for those of us who aren't sociopaths or psychopaths.
A bit of self-doubt and introspection make you a more enjoyable human to be around.
But that said, if you want to eek out higher-levels of personal success than the average person achieves…
…you're going to have to learn to believe in yourself way more often than you doubt yourself!
And delving into a few 'believe in yourself quotes' is a great way to give yourself a big boost in the right direction.
Here goes!..
Believe In Yourself Quotes…
My 9 Personal Favourite Quotes on Believing in Yourself
These are the believe in yourself quotes that I know pretty much off by heart.
They have been with me for years.
They are self belief quotes made by people from all different walks of life…
…and from all different backgrounds and cultures.
"You can have everything you want if you're willing to give up the belief that you can't have it."

Dr. Robert Anthony
"You must see it. You must believe it. And then you must never stop working to make it happen."

Arnold Schwarzenegger
"Always be and have faith in yourself. Don't go out and look for a successful personality and try to duplicate it."

Bruce Lee
"Your crown has been bought and paid for. Put it on your head and wear it."

Maya Angelou
"It is not the mountain we conquer, but ourselves."

Sir Edmund Hillary
"The moment you doubt whether you can fly, you cease forever to be able to do it."

J.M. Barrie
"You have to believe in yourself. You need to have the audacity to be great."

Rosie Perez
"Believe in yourself! Have faith in your abilities! Without a humble but reasonable confidence in your own powers you cannot be successful or happy."

Norman Vincent Peale
"You yourself, as much as anyone in the entire universe, deserve your love and affection."

Buddha
More Super-Powerful Quotes About Believing in Yourself
I'm glad you're still with me!
Remember…
…just pick a small handful that resonate with you, where your life is right now, and what you want in the future.
"If you can dream it, you can do it."

Walt Disney
"20 years from now, you will be more disappointed by the things you didn't do than by the ones you did do. So throw off the bowlines. Sail away from the safe harbour. Catch the trade winds in your sail. Explore. Dream. Discover."

Mark Twain
"Be it career or marriage, spirituality helps you believe in yourself."

Mumtaz
"Talk to yourself like you would to someone you love."

Brené Brown
"If you got love and you believe in yourself, anything is possible."

Eddie Griffin
"Free yourself and take your power back by being secure in who you are – flaws and all."

Yvonne Pierre
There are no shortcuts to success. You have to believe in yourself, and never give up."

Neha Dhupia
"It's no good being too easily swayed by people's opinions. You have to believe in yourself."

Donatella Versace
"When someone you have a lot of respect for believes in you, it helps you believe in yourself."

Cat Osterman
"Believe in yourself and know that you're strong enough to get through just about anything."

Ashleigh Murray
"Once you believe in yourself, you can pretty much do whatever you want in my opinion, so that is the main thing."

Lonzo Ball
"You can have whatever you want if you believe in yourself and keep your feet firmly planted in the ground."

A.J. McLean
"You just have to believe in yourself when you've got something, and just keep pounding on the door, because if you pound long enough, somebody is going to open it."

Cynthia Weil
"Commit to what you love – that's important. Believe in yourself and try as much as possible to do everything you do from a place of love. Not labor, but love."

Michael Mando
"Some people say that I have an attitude- Maybe I do. But I think that you have to. You have to believe in yourself when no one else does- that makes you a winner right there."

Venus Williams
"Believe in love. Believe in magic. Hell, believe in Santa Clause. Believe in others. Believe in yourself. Believe in your dreams. If you don't, who will?"

Bon Jovi
"It would be a great disappointment for you to give up on yourself before the appointed time to reap the fruit of your labor."

Edmond Mbiaka
"I believe in myself. There's nothing wrong with believing in myself. That's the whole idea, is that you can always become better."

Tiger Woods
"Ever had a dream of flying? Being something more? For me, it is an endless objective. A welcomed reverie."

A.K. Kuykendall
"No one can make you feel inferior without your consent."

Eleanor Roosevelt
"I believe in good luck, and the harder I work and the more I believe in myself, the luckier I get."

Thomas Jefferson
"Confidence comes not from always being right but from not fearing to be wrong."

Peter T. Mcintyre
"Just really believe in yourself and stay true to yourself."

Mirai Nagasu
"Don't spend time beating on a wall hoping to transform it into a door."

Coco Chanel
"Trust yourself. Create the kind of self that you'll be happy to live with all your life. Make the most of yourself by fanning the tiny, inner sparks of possibility into flames of achievement."

Golda Meir
"I believe in myself over everyone else. There's nothing that walks on two legs that I'm afraid of."

Renzo Gracie
"I bend but do not break."

Jean de la Fontaine
"You have to believe in yourself, that you're gonna succeed."

Cindy Margolis
"The gray area, the place between black and white — that's the place where life happens."

Justin Timberlake
"Doubt kills more dreams than failure ever will."

Suzy Kassem
"True beauty is the flame of self-confidence that shines from the inside out."

Barrie Davenport
"We are who we believe we are."

C.S. Lewis
"Start where you are. Use what you have. Do what you can."

Arthur Ashe
"To anyone that ever told you you're no good, they're no better."

Hayley Williams
"If you haven't found it yet, keep looking."

Steve Jobs
"Don't compare your beginning to someone else's middle."

Jon Acuff
"If you hear a voice within you say that you cannot paint, then by all means paint, and that voice will be silenced."

Vincent Van Gogh
"Keep your eyes on the stars, and your feet on the ground."

Theodore Roosevelt
"Once we believe in ourselves, we can risk curiosity, wonder, spontaneous delight, or any experience that reveals the human spirit."

E.E. Cummings
"To be yourself in a world that is constantly trying to make you something else is the greatest accomplishment."

Ralph Waldo Emerson
"Nothing can stop the man with the right mental attitude from achieving his goal; nothing on earth can help the man with the wrong mental attitude."

Thomas Jefferson
"As soon as you trust yourself, you will know how to live."

Johann Wolfgang Von Goethe
"If you're presenting yourself with confidence, you can pull off pretty much anything."

Katy Perry
"Aerodynamically, the bumble bee shouldn't be able to fly, but the bumble bee doesn't know it so it goes on flying anyway."

Mary Kay Ash
"To be a champ you have to believe in yourself when nobody else will."

Sugar Ray Robinson
"To be a great champion you must believe you are the best. If you're not, pretend you are."

Muhammad Ali
Inspiring Believe In Yourself Quotes
If it's a double-dose of inspiration that you're looking for…
…try a few of these believe in yourself quotes out for size.
"Just believe that there is genuine creative magic in believing, and magic there will be, for belief will supply the power which will enable you to succeed in everything you undertake."

Claude M. Bristol
"Don't limit yourself to the skies when there is a whole galaxy out there."

Bianca Frazier
"Believe you can and you are halfway there."

Theodore Roosevelt
"You must have the courage to trust your instincts and be ready to question what other people don't. If you do that, you can seize opportunities that others would miss. Believe in yourself, and use everything you can — including the obstacles — to propel you along the road to success. Who knows what you might achieve?"

Richard Branson
"I am the greatest. I said that before I even knew I was."

Muhammad Ali
"There will be haters, there will be doubters, there will be non-believers, and then there will be you proving them wrong."

Jennifer Van Allen
"If you believe in yourself and have dedication and pride, and never quit, you'll be a winner. The price of victory is high but so are the rewards."

Bear Bryant
"If we all did the things we are capable of doing, we could literally astound ourselves."

Thomas Edison
"Believe in yourself and try not to take anything personally."

Chris Kattan
"As is our confidence, so is our capacity."

William Hazlitt
Have You Enjoyed This Article?
Wrapping It Up!
Not much more to say really.
I hope you enjoyed most of these quotes, and that a handful of them will stay with you for a long time to come.
Now get out there and believe in yourself!
Want More Stuff Like This?

Straight To Your Inbox
Then sign-up to thedoublethink free newsletter and get strategies I only share with subscribers...for free!
Thank you for subscribing.
Something went wrong.