Last Updated on December 7, 2022 by andrewtk
Affiliate networks can be an absolute treasure trove of great affiliate programs.
On the other hand, they can be a massive pile of garbage!
So which ate the best affiliate networks that are worth your time signing-up with?
Lets' take a look…
Affiliate Network vs Affiliate Program
Let's just tidy this one up real quick.
Affiliate networks and affiliate programs are not one-and-the-same thing
An affiliate network is an online platform where multiple different product/service owners (affiliate merchants) make their offers available for affiliate marketers to market, all under the one roof.
Once you've signed-up with an affiliate network, it is usually a simple one-click process to apply to market any of the offers available on that particular network.
So let's say you've signed-up to ClickBank…
…you immediately have access to the thousands of different offers that product/service owners have made available to be marketed through ClickBank.
All you now need to do…is sort the wheat from the chaff!
On the other hand, affiliate programs create direct relationships between product/service owners and affiliate marketers.
So let's say you want to market Nike trainers.
You can go ahead and apply directly to Nike to join their own affiliate program.
You're not going through an affiliate network, you're applying directly to the product owners themselves, and if you're accepted, your affiliate relationship will be directly with them.
Now we've got that sorted, let's look at some of the very best affiliate networks out there right now.
#1. ShareASale
ShareASale is currently one of the largest affiliate networks.
And having started out in 2000, it's also one of the longest running.
ShareASale has built up a great reputation as a high-quality, trusted partner, of both merchants and affiliate marketers alike.
Acquired by the AWIN Group in 2017, ShareASale have literally thousands of offers available on their platform.
There's a massively wide variety of product categories available on ShareASale…
…so unless you've gone super-niche, you should find offers that are a good fit.
Nearly as wide ranging are the various commission rates you'll find available. 1% to 100% and everything in between!
Signing-up is easy, and free.
You will need either a website or social media account to complete the sign-up process.
Payment By: Check, Wire Transfer
Minimum Payment: $50
ShareASale Pros and Cons
Pros:
Thousands of both physical and digital products;
Highly trusted;
Over 1,000 exclusive merchants;
Lots of high-quality, known merchants;
Easy to generate custom affiliate links.
Cons:
Dashboard is a little old fashioned and clunky.
---
#2. FlexOffers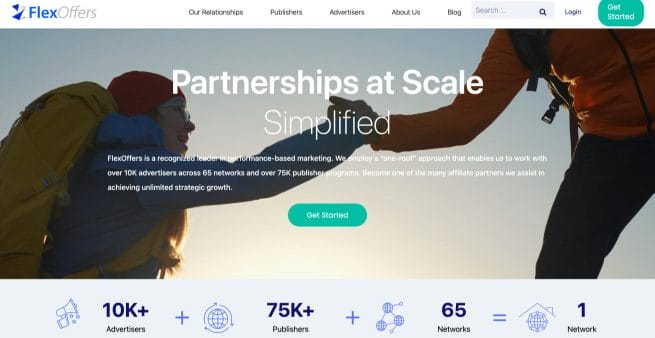 FlexOffers is another massive affiliate network.
More than 12,000 merchants make their products and services available via the platform.
And there are some real big brands on FlexOffers: Samsung, Macy's, Barnes & Noble, Skechers, to name just a few.
There's a vast array of different product categories to choose from, so you shouldn't struggle too much finding something you want to market.
Unusually for an affiliate network, FlexOffers accepts free blogging websites like Blogger, Wix, BlogSpot etc. as traffic sources.
Payment By: PayPal, Payoneer, Wire Transfer
Minimum Payment: $25
FlexOffers Pros and Cons
Pros:
A massive 12,000+ merchants;
Well constructed affiliate dashboard;
Dedicated affiliate manager.
Cons:
If you don't live in the U.S. your only payment option is PayPal (unless your payment is more than $5,000 – when you can have a wire transfer).
---
#3. Awin
Awin is another massive player in the affiliate network arena.
At last count they had over 13,000 merchants on their platfrom.
Some of these merchants are huge themselves, brands like GymShark, Under Armour, AliExpress and Etsy can all be found on Awin.
As we mentioned previously, Awin owns ShareASale and has done since 2017, but the two business are run completely separately.
So don't think you're going to find all the same merchants on both networks, because that's not the case.
You'll find a good mix of small, medium and large merchants on Awin, across a broad spectrum of niches.
You'll also find a great blend of U.S. and European brands, probably because Awin was founded in Germany.
Payment By: PayPal, Wire Transfer
Minimum Payment: $20
Awin Pros and Cons
Pros:
A vast number of merchants to pick from;
WordPress plugin to assist in importing products;
Low minimum payout.
Cons:
$5 sign-up fee (refunded if approved, but you'll lose it if declined).
---
#4. CJ Affiliate
CJ Affiliate used to be known as Commission Junction, which started out way back in 1998.
I think they currently have in the region of 3,000 merchants for you to choose from.
Some big names too, such as GoPro, IHG Hotels, Office Depot, Grammarly, so you'll not be stuck for well respected brands.
As you would expect CJ Affiliate also have a large number of small and medium size merchants on their platform.
You'll find lots of smaller merchants as well, covering a good spread of niches between them.
On the downside, CJ Affiliate is not the most beginner friendly affiliate network, as they will deactivate your account if you go six months without generating a commission.
Payment By: Check, Wire Transfer
Minimum Payment: $100 Check, $50 Wire Transfer
CJ Affiliate Pros and Cons
Pros:
Good number of large, medium and small merchants to select from;
Great dashboard that more experienced affiliates love;
Easy to generate custom links.
Cons:
Dashboard complicated to get started with;
Accounts deactivated if no commissions for six months.
---
#5. ClickBank
ClickBank has been in this business since 1998.
And with something crazy like six million affiliate products on the network…
…there's a fair chance you will be able to find something you want to market.
ClickBank focus on a wide variety of digital information products, product launches, and an array of other internet marketing products and services.
The ClickBank affiliate network is often the first port of call for many new affiliate marketers.
This is maybe because of the huge range of digital products available and because ClickBank are pretty easy to deal with.
Payment By: Check, Wire Transfer
Minimum Payment: $10
ClickBank Pros and Cons
Pros:
High commissions paid by many merchants;
$10 minimum payout;
Massive array of digital products and services.
Cons:
No quibble refund policy means you might lose commissions you thought were banked;
A fair amount of low-quality products to sort through.
---
#6. Amazon Associates
Super-tight with their affiliate commissions.
Super-tight with their cookie duration.
Always chipping away at the payable commission rates across all of their product categories.
Amazon Associates are a mean spirited bunch and treat their affiliates like garbage!
But, Amazon is one of the most trusted global brands, has a product range that is second-to-none…
…and is an absolute conversion machine!
Plus, even though the cookie duration is a ridiculous 24-hours, you earn commission on anything and everything that your referral ends up buying within that cookie duration period…
…even if it's not the product you linked to.
Payment By: PayPal
Minimum Payment: $50
Amazon Associates Pros and Cons
Pros
Global brand recognition;
Endless physical products to promote;
Highly trusted brand;
Easy-to-use affiliate dashboard;
Conversion beast.
Cons
Tight, tight, tight commission rates;
24-hour cookie duration.
---
#7. Fiverr Affiliate Program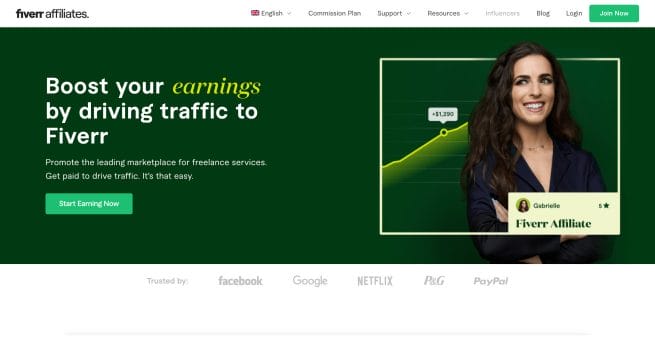 Okay, okay, I know I said at the top of this post that an affiliate network is not the same thing as an affiliate program…
…and now I'm putting something actually called an affiliate program on my list of favourite affiliate networks.
Confusing?
Not really!
Because the Fiverr affiliate program is most definitely an affiliate network.
But it's a little different to most other affiliate networks, because Fiverr monetized the gig industry, and so everything you get to market on their platform is a gig service.
And there's a huge range of different categories to choose from, stuff like, graphic design, marketing, video and animation, programming etc.
Here's the big kicker…
…most affiliate marketers will tell you that selling services tends to be a lot easier than selling informational products, software, courses, physical products, and pretty much anything else.
I don't really know why that is, just a shorter decision making process seems to apply when people are looking at getting someone to deliver a service for them.
Payment By: PayPal
Minimum Payment: $100
Fiverr Affiliate Program Pros and Cons
Pros
Super easy sign-up process;
Great affiliate interface;
New services made available all the time ;
Potential for $150-per-referral commissions.
Cons
No commissions paid for sales made to existing customers;
The most successful gigs tend to eventually move to their own website.
Have You Enjoyed This Article?
What Makes For A Top Affiliate Network?
Size
Most affiliates tend to want to join affiliate networks with a wide selection of offers to promote.
Similarly, most merchants want to make their products and services available on platforms that have a lot of affiliate marketers signed-up.
But with that said…
…size can of course be relative!
There are some great affiliate networks that are very small when compared to say a ClickBank, but that's because they are specialists, rather than generalists.
These networks may be dealing in very specific product or service areas, and they can be great if you're niche is a good fit.
Experience
There's a lot involved in running a decent affiliate network.
A lot of tech and operational stuff.
A lot of relationships to manage.
Definitely a lot of compliance and legal stuff as well.
This is not something you can just set up on a whim.
When you're just starting out as an affiliate, I would definitely recommend sticking with the experienced players.
Because when affiliate networks go pop, it tends to be a real messy business.
And if you're an affiliate looking forward to your next payout when your network goes under, don't go holding your breath for too long.
Reputation
I'm talking about their reputation in how they deal with their affiliates on the day-to-day.
Try to find out as much as you can.
I know I have included Amazon Associates on this list of best affiliate networks, but they do not treat their affiliates well at all…
…probably because they feel they don't really need them anymore.
It is worth hitting up some forums to see what people are saying about anyone you're thinking of signing-up with.
Which Affiliate Network Will Be Best For You?
The thing is, it's pretty difficult to find out what's hiding inside an affiliate network, until you've actually signed-up.
But on the upside, most networks are pretty straightforward to join.
So go sign-up with a couple and have a good poke around inside once you do.
There is no limit on how many you can sign-up with.
So go ahead an enjoy!
Want More Stuff Like This?

Straight To Your Inbox
Then sign-up to thedoublethink free newsletter and get strategies I only share with subscribers...for free!
Thank you for subscribing.
Something went wrong.