Last Updated on June 15, 2022 by andrewtk
There's an absolute ton of affiliate marketing programs for you to choose from.
But which are the best affiliate marketing programs for beginners?
That's the question you really need answering!
Making a poor choice here, by selecting the wrong affiliate program, could put the brakes on your affiliate marketing ambitions before you've even got going!
And we don't want that.
So let's take a look at some of the very best affiliate marketing programs for beginners…
Difference Between Affiliate Programs And Affiliate Networks
Affiliate programs are 'in-house' programs offered by the actual product/service vendor themselves.
Whereas affiliate networks are set-up to manage the affiliate programs of multiple different vendors, all under the one roof.
When you sign-up with an affiliate network, you then have access to the multiple affiliate offers available via that network.
When you sign-up with an affiliate program, directly through the vendor, you simply have access to their own product or service.
Best known examples of affiliate networks include the likes of ClickBank, CJ Affiliate, Awin etc.
What You Should Look For In A Top Affiliate Program
1. Easy to Use
Don't make your life any more difficult than it needs to be!
Especially when you're just starting out.
Pick affiliate programs that you want to market, that you believe in…
…and that also look like they are well-run, and set-up to make the affiliates life relatively straightforward.
You don't want to be intellectually challenged each and every time you want to check the dashboard for commissions, or get your affiliate links, or ad banners.
Terrible affiliate dashboards are less of a problem with the affiliate networks, because it is the core of their business.
2. Commission Payments
How much are you going to get paid?
When will you get paid? How many days after a sale?
Minimum payout threshold?
What's the cookie duration and basis for attributing sales?
There's a lot of variation across different programs, so make sure you really know what you're going to get before investing your time and effort.
3. Affiliate Manager
A program with a dedicated affiliate manager is what you really want to find for yourself.
No matter how well set-up everything is, stuff will occasionally go a little wrong.
If you have a dedicated affiliate manager that you can contact when they do, your life will be made so much easier.
Best Affiliate Marketing Programs For Beginners
Now we've got the basics covered, let's take a look at some of the best affiliate marketing programs for newbies.
#1. Amazon Associates
Amazon call their affiliate program the 'Amazon Associates Program'.
It's been going since almost forever.
And it's where a ton of new affiliate marketers go to get started.
Why?
Because it's super-easy to use.
It enables you to market just about everything that's available for sale on Amazon.
And also because Amazon is a conversion machine, and that means your chances of getting some early sales, and therefore affiliate commissions, are maximised.
The downside of the Amazon affiliate program is that it pays low commission rates.
But hey, once you've got going and you're making profits, you can start looking for more generous programs to hook up with.
Program/Network Info:
Program or Network: Affiliate network
Cost to Join: Free
Find it Here: Amazon Associates Program
Pros:
Amazon is a conversion machine
Trusted brand
Over 375 million products available to promote
Affiliate dashboard is easy to use
Cons:
Comparatively low commission rates
Commission rates are often altered per product type
24-hour cookie duration is tight
#2. CJ Affiliate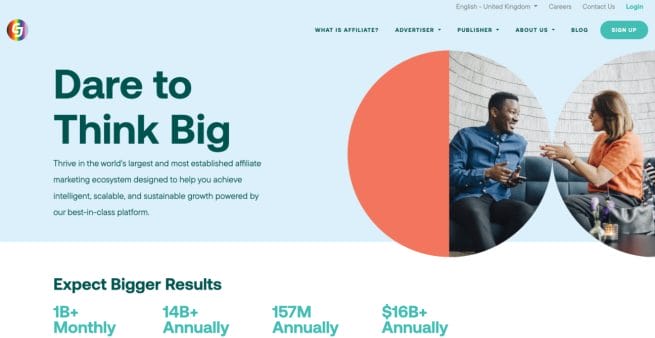 CJ Affiliate was previously known as Commission Junction.
This is another super-long-running affiliate network that's been around pretty much since the dawn of the internet.
CJ Affiliate tend to specialize in big brand names, but they do also have smaller product and service vendors onboard and available for you to market.
I think they have something like 2,500 affiliate marketing programs to choose from.
But the real kicker that sets CJ apart from many other affiliate networks, is the high-quality affiliate tools that are made available to you.
Pretty much all the kit that a successful affiliate marketer needs is put at your finger tips.
On top of this, CJ's affiliate metrics are outstanding, making it super-easy to identify the best performing products and exactly how much each sale is making you.
Program/Network Info:
Program or Network: Affiliate network
Cost to Join: Free
Find it Here: Commission Junction
Pros:
Excellent affiliate dashboard
Plenty of well-known big brands available to market
Metrics make it easy to find profitable affiliate programs
Support is outstanding
Cons:
Support is outstanding
A slightly steeper learning curve relative to Amazon Associates
#3. ClickBank
ClickBank has been going since 1998.
I think I only just about knew that the internet existed in '98!
Sales across ClickBank tend to be in the region of $3billion per year.
That's a lot of sales.
ClickBank was originally totally focused on digital products.
But these days you will find both digital and physical products and services available to market.
To be fair, the general look and feel of the ClickBank site could do with an overhaul.
A business that was at the forefront of the the internet, now actually looks like the old-timer it is.
But everything works and does was it should, so it's no big deal.
Program/Network Info:
Program or Network: Affiliate network
Cost to Join: Free
Find it Here: ClickBank
Pros:
Approved to promote most programs is instant
Lots of programs with recurring commissions
Great if your affiliate marketing without a website
Affiliate link creation is super-easy
Cons:
The ClickBank marketplace is functional but needs an overhaul
Beware programs with high refund rates
#4. Awin
Awin is massive!
At the time of writing, I think that it's actually the largest affiliate network there is.
There are tons of affiliate programs to promote on Awin, and there is no shortage of big brand names either.
A lot of the affiliate programs available on Awin offer accelerated payments…
…meaning Awin is one of the leading affiliate networks when it comes to the speed at which it gets affiliates paid.
You can even choose whether to get your commissions paid once or twice per month.
Program/Network Info:
Program or Network: Affiliate network
Cost to Join: Free
Find it Here: Awin
Pros:
Accelerated payments mean your commissions get paid quicker
Massive amount of affiliate programs available
Plenty of big brands
The Awin platform and affiliate dashboard are easy to use
Cons:
A lot of affiliates are on Awin, so a lot of competition
Global offers but mostly focused on UK and EU advertisers
#5. eBay Partner Network
You know eBay?
Did you know you can sign-up as an eBay affiliate partner, and market a ton of the new products that are sold on the merchant platform each day?
Make no mistake, eBay is a powerful global marketing platform, used by both individual sellers and big brands.
Over 75% of the listings on eBay are new items!
So it's no longer the junk marketplace that it used to be known as.
But despite eBay's global reach, very few new affiliates give it any serious consideration.
The eBay Partner Network can be an excellent place for new affiliates to get going.
Like with Amazon, eBay manage their own affiliate program, so you'll be working with them directly.
Program/Network Info:
Program or Network: Affiliate network
Cost to Join: Free
Find it Here: eBay Partner Network
Pros:
Globally brand with global sales
Welcomes total affiliate marketing beginners
Huge amount of products available
Good commission rates
Cons:
A totally mean 24-hour cookie duration
Some knock-off products to avoid
#6. FlexOffers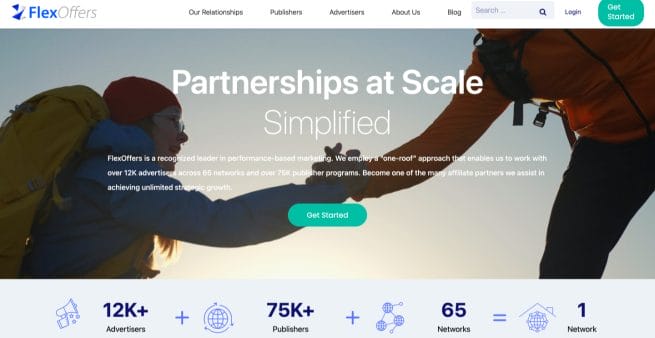 FlexOffers are awesome!
So why aren't they further up this list you might ask?
Well, only because this list is all about affiliate marketing programs for beginners…
…and while FlexOffers easily fits the bill, I think new affiliates are probably best saving it until they have a little bit of experience under their belts.
FlexOffers have about 500 merchants within their running total of around 12,000, that they consider to be 'premium' brands.
That's pretty impressive.
Their tech is on point as well.
FlexOffers recognised the problem with third-party cookie tracking a long time ago…
…and they went right ahead and developed their own proprietary cookie-less tracking technology for a much more accurate and elegant solution.
Kudos to FlexOffers.
Program/Network Info:
Program or Network: Affiliate network
Cost to Join: Free
Find it Here: FlexOffers
Pros:
Straightforward joining process
Excellent platform interface makes filtering offers pretty easy
Affiliate dashboard is feature rich yet easy to use
Market leading cookie-less racking for better accuracy
Cons:
Customer support options could be more extensive
#7. ShareASale
The fact that ShareASale has got some of the best affiliate programs on its network is one of the internets best kept secrets.
And quite a few of them are paying top-dollar commissions.
There's slightly over 5,000 affiliate programs available via ShareASale, and they tend to be more focused on smaller, profitable companies, rather than the big brands.
There's not a lot of bells-and-whistles going on with the affiliate dashboard, but there'e enough and it all works smoothly.
Program/Network Info:
Program or Network: Affiliate network
Cost to Join: Free
Find it Here: ShareASale
Pros:
Simply tons of products/services you can promote
Lesser know but high-quality affiliate programs
'PowerRank' function shows where affiliate offers sit in their top 1000
Cons:
Dashboard is pretty basic
Approval process for individual programs a little hit-and-miss
Have You Enjoyed This Article?
Wrapping It Up!
Don't rush in!
That would be my take-away advice for this one.
Choose the programs that feel right for you, and seem to be professionally run.
A bit of extra care and diligence in the early selection stages, will pay you back tenfold over the long-run.
Want More Stuff Like This?

Straight To Your Inbox
Then sign-up to thedoublethink free newsletter and get strategies I only share with subscribers...for free!
Thank you for subscribing.
Something went wrong.