Last Updated on January 5, 2022 by andrewtk
Trying to find a top blogging course online is a tough task.
Not that there's any shortage of self-proclaimed blogging gurus all willing to take your cash off you.
The problem is figuring out who actually knows what they're talking about.
I've spent a ton of time, and money, going through endless blogging courses so you don't have to.
Some were hard work to get through, because they were terrible. Others were a pleasure to spend time on, because they were so well put together.
I hope my list of best blogging courses is going to make it easier for you to decide where you want to invest your hard-earned money.
If you're in a hurry, here's how my list of top blogging courses stacks up…
Best Blogging Courses (Under $300)
🏆

Launch Your Blog Biz by Create&Go
🥈

SEO For Bloggers by MoneyLab
🥉

Intentional Blog by Jeff Goins
🎗 The Content Building Bundle
🎗

How To Build A Successful Blog (Udemy)
🎗

Build A Blog In 7 Days by Ryan Robinson
There are some top blogging courses here, all of them well worth the money being asked for them.
Let's take a look at each of these blogging courses in a bit more depth:
#1. Launch Your Blog Biz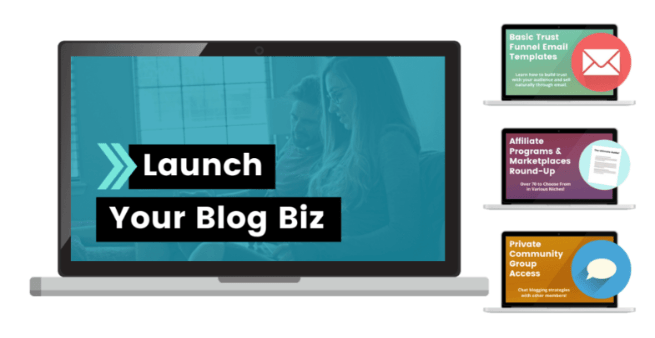 This blogging course is all about how to start and grow your first profitable blog, from scratch.
What I really like about the founders of Create And Go, Alex and Lauren, who put 'Launch Your Blog Biz' together, is that they are not successful in only the 'blogging about blogging' niche.
These guys are super-successful in other niches as well.
When I say they are successful, I'm talking to the tune of $100k per month.
Alex and Lauren know what they re doing, that's obvious from their track record, as well as in their course material, and how well they put their courses together.
Not only that, but these guys are genuine. They care about the results of their students.
For all of these reasons, this takes top-spot as my best blogging course for under $300.
If you want a well-rounded course that takes you from how to build your blog on WordPress, through to how to monetize your blog, you won't go too far wrong with this one.
Key Course Content:
Master WordPress and Blog Design
Create Amazing Content
Drive Organic Traffic to Your Blog
Convert Your Blog Traffic Into Dollars
Ads and Other Blog Monetization Strategies
Build an Email List of Raving Fans
Who is Launch Your Blog Biz for?
Beginner bloggers looking to start their own successful blog.
Also more experienced bloggers who are struggling to monetize their existing blogs.
What does it cost and where can you get it?
$297 Lifetime Access
Course Site: CreateAndGoCourses – Launch Your Blog Biz
#2. SEO For Bloggers
You have probably figured out from the title that this course is not an 'all-in-one' blogging course, so it's not going to be showing you how to set up your blog from scratch.
SEO for Bloggers is brought to you by Matt Gionvanisci of MoneyLab and is focused on the extremely important SEO (Search Engine Optimization) side of things.
This course looks at site structure, best plugins, keyword research, content creation / optimisation, and how to track growth…as well as a bunch of other things SEO related.
The course isn't about showing you how to build your website, it's teaching you how to drive organic traffic to your blog.
This is absolutely key if you are serious about wanting to monetize your blog.
Just like the people behind the previous blogging course, Matt has serious track record when it comes to building and monetizing blogs from scratch.
One of Matt's sites 'SwimUniversity.com' earns over $400,000 annually.
And he has other sites…just in case $400k annually isn't enough to get by on.
Matt's teaching style won't be for everyone. He takes a very lighthearted, humorous, and sometimes flippant approach to shooting his videos.
I enjoy his style a lot, but he definitely won't be everyone's cup of tea.
Key Course Content:
SEO Site Structure
Keyword and Content Research
SEO Growth
SEO Audits
SEO Blueprints
Bonus Content
Who is SEO for Bloggers for?
Any blogger, newbies, intermediate bloggers and veterans, who want to find out everything a blogger should know, about SEO.
What does it cost and where can you get it?
$299 Lifetime Access
Course Site: MoneyLab – SEO For Bloggers
#3. Intentional Blog
If you enrol in this blogging course, brace yourself!
Once you have signed-up, you are going to receive an email each day for 12 days.
Each of these email will contain a lesson that you can learn and apply that very day.
Are you up for that? Or is it going to bug the hell out of you?
The first email is on how to start blogging, and from there they cover things like deciding the focus of your blog, optimising your content for organic search, guest posting etc.
Some people will love the daily email / lesson approach of this course, others not so much.
What forms the core of this course, is what the founder Jeff Goins calls his '4 Keys to Effective Blogging'.
Key Course Content:
Start With the Right Mindset
Build a Brand People Want to Talk About
Create Helpful, Resourceful Content
Be Outrageously Generous
Who is Intentional Blog for?
New bloggers looking for step-by-step instructions on how to setup and launch a blog, and develop an online brand.
What does it cost and where can you get it?
$197 Lifetime Access
Course Site: Intentional Blog
#4. The Content Building Bundle by Blog Clarity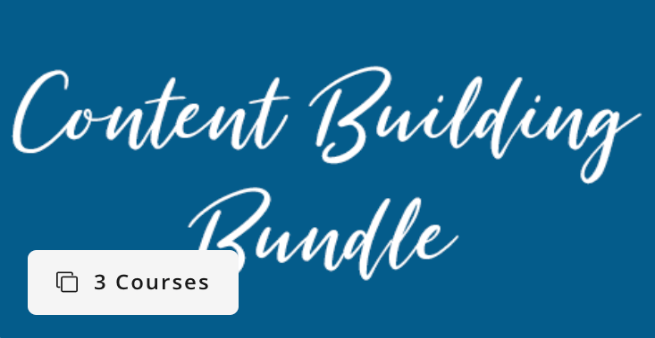 I completely stumbled upon this course a while back when I was searching for something else entirely.
The Content Building Bundle is made up of three courses all put together by the people over at Blog Clarity.
So, you don't have to buy the bundle if you'd rather focus on one part in particular, but the bundle does make it a nicely rounded blogging course.
These are the three individual courses that make up 'The Content Bundle':
'Content Planning Pro'; 'Avatar Creation Kit' and; 'Blogger Workflow Kit'.
This is well put together stuff and really easy to follow.
Key Course Content:
Content Planning with an Editorial Calendar
Generating Your Holy Grail of Big Ideas
Planning Out Your Content Ideas
Pinpointing Your Ideal Audience with a Target Avatar
Researching Your Avatar
Building Your Target Avatar
Building Your Blogger Workflows
Workflow Starters
Who is The Content Building Bundle for?
New and intermediate bloggers who want more traffic and more profit through better understanding their audience, better planning and increased productivity.
What does it cost and where can you get it?
$124 Lifetime Access
Course Site: BlogClarity – The Content Building Bundle
#5. Blogging MasterClass: How To Build a Successful Blog by Udemy
In my personal experience Udemy can be a little bit random when it comes to the quality of their courses.
So, and I know this is no good for anyone just launching a course on there, I tend to stick to courses that have at least a four star rating, made up of at least a thousand individual ratings.
Blogging MasterClass: How To Build a Successful Blog comes in at over a 4.5 start rating from over five thousand votes.
This is another blogging course that covers the whole topic, rather than focus in on one or two specific areas.
The course starts with the basics and advances into intermediate level tactics and strategies.
I like it. It's a nicely paced and well sized course for getting a solid grasp on professional blogging.
A great starter course for anyone looking to kick-start their own professional blog and online business.
Key Course Content:
Build a Successful Blog
Discover a Blogging Niche
Develop a System to Plan New Content
Optimize Your Website for Search Engines
Email Marketing: Grow an Email List 
Build a Profitable Business Around Your Content 
Who is Blogging MasterClass: How To Build a Successful Blog for?
New and intermediate bloggers. Whether you've just decided that blogging is something you want to get involved in, or you already have a blog that you want to take to the next level.
What does it cost and where can you get it?
$169.99 Lifetime Access
Course Site: Udemy – Blogging MasterClass: How To Build A Successful Blog
#6. Build A Blog In 7 Days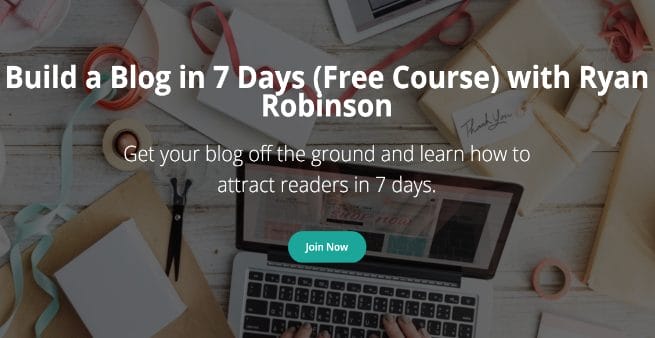 This blogging course is put together and presented by serial blogger Ryan Robinson.
If you really are totally new to blogging and don't know who he is, don't worry, it's only a matter of time until you're stumbling into him all over the place on your blogging journey.
Build A Blog In 7 Days takes you through a proven step-by-step process for setting up a new blog.
It then goes on to show you exactly how to create high-quality content that'll generate traffic and readers.
Last, but definitely not least, you are taken through some of the most effective ways to monetize and thereby actually make money blogging.
The quality of this course is high, and it breaks starting a blog down into perfectly easy-to-follow steps.
You don't get the same depth of content that you do with the other courses on this list, but you wouldn't would you, this one is totally free blogging course.
Key Course Content:
The Mechanics of Starting a Blog
Finding a Profitable Niche
Developing a Winning Content Strategy
Driving Blog Traffic (Getting Your First 1,000 Readers)
The Most Effective Ways to Monetize Your Blog
Executing a 90 Day Plan to Grow Your Blog
Who is Build A Blog In 7 Days for?
Beginner bloggers who want to follow a straightforward process to get their new blog up and running.
What does it cost and where can you get it?
$0.00 (a totally free blogging course…and a decent one at that)
Course Site: RyanRobinson – Build A Blog In 7 Days
Why Build A Blog?
People create blogs for a ton of different reasons, here's a few I could think of, straight off the top of my head:
Build a Business: Done well, your blog can be the core of a low-overhead, location-free, lucrative online business;
Grow an Existing Business: Content marketing is a great way to grow your business. A blog is a key component of the content marketing stack, for both large and small businesses;
Showcase Your Knowledge and Expertise: If you want to position yourself as an authority within your chosen niche, blogging is now one of the best ways to go about achieving this;
Relationship Building: Blogging can help you become an active member within your niche, profession, or community, enabling you to more easily build relationships with the people you want to reach;
Making Money: Let's be honest, some people come at blogging with only dollar signs in their eyes. This can be okay. Just make sure that if this is you, you commit to producing valuable blog content that helps, or entertains people. If you don't, the dollar signs will never materialise.
Well there's a few good reasons as to why people start blogs, but that still leaves the question of…
Should You Start A Blog?
Isn't the blogging market completely saturated?
No!
There has never been a better time to start a blog.
The internet has made it easier than at any time in history to start a business.
Don't worry about that endless stats telling you that something like twenty trillion (that's an exaggeration) new blog posts go online everyday.
Most of them are garbage…but yours?…yours absolutely will not be!
Honestly, when I decided to totally commit to affiliate marketing, I made up my mind that I was going to make it into the top two or three percent of people who actually succeed.
I promise you that getting into that top group is totally achievable.
Most people won't work hard enough…that's about fifty-five percent of people gone.
A ton of people won't work smart enough…that's another twenty percent of people gone.
A few more people will give up when the first thing goes wrong…which it will…that's another twenty percent gone.
You're already in the top 5%.
Best Blogging Courses Under $300 – Wrapping It Up
I really hope that this post has been in some way useful to you.
You can of course, if you prefer, try and learn the whole blogging landscape on your own, without turning to a blogging course.
But what I can say with absolute confidence however, is that for me, it has been finding and learning from high quality courses that have been the big game changers for my online business.
And that's why I believe, that If you are deadly serious about blogging as your full-time thing, you should fully commit and get yourself some training from someone who has been in your shoes, and is now a rip-roaring online success!
Most, if not all, of the blogging courses on my list have a period where you can get your full money back, should it turn out that you just don't like the teaching style, or anything else about the course.
Go and become that successful blogger and online business owner.
Good luck!
P.S.
Have questions about a blogging course?
Get in touch, either in the comments section or via the contact form.
Want More Stuff Like This?

Straight To Your Inbox
Then sign-up to thedoublethink free newsletter and get strategies I only share with subscribers...for free!
Thank you for subscribing.
Something went wrong.