Last Updated on February 26, 2023 by andrewtk
Yo, I heard you like blogs, so I wrote a blog about blogs, so you can read a blog about blogging while you blog.
These ten blogs will all help you write better blogs.
They'll help you drive more traffic to your blogs too, and we know what that means…
…they'll help you make money!
So let's dive in…
Best Blogs About Blogging
#1. Copyblogger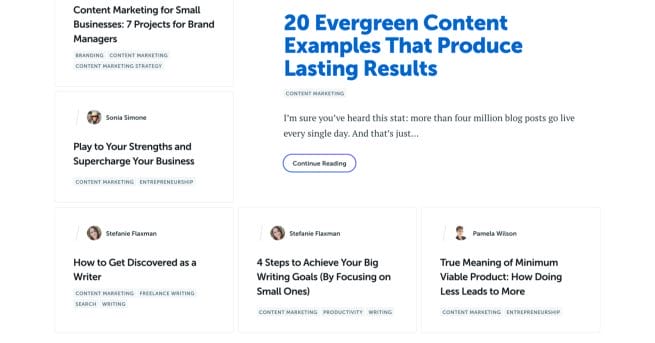 Copyblogger is one of the most well-known sites in the blogs-about-blogs space; you've probably already heard of them.
The focus of Copyblogger is broad.
It covers everything, from how to write more interesting blogs to how to market your blog more successfully.
It'll even teach you how to quit your day job and freelance full-time.
One of the reasons that I love Copyblogger is that, since 2006, it's been posting nonstop.
There's a wealth of resources available on their site, and you're all but guaranteed to find a post that was written within the last few days.
Choose Copyblogger if you want to upgrade every facet of your blogging strategy…
…it's totally focused on how you can free up your time and make more money.
And hey, isn't that what we're all here for?
Find it here: www.copyblogger.com
---
#2. Blogging Basics 101
Everyone has to start somewhere.
I had to spend time learning the most effective blogging strategies way back when I started thedoublethink in 2015.
When you're first starting out, sites like Jessica Knapp's Blogging Basics 101 are a godsend.
Figuring out where to start on her blog is easy — look at the section titled "Most read content on BB101" and read that content from start to finish.
If you've ever said, "Wow, I'd really like to start a blog, but I really have absolutely no idea where to start", this is the blog for you.
You'll learn which platforms are right for you, what niche you should consider tackling, how to get started, what the day to day looks like…
…and whether or not this whole blogging thing is right for you.
It'll also help you avoid some big pitfalls by teaching you things like why you should avoid duplicate content, which hosting services to avoid, and more.
Find this newbie-friendly blog at www.bloggingbasics101.com
---
#3. ProBlogger
There are a million hobby blogs out there – some of them are good, some of them are downright terrible.
You don't want to be a hobby blogger, though. You want to be a pro blogger.
ProBlogger is a blog designed to help you do just that. I love how Darren Rowse has set up his site.
There are over 8000 articles, but they're categorised in an easy-to-find format.
To be a pro blogger, you need to know how to write content, find readers, build community, and make money.
ProBlogger has content on all of those points – and a whole lot more.
You'll notice there are a lot of comments on these blogs – when Darren speaks, bloggers listen. Not a lot of folks have managed to start a blog in 2004 and keep it relevant all the way to 2023.
Read ProBlogger here: www.problogger.com
---
#4. AuthorityHacker's Blog
AuthorityHacker's mission is straightforward – they wants to teach you how to make high authority sites, and how to make money from those sites.
Affiliate pages. Advertising. Products. Building online properties, making money, then selling those properties.
These are the lofty aspirations that the pros at AuthorityHacker want you to aspire to.
One of the reasons AuthorityHacker's blog stands head and shoulders above most others is that it has a proven track record of making hugely profitable blogs.
They know what their doing. They'll teach you everything from how to write content to SEO tips and tricks.
The blogs are sorted into 5 categories for ease-of-use.
The "blogging" category best fits our 'best blogs about blogging' theme, but I highly recommend you read about how to, you know, make money from your blog.
Find the Authority Hackers here: www.authorityhacker.com
---
#5. Create And Go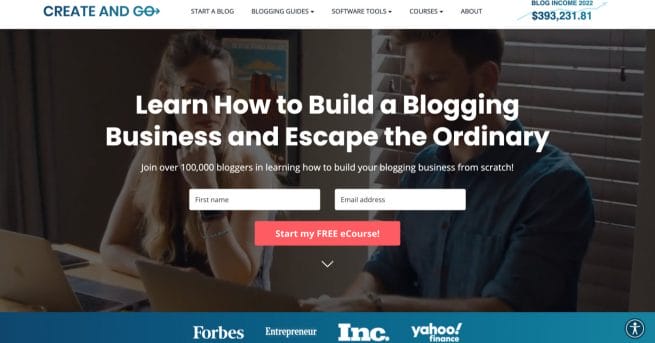 Create and Go – it's what we're all in this business to do.
This blog has everything – guides to choosing a blog name, how to find a profitable niche, and a whole lot more.
One of the things I love about Create And Go is how transparent they are with their own success.
You can see how much money the creators have made from blogging each year (in 2022, it was $393,231.81).
They even give you the full breakdown of where the money came from – affiliates, courses, and more.
The blogs are great; they've got a ton of tips on driving traffic to your blog (it'll even teach you to create a podcast to drive traffic).
You can find it at: createandgo.com
---
#6. Matthew Woodward
Matthew Woodward has been making websites since before YouTube and Google were big.
The fact that he's still successful speaks a lot about the value of his techniques.
His blogs-about-blogs are often focused on the tools of the trade – ways you can automate research, the best WordPress themes you can use, and so on.
Matthew is an SEO expert too; I really appreciate that his blogs are full of actionable tips on writing blog posts that rank on Google.
His site is an all-in-one portal for bloggers who are looking to expand their reach and make money full-time building their brand online.
You can find him at: www.matthewwoodward.co.uk
---
#7. Kristie Hill
Kristie Hill's blogs-about-blogging may be the most approachable, aesthetically pleasing blogs in the category.
And they're good.
I love Kristie's approach to blogging. Her posts all look amazing, and they're filled with useful tips.
Part of the reason Kristie's blogs are so aesthetic is her love of Pinterest (a platform where good aesthetics are at the forefront).
That's something that makes Kristie's site a little different – she'll teach you how to use Pinterest in conjunction with your blogs to drive traffic.
Her personality shines through in all of her blogs, and they're filled with tips that are accommodating to new bloggers…
…she'll never encourage you to follow dogmatic rules if they would stop you from launching your blog.
Find her at: kristiehill.com
---
#8. Detailed
Detailed is an SEO-first company, so you can expect blogs dedicated to optimizing your blogs for search engines.
It's got a cool origin story – it started by cataloging which high-ranking sites were owned by which companies.
From there, it created a tool to monitor traffic to some of the highest-ranking sites—and to find out which companies own those sites.
In the Detailed blog, you can expect a lot of unique insights into the finances and business structures of some of the most profitable websites on the planet.
By learning what the top bloggers in the world are doing, you can emulate their success—and hope to land yourself on the Detailed blog one day.
You can find it here: detailed.com
---
#9.Smart Blogger
Smart Blogger's blog is somewhat unique in that it's largely focused on how to write better – and how to leverage tools to improve your writing.
You wouldn't think that's unique among blogs about blogging, but it is.
That's because most blogs-about-blogging are also focused on teaching you how to build your own blogs for affiliate marketing, advertising revenue, and more.
Smart Blogger, on the other hand, advertises remote writing jobs right on its site.
It wants the writers who are referred from its site to be the best of the best, so it'll teach you how to improve your copywriting and even how to do things like write fiction.
I love the diverse resources it offers and its laser focus on helping you write better content.
Get access to its works at: smartblogger.com
---
#10. WPBeginner
You can probably guess what this site's blogs are all about.
WPBeginner will teach you everything you need to know about blogging on WordPress. It's got beginner's guides, technical guides, and everything in between.
The focus on WordPress means you can get step-by-step guides on which extensions to download, how WordPress handles things like alt text, and so much more.
If you're using WordPress, this website is a must-read.
Find it at: www.wpbeginner.com
Have You Enjoyed This Article?
That got meta
Blogs-about-blogs, metablogs, whatever you want to call them—the ones I listed above are all worth a read.
Check them out.
Want More Stuff Like This?

Straight To Your Inbox
Then sign-up to thedoublethink free newsletter and get strategies I only share with subscribers...for free!
Thank you for subscribing.
Something went wrong.