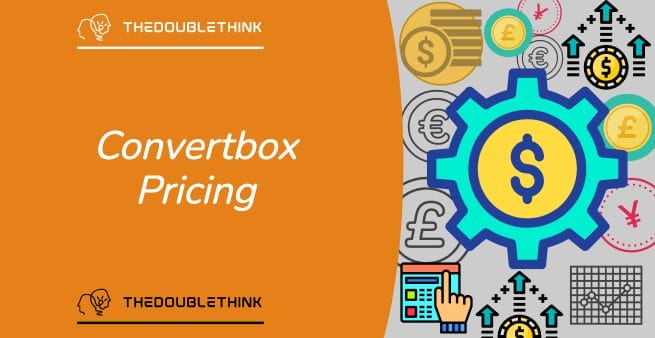 Convertbox seem to like to keep elements of their pricing a little bit of a secret.
Because if you want to find the Convertbox pricing for their special lifetime deal…
…you'll need to provide them with your email address.
I don't know why!
Maybe Convertbox just really like surprises!
But, if you don't love surprises quite as much as they do…
…you can find all of the Convertbox pricing right here!
Lets' get into it!..
Is Convertbox Free?
No. Convertbox is definitely not free!
Never has been, and probably never will be.
They used to offer a 14-day free trail period but I don't see that available right now.
Instead they have a 30-day full money-back guarantee.
Convertbox Pricing Summary
Convertbox is powerful lead generation and lead capture tool.
Currently, they offer a special lifetime price of $495 for their Standard Plan.
So you won't have any monthly fees to pay, or annual fees for that matter…
…because you've paid the full price upfront.
Also, you can choose to upgrade to their Pro Plan for an extra $95, making a total one-time-only price of $590.
If you haven't already, take a read of my full Convertbox Review for the full story.
Let's take a look at what you get with each of these plans.
Convertbox Standard Lifetime Plan
The Convertbox pricing is genuine and transparent.
The Lifetime Plan really does mean lifetime.
Once you've paid the $495 for the Standard Lifetime Plan, you will never be asked to stump up anything further.
This is some of what you get with the Standard Plan:
250,000 views per month.
You can use Convertbox on up to 10 websites.
Display anywhere on your site with these options:
ConvertBox Sticky Bar
ConvertBox Callout Modal
ConvertBox Center Modal
ConvertBox Full Page
Content Embed
Sidebar Embed
Deep message personalisation through Dynamic Text Replacement, meaning increased chance of conversion.
All Convertboxes can be made mobile-first with just a few clicks.
Surveys, quizzes, and multi-step funnels are all easily deployed to make visitor segmentation easy and effective.
Multi-step opt-in forms so that you can collect visitor information gradually and maximise the chances of them converting. 
Countdown timers can be easily added to all Convertboxes to build that sense of urgency.
A/B tests can be set-up in just three clicks. 
Real-time analytics enabling you to fully understand the performance of each Convertbox and its variations.
Opt-in forms easily integrate with all of the known email marketing platforms. 
No Convertbox branding so all of your Convertboxes are able to be personally branded as you wish.
Absolutely zero coding required because the drag-and-drop editor works perfectly.
Lifetime updates as soon as they are released.
Convertbox Pro Lifetime Plan
What are the differences between the Convertbox Standard Lifetime Plan and the Pro Lifetime Plan?
Well, you get all of the same features.
So it's simply a matter of size!
The Pro Lifetime Plan will cost you an extra $95. 
The Pro Plan offers 500,000 views per month, rather than 250,000.
The Pro Plan lets you use Convertbox across 50 sites, compared to 10 sites with the Standard Plan.
And up to 5 sub-users can login with the Pro Plan, compared to 1 login with the Standard Plan.
What About ConvertBox Elite & Elite Plus?
First of all, Convertbox Elite, and Elite Plus are no longer offered, as far as I know.
But if you've heard about them, and are curious to know what they were, this was the rough deal…
Early in 2022, ConvertBox was bought by the founder of ThriveCart, Josh Bartlett.
As soon as the deal was done, they offered an exclusive 'Elite' and 'Elite Plus' upgrade option to all previous buyers…apparently!
I say 'apparently', because I've been a Convertbox user since pretty much forever, and I don't recall ever being invited to take up this exclusive offer…(**makes sulky, pouty face**)
The ConvertBox Elite offer was a short-run thing.
It was offered to existing Standard Lifetime Plan customers…apparently…did I mention why I say 'apparently'?
Anyway, for the chosen ones, these were the extras available:
Monthly views increased from 250K to 1M
Increased the number of websites from 10 to unlimited
Pro Lifetime Plan account holders were also included in the giveaway party, with the offer of Convertbox Elite Plus.
Convertbox Elite Plus was a similarly short-run offer.
Made available to existing Pro Lifetime Plan customers…
…this is what you got:
Monthly views increased from 1M to 1.5M
Increased the number of websites from 50 to unlimited
Anyway, there's no greater rejection than to simply be ignored…so let's move on.
Oh dear, this is more than a little embarrassing isn't it!
Did you just read my whining about not being invited to upgrade to Convertbox Elite?
Well, so did someone from Convertbox! 
And they emailed me to say:
"Dude, you were upgraded to Elite for FREE, months ago, check inside your account, and correct your post please".
Well, I checked inside my account…and guess what? They were right, I had been upgraded to Elite for free, way back!
But I'm actually going to leave this post as is, save for this bit of humble pie eating! 
It'll serve to remind me to check everything before opening my mouth!
Convertbox Pricing – Frequently Asked Questions
Will Convertbox always offer their Standard and Pro Plans as a lifetime, one-time payment option?
No.
Convertbox have definite plans to bring the lifetime deals to a close.
I don't know exactly when this will happen, or how much they will charge for each plan when they do…
…but possibly in the region of $99 per month, or $1,180 per year for Standard.
Will I get product updates and customer support with the Lifetime Plans?
Yes…and Yes.
All Convertbox updates will apply, as soon as they are released, to the Lifetime Plans.
And the Customer Support team is available to Lifetime users without restriction.
Does Convertbox Work On Any Website?
Yes.
Convertbox is easily installed on any WordPress site with a plugin, and just as easily installed on HTML sites with a snippet of code.
Does Convertbox offer a money back guarantee?
Yes. Every new user gets a 30-day full money-back guarantee, no questions asked.
Convertbox Cost Summary
Just to recap, this is the current Convertbox pricing:
Standard Lifetime Plan at $495 
Pro Lifetime Plan for an additional $95
From the information currently on their website, it looks like when they bring the lifetime deals to a close…
…the Standard Plan will price at something like $99 per month, or $1,180 per year.
Is ConvertBox Worth It?
From my own personal experience of using Convertbox, I would say that yes, Convertbox is absolutely worth it.
It's one of the best online marketing tools I've ever bought.
But I don't know what your circumstances are!
I don't know how your current on-site lead generation and conversion optimisation is going.
You may already be hitting very high rates for your industry, and so maybe you'd get limited increase in those numbers.
Worse still…
…if you are already nailing very high opt-in and conversion rates, maybe a total change of software will mess things up for you.
All I can say for certain is that when I first bought Convertbox, my on-site, opt-in rates were bang average at best.
But now they're very decent indeed…even if I do say so myself. We're talking in the region of a four-fold increase in opt-ins.
ConvertBox Lifetime vs Ongoing Subscription
Going for the Convertbox Lifetime option does look like a lot of money to spend.
I definitely had doubts about it when I put my money down.
$495 is a lot to shell out!
And if you have just the one site, and don't have plans to grow it to anywhere near the sort of monthly numbers that you get with Convertbox…
…maybe going with one of the Convertbox alternatives, and paying on a monthly basis, could be the better choice for you.
But, if you have plans for a few sites, and for pretty decent monthly visitors, then the Convertbox Lifetime Plan is going to make a lot of sense.
ConvertBox Pricing – Wrapping It Up!
Well that's just about it.
I hope this article has helped clarify your thoughts about Convertbox, and specifically the cost of Convertbox.
If you are still undecided, take it for a spin…
…you can always take advantage of the 30-day full money-back guarantee if you don't get on with it.
Want More Stuff Like This?

Straight To Your Inbox
Then sign-up to thedoublethink free newsletter and get strategies I only share with subscribers...for free!
Thank you for subscribing.
Something went wrong.