Last Updated on March 12, 2023 by andrewtk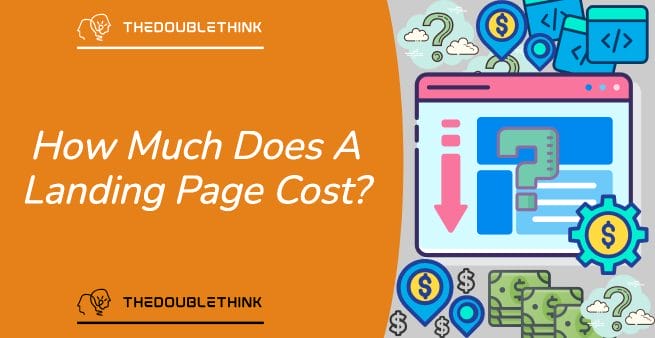 Landing pages are pretty much essential for every digital marketing campaign.
But just how much does a landing page cost?
Fortunately there are a few different landing page building options available…
…and each of them comes with a slightly different trade-off between your time, and your money.
In this post, we're going to look at each available option, to help you decide which is the best for you.
Let's get going…
Cost of a Landing Page – Key Info
| | |
| --- | --- |
| 💲 Price | Using an agency is probably the most expensive option. |
| ⏱ Time | Building yourself is likely the most time consuming option. |
| ✅ Quality | Almost impossible to say which delivers the best quality. |
| 🏁 Conclusion | Carefully consider the price/time/quality trade-off. |
Landing Page Creation Options & Costs
How much does a landing page cost?
To figure this out, we're going to look at the following three separate landing page creation options:
Cost of a landing page using a landing page builder
Cost of a landing page using a freelancer
Cost of a landing page using an agency
Here they all are, with all the pros and cons, as well as the costs, associated with each:
Cost of a Landing Page Using a Landing Page Builder
There is no shortage of landing page builders available right now.
All focused on enabling those of us with no coding skills to create effective, high-converting landing pages.
But as would would expect, they vary hugely in both quality and price.
Advantages of Using a Landing Page Builder:
#1. Cost-Effective
If you're planning on creating landing pages pretty regularly, paying for a high-quality landing page builder may work out very cost-effective for you.
You're going to have to spend a little time up-front, figuring out exactly which page builder and plan is best for you.
But once you've done that, you can build new landing pages, and tinker with existing ones, until your heart's content.
#2. Easy Set-Up
Long gone are the days when it would take seemingly endless time in the set-up process.
Nowadays, you're up and running in a matter of a few clicks and a couple of minutes.
Most landing page builders are now extremely easy to install.
#3. Quick Development
Once you've figured out how to use your chosen landing page builder, you will be creating new pages in no time at all.
That's because all the page builders worth their salt…
…have spent a lot of time and money improving their page builder software so that it is super-easy to use.
You can of course speed up the process even more by choosing one of the many templates available, and simply adjusting it to make it your own.
#4. Try Before You Buy
There tends to be an industry standard 14-day free trial on the go with most landing page builders.
Some do 30-days, a few do 7-days, but most do 14-days!
Make the most of these free trials, because some of the options out there may look like they are perfect for you…
…but when you get down to using them, maybe there's something you just don't get on with.
Disadvantages of Using a Landing Page Builder:
#1. Limited Customization & Uniqueness
A disadvantage of using a landing page builder, rather than getting your pages built from scratch, is the extent to which customization is possible.
This is nowhere near the problem that it used to be, but it is still worth mentioning.
With a Landing Page builder, you are bound by the parameters of the software.
This does tend to be less of a problem the more you pay for your software…
…I use both Leadpages and Unbounce regularly, and I can't recall the last time I couldn't create exactly the page that I wanted with either of these builders.
Also, these software packages do make it very tempting to build from templates, and while this is a massive time saver, it does limit your chances of creating something unique.
#2. Time-Consuming
Okay, I know I said in the advantages directly above, that 'quick development' was an advantage.
And now I'm saying that page builders can be time-consuming.
So which is it?
It's both!
Once you up fully up and running with the software, and you know what you're doing, page builders make it quick to create new pages.
But, the first time you build a totally new page from a blank canvas, it is a bit of a learning curve.
So, if you're looking at only building one or two pages, maybe it's not the best use of your time.
#3. Poor Performance
Internet users to not have a lot of patience, and it's getting less and less all the time.
Make sure that and landing page software you choose is rated well for load times.
You may have built the best landing page ever, and be sending traffic to it 24/7…
…but if it is taking forever to load, nobody is sticking around to see it.
#4. Your Landing Page Might Turn Out Crap
Learning the technicalities of the software so that you can create a great looking landing page is only half the job.
The other half is understanding the psychology of converting visitors into customers, subscribers, followers…
…or whatever else your conversion goal might be!
And there'e a lot to it.
The copy you produce for your headlines and main body, and where you place them.
Your CTA's; how many, what colour, where do they go?
But, on the upside, remember that most decent landing page builders genuinely care that their users create pages that convert well.
And so they all tend to produce some very decent content aimed at helping you achieve that goal.
Like this Conversion Benchmark Report by Unbounce.
Or this article about copywriting for landing pages by GetResponse.
How Much Does it Cost?
A landing page builder could cost you anything from $19 per month, to $399 per month.
It all depends on which one you choose and which plan you opt for.
If you are serious about this option, you really need to spend a little time looking into which software provider and package is best for you.
These are some of the best high-end page builders: Best Landing Page Builders
These are some of the best budget-friendly page builders: Best Affordable Landing Page Builders
Cost of a Landing Page Using a Freelancer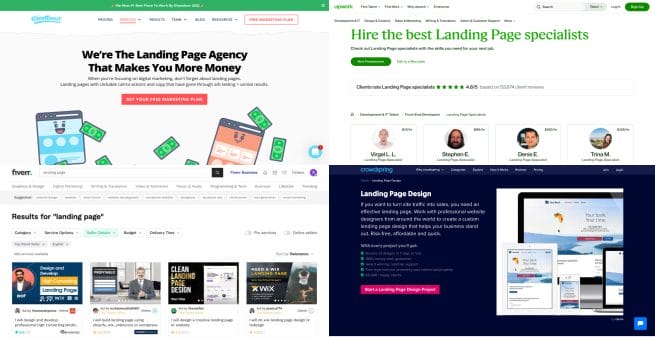 The unstoppable rise of the gig economy means it is now pretty damn easy to find a high-quality freelancer to create your landing pages for you.
Of course, there is a wide range of quality on offer, so a big part of your job, should you go down this road, is to sought the wheat from the chaff.
But if you are prepared to spend a little time on the screening process, this could be a seriously cost-effective way (both in time and money) of getting a very decent landing page built.
Advantages of Using a Landing Page Freelancer:
#1. Affordable Service
The freelance platforms tend to self-regulate when it comes to price.
It's easy for anyone looking to place a gig to compare service offerings…
…and none of the freelancers want to be the outlier when it comes to price.
If you filter your search by seller-level, star-rating, jobs completed, that sort of thing, you should find the search results present you with a bunch of contenders with pretty similar pricing.
#2. One-Person Job
You don't have to deal with a team.
You pick your preferred freelancer, you communicate directly with them about the job specifications.
And they go ahead and crack on with it.
Usually pretty quickly too!
#3. Easily Contactable
Pretty much all freelancers I've ever dealt with have been very easy to get in touch with.
You reach out…they respond.
Nice and simple.
Disadvantages of Using a Landing Page Freelancer
#1. It Can Be Hard to Find the Best Freelancers
If you've chosen to go down this route, your job has changed from learning to use a page builder, and creating effective landing pages yourself…
…to spending time learning how to sought through freelancer platforms and uncovering those who are the best at what they do.
Everything is a trade-off.
You're going to have to learn how to filter and screen candidates effectively.
#2. No Contractual Terms
You may have agreed the full job spec and timings for delivery between you…
…but you're just going to have to trust that they will be good for their word, because that's just about all you've got.
#3. They Can Walk-Out at Anytime
I once had a freelancer carrying out some coding work to resolve a problem I had in setting something up on one of my sites.
After an initial good start, I noticed that no further progress was being made.
I emailed numerous times, and I eventually received a response that went something like "Sorry, jobs too difficult for me. Bye."
How Much Does it Cost?
The cost of using a freelancer to create landing pages varies widely.
And generally, you get what you pay for.
Prices tend to range between $15 – $100 per hour.
A single landing page project also varies by amount of time needed to complete the job. This is mostly dependent on how complex the requirements are.
Depending on complexity, creation of a landing page can take anywhere from 5 to 35 hours.
When placing your order, you can agree to pay for the job by number of hours spent, or you can often agree a total price for delivery of the whole project.
As a further guide for what you might expect to pay, I checked out a few of the bestselling freelancers on Fiverr (all fluent English speakers).
These are the range of costs they quoted by project:
Lowest price: $50
Average price: $350
Highest price: $2,000
Where to Find a Good Freelancer?
Here's a small handful of some of the freelancer platforms you can use to find and hire someone to build your landing page:
#1. Fiverr
Easy to sign-up with.
Easy to filter and select potential candidates.
Fiverr has been going for quite a while now and it's growing in quality and popularity with each passing year.
This tends to be my first port of all nowadays when I need a freelancer to do a job for me.
#2. Upwork
Upwork take their role seriously.
And they've been at it for a similar number of years as Fiverr.
They are definitely on a mission to keep improving the reputation of the gig economy.
Even though I do tend to mostly use Fiverr, I've always found Upwork it to be a great platform.
There are of course other freelancer platforms out there, sites like Guru for example, but I've not used them so I'm not going to write about them.
Cost of a Landing Page Using a Landing Page Agency
If the thought of spending your time building your own landing pages doesn't appeal to you.
And the idea of seeking out a high-quality freelancer seems too random for you.
Plus, if you have a fairly decent budget for your landing page project…
…using the services of an agency could be the right call for you.
Advantages of Using a Landing Page Agency:
#1. Cooperation & Collaboration
With an agency, you are going to find a higher level of professionalism.
The project is going to be fully spec'd out, a time-frame for delivery agreed upon, and a contract signed by both parties.
It's also highly likely that you will have access to view your landing pages at various stages throughout their creation.
#2. Error Free
Well, hopefully anyway.
An agency is likely to have some kind of quality control check in place, to make sure that any mistakes have been dealt with before you see the final version of your page.
#3. Marketing/Conversion Knowledge
Most landing page agencies are part of wider online marketing agencies.
And where this is the case, you're going to benefit from having someone build your pages that aren't just great at building beautiful looking pages…
…but also know how to build landing pages that convert well.
#4. Done-for-You Conversion Metrics & A/B Testing
Any agency worth their salt will want to set-up performance testing parameters on your new landing page.
If they are genuine digital professionals, they will be confident that their pages convert well.
And they'll want to prove that to you in the hope of winning further business from you.
Disadvantages of Using a Landing Page Agency:
#1. Expensive
You're going to save yourself time.
You're going to maximise your chances of having a high quality landing page produced.
But you're going to pay for these benefits in money!
#2. Time to Final Delivery
Agencies do not like to be rushed.
They have turned everything into a process, and no part of the process can be skipped.
For quality this is great, but you might find yourself waiting quite a while for your landing page.
How Much Does it Cost?
So exactly how much can you expect to shell-out, in order to have a landing page specilaist agency design and deliver your next high-converting landing page?
Of course it's going to depend on the size and complexity of the job.
For a rough guide to the cost of a basic project:
Basic Landing Page: $400
Basic Landing Page & Thank-You Page: $550
Basic Landing Page & Thank-You Page + AutoResponder Integration: $650
But if you are looking at the top end…
…anywhere up to $3,000 per landing page is very possible.
The good thing is that all of this will be agreed at the outset. No surprises.
You won't think you're getting a $500 invoice, only to get one for $3,000.
A Word of Warning!
If you are going go with an agency, make sure they have landing page building specialists.
A lot of web-design agencies will also carry out landing page work, because they have the technical skills needed for the job.
But do they have the right knowledge to create a landing page that converts?
Do not spend this sort of money for nothing more than a beautiful looking page.
Some of the best converting landing pages ever, are actually damn ugly.
You want an agency that has landing page development as a speciality, not a web agency that doesn't understand the conversion elements of a landing page.
Which One Should You Choose?
Choosing which way to get your landing pages created gives you a lot to think about.
The price, the time, the quality.
Here are a few points to consider before making your decision:
Consider Page Builder Software if:
You have time to dedicate to the project.
You want to learn how to use a landing page builder.
You don't want to deal with a freelancer or agency employees.
You don't have the budget for hiring a freelancer or an agency.
Consider a Freelancer if:
You don't want to spend too much time on building your landing pages.
The idea of creating your own landing pages is not attractive to you.
You are happy to communicate with someone about the project.
You have the budget for hiring freelancer.
Consider an Agency if:
You need the best professionals and highest-quality output.
You don't want to spend too much time on building your landing pages.
The idea of creating your own landing pages is not attractive to you.
You are happy to communicate with someone about the project.
You have the budget for hiring an agency.
FAQ's
Are landing pages worth it?

In most cases…yes! Landing pages are more conversion focused than normal website pages and this usually result sin significantly better conversion rates.

Can I get a free landing page?

Probably not. I mean, you might be able to convince a newbie freelancer into building you a landing page in exchange for a review, but, remember that a landing page doesn't just need to look good…it needs to convert well too.

What hourly rate should I expect to pay an agency for a landing page?

Professional design agencies will tend to provide you with a total price to build your page. The range is huge. Depending on the complexity of the job you could be looking at anywhere from $300 to $5,000.

What hourly rate should I expect to pay a freelancer for a landing page?

Professional freelance landing page specialists are usually charging anywhere between $25 and $100 per hour, depending on skill level and experience.

How much time will it take someone with no page building experience to create a landing page?

Your very first landing page, no experience, never used the page builder software before…probably something like 30 hours to knock-out something anywhere near decent.
Wrapping It Up!
It's a lot to think about.
But landing pages are damned important so it is worth applying a bit of brain power to your decision making.
Choose the right path for you, and this decision could power your business for years to come.
Want More Stuff Like This?

Straight To Your Inbox
Then sign-up to thedoublethink free newsletter and get strategies I only share with subscribers...for free!
Thank you for subscribing.
Something went wrong.