Content creators spend hours researching keywords, analyzing competitors, identifying content gaps, producing content briefs;
The list goes on and on!
It is unbelievably time consuming, to say the least!
This was my world…but not anymore!
I have sped up my content production process by 4, or maybe even 5 times!
So what's my secret?
A software tool called Frase.io
From spending endless hours creating content, or content briefs for writers.
To spending minutes producing fresh new pages and posts, or content briefs, that produce better written content than I've ever managed before.
I'm getting more engagement, shares and backlinks as a result. Unbelievable!
In this Frase review, I will share my experience as a real customer over the last year or so.
Lets dive into this Frase Review…
What Is Frase.io?
Frase.io is an artificial intelligence powered content creation tool that helps content marketers streamline the research and creation of content.
The software uses artificial intelligence (AI) and natural language processing (NLP) to rapidly generate SEO focused content outlines and briefs for your target keywords.
Say you're writing a totally new article…
Frase will crawl the twenty top ranking pages in Google, present you with all of the key SEO information from the results…
…and then enable you to simply point-and click to generate your content outline and brief…all in about 30 seconds!
If you're more interested in optimizing existing content;
Frase will scan your existing content and benchmark it against competitors to identify topic gaps, and make the suggestions necessary to improve and fully optimize your article.
Frase also comes loaded with its own AI Writer, and the Frase Answer Engine…but let's dig into those two features a little later.
My Experience With Frase
I've been a Frase customer for just over a year and have used it to produce 100+ articles from scratch.
When I first signed-up, we had a bit of a rocky start, but that was totally my fault.
I've never been one for reading instructions or sitting through tutorial videos.
But I soon learned that just thirty minutes spent watching the Frase videos on how to get the best out of it were well worth the time.
So, I knuckled down and watched a couple of short tutorials and off I went, again.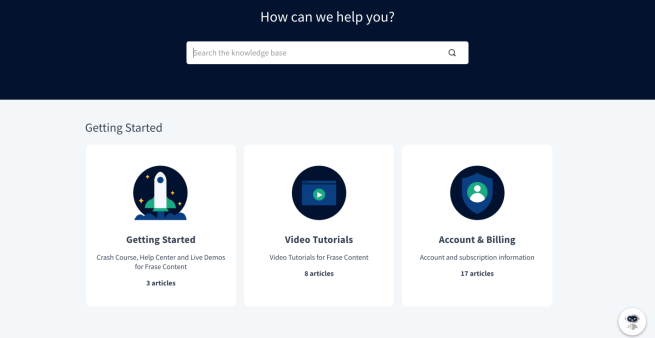 What a difference, now I was able to pull together a comprehensive content outline and brief in just a few minutes.
And not just any old content outline…one that had all of the main common points being covered in the top ranking two pages on Google.
This made it crazy fast for me to either send the brief to a content writer for them to complete…
…or to start working on myself, with the assistance of the Frase AI Writer to quickly and easily make the content my own.
And it's paying off – Over 100 pages and posts produced, with the vast majority of them ranking high on Google much more rapidly than I'd previously been managing by myself.
And based on examples I've seen from other site owners using Frase, I think I'm only just scratching the surface!
5 Things I Seriously Love About Frase.io
#1. Massive Time-Saving
I've got three sites on the go at the moment.
Before getting Frase, I'd been writing about half of the content for these three sites myself, and getting content writers doing the rest.
As a fellow site owner, or manager, I don't need to tell you that it was a never ending struggle to keep producing the right amount of high quality SEO optimized content.
Two main struggles really:
i) The time it was taking me to write the content I was responsible for, and;
ii) Properly briefing writers so that they produced the content I actually wanted.
I now find that using Frase has resulted in both of these problems falling away.
Because of how quickly I can produce highly detailed, SEO ready content outlines, along with the AI Writer for freshening the content.
My content production times have gone through the roof…in excess of 4 x quicker!
Just as importantly, Frase automatically produces AI generated content briefs, with article overview and outline, SEO keywords, headings, keyword count, subsections…in just a few seconds
This is an absolute game-changer when it comes to both how quickly you can create a content brief to sent to your writer, as well as in the quality of article that you get back.
#2. Powerful Optimization Of New And Existing Content
This is so easy to use. And from the results I've experienced, it works!
I've used a few content optimization tools in the past and none of them make it as quick and easy as Frase.
You can use Frase to create totally fresh SEO focused articles.
And you can use it to optimize content you've already published.
If you've got content that's already on your site, you can simply hit the 'Import Content To Optimize' button and add the URL of the page or post you want to optimize.
Or, if you're half-way through writing a piece of content in maybe Google Docs or Word, you can copy and paste the article into the 'My Content' tab.
If you're writing a new article inside the Frase content editor, Frase is automatically running your optimization score anyway.
Whether it's new or old, Frase compares your article against the top 20 results on Google and suggests improvements, like:
Average Word Count
Suggested Short and Long-tail Keyword Use
Number of Headers
Topics Gaps
Keyword and Phrase Overuse
Topic Clusters
Automatically produces topic clusters and expands into related topics
Accesses questions from Reddit, Quora, and People Also Ask
Researches Wikipedia and presents topics them via a concept map
Researches news and related sources
Your topic score improves as you make the suggested changes. And you can see the topic scores of the 20 search results too, so you know how you're shaping up…
…and increasing your chances of ranking #1 in Google!
#3. New Content Ideas
There are a couple of ways to quickly generate new content ideas inside Frase.
Questions
Under the "Questions" tab, you can search a broad keyword phrase, and you'll be given a list of the questions being asked and answered in the top 20 Google search results.
You can also run that same keyword through Google's 'People Also Ask', Quora and Reddit, all within your Frase dashboard, to see what questions each of those are throwing your way.
As a content creator yourself, I don't need to tell you this is gold-dust!
This means you can find new topic ideas around what your audience are searching for.
From this 'Questions' page within Frase, you can then simply point-and-click to quickly generate an article outline and brief!
Frase Concept Map
Have you used 'AnswerThePublic' before now?
If so you'll totally get the power of this feature.
Frase can generate a concept map for any given topic, in exactly the same format you see within AnswerThePublic.
The Frase concept map pulls in extensive topic information from Wikipedia and visually links the related topics together.
To be fair, I don't use this function anywhere near as much as I use the questions from 'People Also Ask', Quora and Reddit…but hey, I'm still learning!
These are all super-useful when you find yourself running out of new topic ideas to write about.
#4. Responsive Support
The support is rock solid.
Frase.io is a relatively small and still pretty new company, and in my experience that usually spells trouble when it comes to the support side of things.
Thankfully that's not been my experience with Frase. The support team they have in place is excellent.
Within their Facebook group, they encourage feedback and want users to suggest new features.
If you have an issue that needs attention, you can easily raise a support ticket from within your dashboard, and you'll get a quick response.
#5. New Features Roll-Out
You can be pretty confident with Frase that you're not going to get left behind while other platforms develop better technology that surpasses what you're using.
New features are being added constantly.
Frase.io seem to have a strategy in place to quickly become the best content tool of this kind on the market.
3 Things I Don't Love Quite So Much
Well, there is no totally perfect tool, Frase included.
Here are a few things that bug me a little…
#1. Answer Engine Limit
One shortcoming I see, is with the monthly answers limit within the Answer Engine.
Set at five hundred answers per month, if your site is getting say 25,000 monthly views, you could find yourself hitting your limit pretty quickly.
#2. Keyword Data
Frase.io isn't supposed to be an all-in-one SEO tool. It's a content creation tool.
As so it doesn't offer keyword data in any of its plans.
You'll need to buy Frase's SEO add-on for an additional $34.99 per month to get access to keyword data.
This doesn't actually bother me because I use Mangools KWFinder for all of my keyword data anyway…
…but I wanted to make sure you are aware of this, to avoid you potentially signing-up to Frase expecting this as part of your plan, and ending up disappointed.
#3. Scraping Failures
There have been the odd occasions where I've noticed that Frase hasn't fully process some of the search results.
This means that some of the headings and/or text don't end up coming through as they should.
But it's pretty rare, and to be fair it's not an uncommon problem with multi-site crawling.
How I Use Frase Right Now
I know people who have bought Frase and then struggled to find the best way to use it.
Frase has a ton of features and functions so it does take a little time to get to know how it's going to work best for you.
For Content I'm Writing:
I now write directly in Frase for all of the content I produce.
I simply click on 'New Document' add my seed keyword, wait a view seconds while Frase pulls in the top twenty search results…
…and then I point-and-click to create my content outline with headings, FAQs etc.
I then start writing with the assistance of the AI Writer. This really keeps your speed up because you never get stuck trying to figure out what to say.
I pay little attention to the 'Topic Score' at this stage, I'm just getting what I want o say down quickly.
First draft done. Now I put it through the optimize tool, and tweak as suggested, until my score is comfortable mid-range of the top five search results.
Written. Optmized. Copy & paste to WordPress. Add images and format. Done!
For Briefs To Send To Content Writers:
I use any one of a number of the templates available inside Frase, the exac t one I'll use depends on the type of article.
Add my seed keyword, I then let Frase run its AI generated brief, which takes something like fifteen seconds.
Once that is done, I go through the suggested brief and maybe move a few things around, maybe delete/add some headings, to make sure it's exactly how I want the brief to be received by the writer.
I always add any questions that I feel really need answering.
Once this is done, I share a link to a non-editable brief on the team Trello board.
The content writer picks the brief up from there and starts writing the article.
Once the article is complete, I import into Frase and run the optimization tool to make sure it's scoring as I want it to.
Copy & paste to WordPress, add images, format and publish!
You will no doubt notice that i still like to have a lot of control over the content that goes on my sites.
I am not a hands-off type of guy!
But even with that said, these processes through Frase, mean that my content production times are at least 4 x quicker than they were previously.
You could no doubt do things differently and shave off even more time.
Frase.io – Core Features
A little dry I know, but I can't really write a Frase review without giving you a run-down of the core features and functions…
…so here goes:
SERP Analyzer / Content Creation Research
Insert thetopic or keyword that you want to write about, and let Frase deliver the top 20 Google results to you, along with their average word count, headings information, keyword use, average links, average sections, image use, plus…
…all of these SERP results placed in an easily scrollable sidebar for you to drill-down into for full access to their full page content.
Content Outlines & Briefs
Once Frase has presented you with the top twenty results, you can easily scroll through them within the dashboard to find headlines, or passages of text around which you want to build your new article.
You can then either point-and-click, and rephrase yourself, to produce your outline and brief, or;
Click on the 'Generate Brief' button to let Frase carry out even this simple task for you.
Content Optimization
The Frase 'Topic Score' is a (0-100%) proprietary scoring system based on the TF*IDF method of analyzing SERP results.
Your content will be given a score of 1-100%, as will that of your competitors.
And don't worry if your original score is pretty dismal, Frase will give you many suggestions for making big improvements, under three main sections, titled:
SERP Mentions – how the selected keyword is used by your competitors, and how you should use it;
Co-Occurrences – shows prominent terms being used in close conjunction with the chosen keyword;
Related Topics – pulls in similar topics from the Wikipedia Knowledge Graph. 
The content optimization feature is usable on both new content as well as your existing site content.
Question Research
Simply enter your target keyword and Frase will give you a list of on-topic questions from People Also Ask, Quora and Reddit.
You can then select the questions you'd like to use and add them into a new document.
AI Writer
Frase has a built-in AI writer , enabling you to have your content research, outlining and briefs, writing and SEO optimization all inside one tool.
To access unlimited AI written content, you need to buy an add-on for $35 per month, which is very decent value for money compared to other AI writing software.
These are just a few of the templates available for you inside the Frase AI Writer, so that you can easily create the best content for your specific needs:
Attention Interest Desire Action (AIDA Framework)
Problem Agitate Solution (PAS Framework)
Before After Bridge (BAB Framework)
Blog Title
Bullet Point to Answers
Features to Benefits
Featured Snippet
Meta Description
Next Sentence / Paragraph
Pros & Cons
Title Ideas
Plus More
A vast array of templates that should see you covered for most eventualities.
You can also choose to simple use the AI Writer as you write within the editor.
To do this you select a sentence or paragraph and click on it, to be presented with a toolbar where you can select any of these AI Writer prompt options:
Rewrite
Write About This
Next (suggests options for the next sentence)
In Addition…
Plus…
Furthermore…
Additionally…
However…
On The Other Hand…
Therefore…
So pretty decent flexibility to create the exact sentences and paragraphs you want.
And all in a fraction of the time it would take most human content writers to come up with the same.
Frase Answer Engine
'Frase Answers' is an AI tool you can choose to install on your site.
It crawls and analyzes all the content on your website and from that information, creates answers that your visitors can access through the Frase chatbot.
This is powerful stuff I'm sure, although not for me right now.
Prices start at $200 per month but that does include the Team plan.
Frase FAQ Schema
Never again will you have to manually add FAQ schema into your pages and posts!
This feature finds questions on your site and automatically inserts the JSON-LD snippet into your code.
Genius!
You will need to insert a small line of script into the header of your theme, but it's totally straightforward because even I managed to pull it off without crashing any of my sites.
Topic Ideas Generation
Sometimes you just get stuck trying to think of new ideas for your pages and posts.
Frase will make your topic idea generation a whole lot easier in a couple of ways:
Question Ideas – search a keyword, and Frase shows you a long list of commonly asked related questions;
Frase Concept Map – pulls in topics from Wikipedia and visually connects related topics together.
I don't use the Concept map function very often, but I'm all over the Question Ideas feature, and churning out new ideas hand-over-fist!
How Much Does It Cost?
Frase Solo: $19.99 per month, includes 7 Document Credits
Frase Basic: $44.99 per month, 30 Document Credits, unlimited Document Sharing
Frase: $114.99, unlimited Document Credits, unlimited Document Sharing
Plus, you can get unlimited access to the Frase AI Writer, as well as the SEO Add-On for an additional $35 per month.
Who Is Frase.io For?
Frase.io is a great way to massively ramp up your content production.
This means you can claw back your time and spend it on growing your business in other ways.
I guess that Frase is built with three types of users in mind:
SEO's – If you're an SEO looking to outrank your best competitors, Frase is going to give you a powerful boost in achieving that goal;
Content Marketers – You will increase content ROI by creating content that gets more traffic and therefore more conversions;
Marketing Agencies – Frase enables yo to spend less time on content ideas, research, outlines and briefs in curating fully-optimized SEO content. 
Above all, like with any purchase, you must to be able to justify the cost.
If you're in charge of agency purse strings, I'm pretty certain that you'll quickly see the significant ROI that Frase will deliver.
If you're still in the early days of running your own blog, you may want to hold on until your monthly income is becoming more stable.
I bootstrapped the launch of my first blog and did absolutely everything myself for a good 18 months or so.
But once I started making enough money to cover monthly costs like a Frase subscription, I was all in.
Wrapping It Up!
You, me, every content site owner or manager…
…we're in a CONTENT ARMS RACE!
Building sites that produce significant regular monthly income, and that can be sold for top dollar, is now all about consistently producing a high volume of great content.
Frase enables you to do that!
Having been a customer a while now and having produced 100+ ranking articles, , I can say without a doubt that choosing Frase.io has been one of the best decisions I've made for my business.
Frase won't be a perfect fit for everyone. You've got to spend a little time to get the very best out of it.
I used to spend an hour drafting a content brief to send to a writer…
…now it takes me in the region of five minutes.
And when I write my own content, it's now four, or maybe even five times quicker.
So I get more time to spend growing my business in all the other ways that I'd previously been neglecting.
Will I continue using Frase.io in the future? You can put money on it!
Want More Stuff Like This?

Straight To Your Inbox
Then sign-up to thedoublethink free newsletter and get strategies I only share with subscribers...for free!
Thank you for subscribing.
Something went wrong.