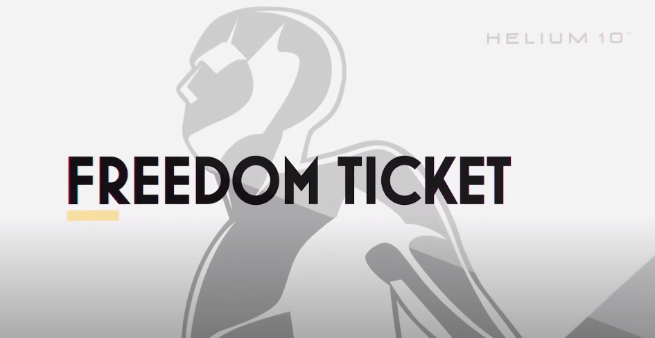 Every man and his dog seem to be launching Amazon FBA training courses right now.
Most of them are absolute garbage…at best!
Some of them are so bad, they'll pretty much destroy your chances of FBA success before you've even started.
I've been through a ton of Amazon FBA courses over the last few years, inside-out, and back-to-front.
If you want to find out whether I think Freedom Ticket by Kevin King is going to either…
…totally ruin your chances of FBA success, or;
Set you on the path to owning your very own booming Amazon FBA business…
Here's my personal opinion:

Freedom Ticket Review…
…a Quick SnapShot:
Freedom Ticket is a well established FBA training program run by veteran Amazon seller Kevin King.
It aims to help those new to Amazon FBA get out of the blocks quickly, covering every step of the process to establishing yourself as a successful Amazon seller.

This course is focused on teaching the 'Private Label' Amazon FBA strategy.


EFFECTIVENESS
USEABILITY
SUPPORT
PRICE

Summary:
Freedom Ticket is bang up-to-date and totally relevant for anyone new to FBA.
The training is comprehensive, delivered with absolute clarity, and goes deep into all of the important stuff.
Quality FBA training…you won't find many better.


Continue reading for my full Freedom Ticket Review…


What Is Freedom Ticket…And What Can It Do For You ?
Okay, let's get some factoids rolled-out.
Freedom Ticket is a long running Amazon FBA training course, founded by Kevin King.
Kevin King has been selling on Amazon and eBay since 1999 (yeah they did exist back then) and his track record of success stands up to pretty much anyone's.
Kevin King is a serious Amazon seller, and he's serious about getting you to become one too.
The Freedom Ticket course is:
Delivered over eight-weeks
Focused on 'Private Label' as your FBA strategy
Suitable for international sellers, not just those in the U.S.
Available as a standalone course for $997
Available FREE with Helium 10 'Platinum', 'Diamond', or 'Elite' membership
Helium 10?
What the hell is Helium 10, and what's it got to do with this review?
Helium 10 is a leading software solution for FBA business owners. It offers more than twenty tools for Amazon sellers.
The Helium 10 tools help you find successful products, carry out Amazon keyword research, build and optimise Amazon listings, and a ton of other important stuff.
What's it got to do with this review?
Well, Freedom Ticket and Helium 10 have joined forces and merged.
And that's nothing but good news for you as a potential buyer, because you can now get your hands on Freedom Ticket two different ways.
Here's the Deal:
Product/Program: Freedom Ticket or Helium 10/Freedom Ticket
Product/Program Owners: Kevin King & Helium 10
Price: $997 (or Free with Helium 10 'Platinum', 'Diamond', or 'Elite' Membership)
Money Back Guarantee: 30-Day Full Refund
Visit: Freedom Ticket
Freedom Ticket Or Freedom Ticket With Helium 10 – Which Is The Best Deal For You?
Is this sounding way more complicated than you expected?
You clicked into this review just wanting to find out if Freedom Ticket is any good…
…and now you're also thinking about whether a suite of Amazon seller tools is any good too.
Let's try and add some clarity.
Me personally, I would always tend to go down the least complicated route…
…which in this case looks like buying Freedom Ticket as a standalone course.
Just pay the $997, and think about whether I need a bunch of Amazon tools further down the line.
But does that really make any sense?
I'm not sure that it does, and here's why:
Reason #1.
If you're going to see this through, and get yourself up and running as an Amazon seller…
…you are most likely going to end up buying a suite of amazon seller tools pretty soon into your journey.
So you've then gone and bought the course at full price…
…and then you've added your Amazon tools, whether it's Helium 10, or Jungle Scout, or someone else, on top.
You will have over-payed.
Reason #2.
Whichever route you go in by, you have a 30-day full money back guarantee.
Which is great, obviously.
But, Amazon FBA is not for everyone, and you may take a little longer than 30 days to realise it's not for you.
In which case, if you've bought the standalone course, all of that money is gone.
But, if you bought in by taking either a Helium 10 Platinum, Diamond, or Elite membership…
…not only have you got your 30-day full money back guarantee…
…but if you end up deciding FBA is not for you after that's expired, say in your second month…
…you can just go ahead and cancel your monthly membership.
In which case you've lost maybe two rounds of $97, instead of $997.
Reason #3.
The course does in some places seem to assume you are using Helium 10 'Platinum' membership.
Not a deal breaker by any stretch, but when you can get accessHelium 10 'Platinum' via one of the course buying options, it does look like a bit of a no-brainer.
I hope these reasons have added just a little clarity.
Let's move on and take a look at what's inside the Freedom Ticket course.
Freedom Ticket Course – What's Inside?
Freedom Ticket is put together as an 8-week course.
The full course is shot over 60+ video modules, each with its own review slides and written notes.
The 60+ video modules are split into eight distinct sections, with each section being delivered one week apart, over the eight weeks of the course…
...and they look like this…
Week 1 – Introduction: 3 modules introducing you to the course and the FBA opportunity
Week 2 – Amazon & Business Basics: 6 modules on getting yourself set up for success
Week 3 – Branding, Money & Millions: 8 modules covering branding, FBA costs, cashflow
Week 4 – Picking a Successful Product: 8 modules on finding products and using the Helium 10 tools
Week 5 – Suppliers, Orders & Shipping: 13 modules on dealing with suppliers, ordering and shipping
Week 6 – How to Compete & Win Big: 10 modules on how to press home your advantage
Week 7 – How to Create High Converting Listings: 6 modules on creating killer listings
Week 8 – Ranking, Advertising & Promotions: 12 modules covering discounts, coupons and PPC
Once you've completed the course, all students continue to have full access to all of the course material.
If you want to more detail…
…you can see the full list of modules that make up each weekly section on this page.
"The vision of Freedom Ticket is to help new Amazon sellers launch their FBA business and help veteran sellers achieve next level status of living a prosperous life and claiming their 'Freedom Ticket' to success."

Kevin King
Pros And Cons
Here's a super-quick run through of the stuff I love about this training course.
Followed by the stuff I think is a little bit underwhelming.
Pros:
Training goes deep and wide
Highly credible – Both Kevin King and Helium 10 are serious players
Live Q&A calls during first three weeks
Course is well structured and presented clearly
Realistic and straightforward approach
Regularly updated
Could Do Better:
Amount of content can be overwhelming
Some videos are seriously long, I'd rather they were split into two
The annoying upsell – don't worry about it, this course is enough for beginners
FAQ's
What even is Amazon FBA?
If you're considering buying this Amazon FBA training course, I think you already know this, but just in case you don't, have a read of this earlier post Amazon FBA – How It Works.
Are either Freedom Ticket or Helium 10 scams?
No, absolutely not.
Both course founder Kevin King and partner Helium 10 are legit.
Does Freedom Ticket come with a money-back guarantee?
Yes.
And it doesn't matter whether you buy in to the standalone course, or through Helium 10, both ways come with a 30-Day 100% money-back guarantee, no questions asked.
Does the freedom Ticket course go out of date?
No.
This course is kept totally up-to-date with existing members given instant and full access to both new and refreshed material.
Is Amazon FBA a 'push-button', 'turn-key' business opportunity?
No.
Establishing yourself as an FBA seller takes work. It's a real business and real businesses do take work.
The FBA opportunity is incredible, and the potential rewards can be staggering…
…but if you're looking for 'quick and easy' this one is not for you.
Are there any high-quality Amazing Selling Machine alternatives?
Yes. See a little further below.
Here's a pretty neat video of Kevin King and the guys from Helium 10 doing some Q&A with a couple of Freedom Ticket students…
Freedom Ticket vs Other Amazon FBA Courses
I believe that Freedom Ticket is a great course.
But it is not your only option, I'm pretty sure you're well aware of that.
There are some outstanding alternatives out there.
Have a read of my round-up of preferred Amazon FBA Courses…
…to see where I personally believe Freedom Ticket fits in.
If you don't have the time for that…
…here's a quick snapshot:
My Top 5 Amazon FBA Courses
#1. MarketPlace SuperHeroes (see review)
#2. Freedom Ticket (see review)
#3. Amazing Selling Machine (see review)
#4. Proven Amazon Course (see review)
#5. The Online Selling Experiment (review coming soon)
How Much Does Freedom Ticket Cost?
If you go ahead and buy Freedom Ticket as a standalone course, it will cost you $997, or 3 payments of $397 ($1,191) if you'd prefer to pay in instalments.
Alternatively, you can get full access to Freedom Ticket, at no additional cost, if you take out a Helium 10 'Platinum', 'Diamond', or 'Elite' membership
The Helium 10 memberships mentioned above start at $97/mo. You can view all of the membership options, with prices, near the bottom of this page.
Helium 10 Freedom Ticket Discount
There is a discount available if you sign-up via one of the three eligible Helium 10 memberships.
You can get 50% off your first month by using this code: HELIUM50
Or you can get 10% off every month by using use this code: HELIUM10
I haven't been able to find any discounts available to anyone who wants to buy the standalone course.
Is Freedom Ticket Worth It?
Kevin King's Freedom Ticket course easily makes it into my 'Best Amazon FBA Courses' list for good reason.
It offers the all-too-rare combination of great quality and affordable price.
This course has all the information you need to build your own 'Private Label' Amazon FBA business, from scratch.
It's totally clear that Kevin King is the the real deal and that he is passionate about this course.
As for his partnering up with Helium 10? I don't really see any downside…
…both Kevin King and Helium 10 have been, and still are, in this for the long-run.
There genuinely are very few negatives.
Freedom Ticket Review – Wrapping It Up
This is quality stuff.
The course covers pretty much everything you need to know to establish your own Amazon FBA business.
Kevin King does not hold back in sharing his deep knowledge gained over many years as an Amazon and eBay seller.
And it's knowledge like this that is so hard to come by…where you're learning from a guy that has been in the business since day one…
…and has launched five separate, successful Private Label brands.
Freedom Ticket is a high-quality Amazon FBA training course.
But, there is also an element to online courses where you need to like the style of the people turning out the content…if you're going to get the best from it.
Personally I like the style of Kevin King and his co-presenters, but you may not.
And with that said, if you do choose to buy Freedom Ticket, keep in mind that you have the 30-day money back guarantee to fall back on, if it just doesn't click for you.
Have Your Say
Let me know what you think of Freedom Ticket, or any other Amazon course that you've been through in the comments below.
Good luck!
Want More Stuff Like This?

Straight To Your Inbox
Then sign-up to thedoublethink free newsletter and get strategies I only share with subscribers...for free!
Thank you for subscribing.
Something went wrong.