Amazon is on a seemingly unstoppable rise…and unsurprisingly so is Amazon FBA.
Amazon's growth has been staggering.
The online giant's revenue, over the last three years, has seen growth at 31%, 20% and 38%.
Founder Jeff Bezos is now the richest person on the planet.
Depending on the Amazon share price his wealth is somewhere in the region of USD190 billion…and that's after his divorce settlement!
That's all well and good…but what's it got to do with you?..
…well, it can potentially have a lot to do with you…
…because the incredible Amazon sales platform, thanks to the Fulfillment By Amazon (Amazon FBA) business model…
…is open to pretty much anyone, with a sound work ethic, to leverage.
I'm pretty certain that once you've found out a little more about how Amazon FBA works, you'll be giving this business opportunity serious consideration.
What Is Amazon FBA?
What you may not know just yet, is that it's not actually Amazon selling most of the products on it's own site, but people like you and I.
Very basically…
…this whole opportunity exists because Amazon allows third-party sellers onto their vast online sales platform.
As well as making their global marketplace available as a place to market and sell products that you have sourced…
…Amazon also provide the exact same fulfillment services to third-party sellers, as they use when making their own sales.
Say what?
Having read that, I would be surprised if you are not seeing the massive opportunity and already thinking about starting an Amazon FBA business of your own.
Here is how Amazon FBA works, in Amazon's own words:
"You sell it, we ship it. Amazon has created one of the most advanced fulfilment networks in the world. With Fulfillment by Amazon (FBA), you store your products in Amazon's fulfilment centers, and we pick, pack, ship, and provide customer service for these products".

Amazon
How Does Amazon FBA Work?
Amazon's 'Fulfillment By Amazon' program (Amazon FBA) means you can find products you'd like to sell..
…you then source the products as cheaply as possible and sell at a profit on Amazon Prime…
…with Amazon handling the storage, shipping and customer support.
Basic Amazon FBA – Step-by-Step:
You find the product/s you want to sell;
You prepare, or have prepared, the product to send to one of Amazon's warehouses;
You ship, or have shipped, the products to the selected Amazon warehouse/s;
Amazon unpacks and holds your products;
You list the product/s on Amazon;
Your product shows up for sale on Amazon;
Buyers order your product;
Amazon ships your product to the buyer.
Still not making a whole lot of sense? Try out this video by Amazon themselves…
What Does An FBA Seller Actually Do?
As you will have already noticed, Amazon is providing the marketing and sales platform, as well as looking after the storage, fulfilment and logistics.
That's pretty amazing right?
Your most important jobs as an Amazon FBA seller, are these:
Finding and deciding on the best products to sell on Amazon;
Sourcing the products and dealing with the manufacturer or their agent;
Listing your products for sale;
Promoting your products.
I won't lead you up the garden path here, the steps outlined above will take you time and effort.
You'll need to spend time researching the best things to sell on Amazon.
Once you have some ideas you'll then need to decide whether you think you could potentially beat the competition to the sale through better product descriptions, better photos etc.
When it comes to sourcing your products, there are a couple of different models you can follow.
The 4 Main Amazon FBA Business Models:
Private Labelling
Wholesale
Retail Arbitrage
Online Arbitrage
Personally I favour the private labelling model.
But lets just have a very quick rundown of each of these potential business models that you might use…
Private Labelling
Private labelling is simply when a product created by one company is branded and sold by another company.
So an FBA business owner using this as their primary strategy, will be looking for existing products they can put their own brand name on, and then sell, just as if it was their own.
If you choose private labelling, sourcing your products to sell on Amazon often starts with searching on Alibaba to find out if there's manufacturers and suppliers already making that product.
You then want to find out if there is potential to private label the product and how much it will cost.
Wholesale
Noting more than exactly what wholesaling is.
With this one, you would be buying existing products in bulk, at a sizeable discount due to the bulk nature of your purchase, then reselling the items individually on Amazon, at the full price per single item.
The advantage with this strategy is that it's quick to get up and running, because you have a simpler ordering and checking process than with private labelling.
But, it's also much easier for others to copy exactly what you are doing.
Retail Arbitrage
This is a pretty simple strategy to use, because it is straight-up classic arbitrage.
But that's not to say it's easy. It will cost you a lot of time, doing hours of legwork.
If you choose to use this strategy, you will be buying items at bricks-and-mortar stores, then reselling them on Amazon for a profit.
So what are you looking for?
Well, pretty much anything that you see which is being sold at a deep discount in the store, that you believe will resell for the full price on Amazon.
Online Arbitrage
As above, but with this one you are doing your legwork online.
That'a right, you are simply scouring the web on the look-out for deeply discounted goods that should resell for close to the full price on Amazon.
So that's the four most common Amazon FBA business models
The best part, about all of this, is this…
Once your items are with Amazon, the hard work for you is pretty much done.
You'll still need to monitor and make adjustments along the way of course, but that's to be expected in any business.
The Keys To Success
Draw up an Amazon FBA business plan.
95% of people simple will not do this, which is great because it gives you and I an immediate head start.
This will achieve a number of worthwhile things:
It'll get you thinking about your FBA business as exactly that…a real business.
Try and always keep in mind that you are not just building an Amazon business, you are building your own business that happens to leverage Amazon.
You'll develop four key business strategies that your success will live or die by:
Product selection strategy
Pricing strategy
Product sourcing strategy
Marketing and sales strategy
Because it's so important, let's look at the first point above in a little more detail:
Product Selection Strategy (or…finding the best items to sell on Amazon FBA)
Step-by-step.
When you're starting out, you want to go for something light weight, less than two pounds.
The item should be small enough to fit in a shoebox.
Keeping these weight and size requirements in mind, the next thing you will need to do is make a list of all possibilities.
Note down as many ideas as you can. You're not evaluating anything at this stage, your just getting a ton of possibilities written down.
Once you have your list, evaluate each potential product by checking on the following data:
Amazon selling price between $20 and $70;
Amazon Best Seller Rank of between 250 and 7,000;
Competing products with less than 500 reviews;
Competing products with low quality listings.
All of this data should now enable you to pick your top 10 product ideas to focus in on.
Carry out deep research on your top 10 product ideas with a view to filtering them down further until you are left with 3 or 4 real possibilities.
You're Amazon FBA business plan should also detail how you'll manage costs, these are the main one's you'll need to consider:
Manufacturing costs
Logo/branding
Shipping/Freight
Amazon fees
Discounts
Once you've got all this in place, you'll have a framework to work within and you'll save yourself endless hours because you won't be getting pulled in all sorts of different directions.
Benefits Of Using Fulfillment by Amazon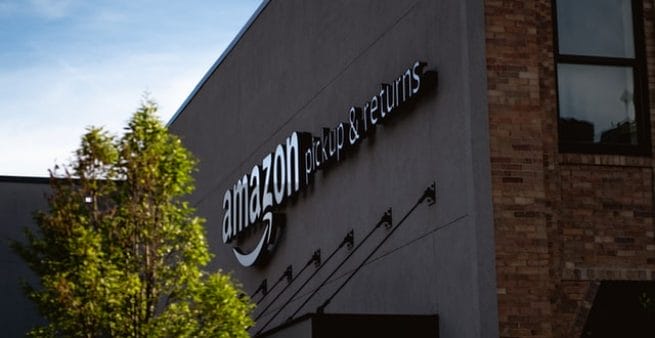 The FBA program represents a massive opportunity to grow your business by getting your products in front of more people…a lot more people.
Amazon is an absolute conversion machine, with a ton of loyal customers who just love to spend their money on the platform.
These are just some of the benefits of FBA:
Trust: Amazon is trusted worldwide, as both a secure and reliable place to shop;
Conversion Rates: The Amazon site converts visitors to buyers at rates that are totally outrageous;
Easy Logistics and Shipping: FBA enables you to outsource the entire process, to world class experts;
Delivery Times: This is a big contributor to why customers keep returning to shop on Amazon;
Returns Management: All of it! Okay, they do charge a returns processing fee, but it's worth it;
Customer Service: Outstanding customer service delivered to your buyers 24/7;
Inventory Storage Space: No minimums, no maximums. You will need to pay storage fees of course.
Those are some pretty powerful reasons to give leveraging the Fulfillment by Amazon business model serious consideration.
One More Massive Benefit
When you use the Amazon FBA program, your products automatically become Amazon Prime eligible.
Amazon are promoting their Prime membership heavily and the people who are Amazon Prime members are not paying out the extra money on membership, to then buy non-Prime eligible products.
Amazon Prime customers always choose FBA sellers over merchant fulfilled sellers. They want their items quickly and they don't want to pay for shipping when they have already paid for it within their membership.
This gives Amazon FBA sellers a huge advantage.
7 Tactics Of Successful Amazon Sellers
1. Carefully consider the products you sell:
Are you going to sell, high-ranking, trending products?
If so, you'll need to be quick in getting your infantry into the Amazon fulfillment centres so that competitors don't steal an early march on you.
You'll also need to keep a close eye out for signs that demand is drying up, so that you don't keep placing repeat orders.
Maybe you're more interested in selling everyday, run-of-the-mill, almost boring products?
The sort of stuff that people just need time and again.
I prefer the latter.
Either way, setting out with a firm idea as to which broad product type you want to sell on Amazon is important.
2. Research thoroughly:
Do not guess anything!
Especially not in the early days of your FBA business.
Carry out detailed research on each and every product that you are considering.
Be certain that you know the level of competition, your expected costs, the potential price points, profit per sale etc.
It's really easy to get excited about a potential product and skip a part of the research in order to move things along quicker.
Research well and you will maximise your chances of FBA success.
3. Start out small:
Whether you have a big inventory budget at your disposal or not, start out with just one or two lower priced items and grow into it.
It doesn't matter how much you learn about the process before actually placing your first order, you will get a surprise or two along the way.
It's much less stressful to deal with issues if it's a small order of lower priced items.
4. Create well-optimised listings:
Don't just wing this.
There is a proven science to how to properly optimise your amazon product listings.
The difference in sales between well-optimised and poorly-optimised listing is mind-blowing.
5. Great product photography:
A picture paints a thousand words.
And while you're probably not going to be selling headphones…
…nothing says 'low-quality' quite like a poor product photograph does.
Creating great product photographs is nowhere near as difficult as it might sound.
It's a learnable process.
6. Create product bundles:
It's amazing how much a small, simple but well thought out extra, bundled in with the main product can help you win the buy box.
A clever product bundle enables you to create a completely unique listing that will set you apart from your competition.
7. Answer questions:
On Amazon, anyone can post a question about a product, whether or not they've actually bought it.
And anyone can post an answer, whether or not they've actually bought it.
As an Amazon seller, you are also perfectly entitled to dive in and answer questions yourself.
And it's a very useful tactic in increasing engagement and demonstrating that you both know and care about your products.
Opening Your Amazon Seller Account
This could not be easier so if you want to become an Amazon professional seller you might as well jump straight in and get this done.
Just go to sellercentral.amazon.com if you're in the U.S.;
sellercentral.amazon.co.uk if in the U.K.;
and sellercentral.amazon.de for Germany…
…you get the picture, select your most local Amazon is the current advice, then simply click the 'register now' button.
After clicking you will go through the very short process of setting up your account.
Once you have completed the process you will receive an email that you will need to reply to in order to confirm your account.
You're now able to sell products on Amazon.
Reasons Why FBA Businesses Fail
Unfortunately, for some people it's not all milk and cookies.
Some people get it wrong with their first product and decide to call it a day before experiencing any success.
Here's a short list of some of the major reasons people fail in building their Amazon FBA businesses:
Choosing the wrong product;
Failing to find the right supplier;
Miscalculating costs and projected margins (there is an Amazon FBA calculator to help with this);
Not fully optimising product listings;
Not monitoring post launch in order to make tweaks if needed;
Overcomplicating the process.
The above list is still missing the biggest reason most people will fail in their FBA businesses…most people will just never get started, even though there could not be a better time to do this, most will just dream about it for a while, and then let it go.
But that's not going to be you is it? You're going to take action…just a little bit each day will put you at the very front of the pack.
Still Interested In Starting An Amazon FBA Business?
I hope that while this 'how Amazon FBA works' article is just a super brief outline, it will still have given you enough information to peak your interest further in what is a staggering online opportunity.
It's never been easier to get involved with this business model and to start building a really thriving FBA business that could see you develop a whole product range long into the future.
Maximising Your Chances Of Success!
Now you may be the sort of person who likes to go things alone, or you may be more inclined to seek as much help as possible from those who have already trodden the path that you are starting out on.
If you're the latter, you will not be too surprised to hear that there are a growing number of Amazon FBA courses springing up online.
Personally, after making an initial very bad choice of Amazon FBA course provider, I found the team at MarketPlace SuperHeroes and I'm so glad that I did.
These guys bring a unique strategy to the table for both selecting the best FBA products to sell, as well as for the eventual international expansion of your Amazon FBA business.
Read a bit more about the current best providers of Amazon FBA training courses.
How Does Amazon FBA Work? – Wrapping It Up
That's my basic run-down of how to start selling on Amazon FBA…simply an outline of how Amazon FBA works really.
If you're looking for an online opportunity that could give you a great business for years to come, this surely has to be a top contender.
The time is right, the market is right…and there are people willing to train you so that you don't have to go through a few years of trial and error like they had to.
I would absolutely recommend that you get some help, especially when it comes to identifying the best products to sell on Amazon…you have to get this bit right in order to succeed over the long run.
Whether you decide to seek training, or go it alone…
…good luck with your Amazon FBA business.
Want More Stuff Like This?

Straight To Your Inbox
Then sign-up to thedoublethink free newsletter and get strategies I only share with subscribers...for free!
Thank you for subscribing.
Something went wrong.