Last Updated on November 19, 2021 by andrewtk
Do you sometimes find yourself wondering what it is that makes some websites turn in to massive successes, while others occupy there digital space in relative obscurity?
I know I do…
…and I know that my very next thought is always this:
Sometimes the challenge can seem impossible, but this is simply not the case.
Bottom line?
All the website owners out there now, making their fortunes online, living life on their own terms…
…they all started from scratch!
None of them were born online Ninja's, Guru's or digital marketing Obi Wan Kenobi's. They all started out as bare-arsed monkeys just like you and me.
The best part?
It's easy to improve your website and in turn drive traffic to your website.
Pretty much everything they do can be replicated, with a bit of effort on your part of course.
So, what can you do to become the next rising star? How can you make your website better?
This post is all about how to enhance a website and in increasing website traffic.
1. Speed Up Your Website
A slow loading website is a two-fold problem:
Poor user experience is the first issue. Your website is giving you lower conversions every time it loads slowly.
Being penalised in search engine rankings is the second, and is a direct result of the first. Google wants your website users to have a good experience when visiting your site, and if this is disrupted because of slow loading pages, you will struggle to improve your search rankings.
But what can you do about it?
Here's 5 quick and easy wins for speeding up your website:
Use a caching plugin to speed up loading times. I use the free WordPress caching plugin W3 Total Cache
Make sure your website is hosted on a fast server
Strip out excess ad banners and GIF images as they often contribute to poor loading times
Optimise your images
Remove plugins that you no longer need
Seriously, speeding up your website is one of the easiest things to sort out when thinking about how to boost your website.
2. Make Your Website Search Engine Friendly
How to drive people to your website?
Every website that ranks highly in search engine results is optimised to do just that.
A website that doesn't stick to search engine guidelines will always rank lower than a website that is properly optimised.
The SEO factor alone can be the difference between a steady flow of new and retuning visitors…and none at all.
I do all of my SEO with the help of the Squirrly plugin for WordPress.
This awesome plugin will assist you with page analysis to help you optimise page content, image titles, meta descriptions, XML sitemaps, and plenty more to make sure the search engines can crawl and index your website content easily.
3. Make Your Website Secure
When people think about how to improve website performance, security is often way down their checklist.
You should take steps to make sure that your website is as secure as possible and able to handle potential hacking attempts.
When you massively improve your website traffic and turn it into a massive success, the chances of hackers trying to get access to it will go through the roof.
This is a headache you just don't need, so take away the risk by using a plugin like WordFence to secure your website.
4. Give Your Website Responsive Design
From now on, whenever you think about how to improve website design, you need to think about responsive design.
Your website should look up-to-date, be easy to navigate and have fast loading times.
On top of this it must offer a great user experience across all devices.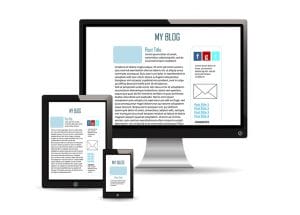 You will definitely be negatively impacting your search rankings if your website is not optimised for mobile.
If you don't have deep enough pockets to hire a designer and a developer, why not go for a modern, fast and responsive WordPress theme.
This website is built with responsive design.
When I was considering how to improve my website, mobile responsiveness was at the front of my mind and the main reason behind my decision to change my theme completely.
It's now running the blazingly fast Schema theme by MyThemeShop and always scores highly whenever I test it for mobile responsiveness and site speed.
Changing to a responsive theme alone has helped in increasing traffic to my website.
5. Back-Up Your Website Content
90% of websites that suffer a data loss close down their website within 2 years.
Think about how depressing it would be if this happened to you.
Many hosts offer backup options with their hosting packages. Check whether or not yours does.
If they don't, there are a number of third-party backup options out there and you can easily have your website automatically backed up to any one of them via a free plugin like My WP Backup by MyThemeShop.
I hope this post was helpful. If you want to improve your website even more, why not read another post I wrote about some free Google tools you can use to get even better SEO results.
Please leave a comment if you have anything to add on how to improve a website or how to increase web presence.
Want More Stuff Like This?

Straight To Your Inbox
Then sign-up to thedoublethink free newsletter and get strategies I only share with subscribers...for free!
Thank you for subscribing.
Something went wrong.