Are you fed up of getting totally rinsed trying to find a high-quality affiliate marketing course?
No doubt you'll have noticed, there's no shortage of internet gurus queueing up to relieve you of your hard earned cash.
I share your pain…I've been all the way down that road before now!
That's why I've put this list of best affiliate marketing courses together.
I've spent a ton of time, and money, going through endless affiliate courses so you don't have to.
Let's try and and make sure that if you're going to spend money on affiliate training, that it's the absolute best affiliate course your money can buy.
Which Is The Best Affiliate Marketing Course?
If you are in a hurry, I believe the best affiliate marketing course that you can get your hands on right now, is The Authority Site System by Authority Hacker.
And in my opinion, all of the affiliate training courses listed here are fit to teach anyone with a sound work ethic:
Exactly how to get started quickly, successfully and profitably, in affiliate marketing,
and;
How to succeed in affiliate marketing for years to come.
These are, in my opinion…
The 5 Best Affiliate Marketing Courses
Who Am I, And What's My Opinion Worth Anyway?
Hi, I'm Andrew, this is my site (one of them) and I'm a full-time affiliate marketer.
What follows is a 3 minute look at how I got here…
In 2015 I was working full-time in a fairly decent career, but I hated it.
I knew I had to get out, but back then, I didn't know that affiliate marketing even existed…let alone that I could make a full-time income out of it!
By 2018 I was able to walk away from that career, to be a full-time affiliate marketer…and that's what I've been doing ever since.
But it wasn't quite as straightforward as that might make it sound.
And I could definitely have done it a whole lot quicker…
Yeah, I could definitely have done it a whole lot quicker…
…if I hadn't made a couple of real bad decisions when it came to choosing affiliate marketing courses!
Here's my affiliate marketing journey that started in 2015…
Mid 2015, I'm searching online for internet business opportunities, I don't know that affiliate marketing is even a thing at this point.
One of my many searches lands me on a website all about a training program called 'Google Sniper' which is teaching a thing called 'affiliate marketing'.
I'm intrigued, I find out more, it seems like a great fit for me. I want in.
And so it starts…
Training Course Number 1:
Name: 'Google Sniper'
Cost: $300
Course Quality: 3/10
Time Wasted: About 6 months
Training Course Number 2:
Name: 'The Six Figure Mentors'
Cost: I'm genuinely too embarrassed to say
Course Quality: 4/10
Time Wasted: 18 months (I stuck at it so long because of how much I'd spent)
Training Course Number 3:
Name: 'The Authority Site System' By Authority Hacker
Cost: $997
Course Quality: 10/10
Time Wasted: Zero…I was walking away from my job 9 months later.
In truth, if I hadn't had those terrible experiences with my first two affiliate training providers, I maybe wouldn't have found Authority Hacker.
Because by the third time I was searching for an affiliate marketing course…
…I actually knew a bit about what I was looking for, and what I wasn't looking for!
This time I knew the industry BS to look out for. Hint: If they're selling 'the lifestyle' more than they're selling the training, their course is probabl sh!t!
Nowadays, I keep taking affiliate courses, to try and help people who are starting out…so that they don't waste the time and money I did.
I hope this round-up review of best affiliate marketing courses helps you do exactly that!
Show Less
Here's my top rated affiliate courses in a whole lot more detail…
#1. Authority Hacker
If you're looking for affiliate marketing training that can take you, step-by-step, from beginner to expert…look no further!
The founders of Authority Hacker, Gael Breton and Mark Webster have created outstanding training split across two information packed, but easy-to-follow courses.
Each training program being aimed at people with different levels of affiliate marketing experience;
And who are experiencing different levels of success with their authority/affiliate sites.
I honestly believe that few people are better qualified to show you how to build profitable authority sites than Gael and Mark.
These guys are running a number of massively successful authority sites, each of them pulling in plenty of business.
The 2 Affiliate Marketing Courses Offered By Authority Hacker:
The Authority Site System 3.0: A complete, step-by-step system for how to start, build and grow your own profitable affiliate / authority sites. Aimed at anyone from total newbie, to intermediates earning up to say $5k per month from their authority site.
Authority Hacker Pro: For more advanced users who already have at least one well established website which they are looking to progress further. It provides detailed blueprints on how to grow revenue and take your site to the top level.
What I love about the way these guys have split the training up into separate courses, is this;
It keeps you totally focused on only the critically important aspects at each stage of your site development.
It's too easy in affiliate marketing to let yourself get pulled in different directions, and end up getting absolutely nothing meaningful done.
Let's take a look at what's inside each course in a bit more detail:
The Authority Site System (Building a Stage 1 Authority Site)
Video Training: 150 videos across 16 modules, this is in-depth, over-the-shoulder training that gives absolute clarity on what needs to be done, organised exactly in the order that you need to take action on them;
Pre-Built Templates: Each fill-in-the-blanks template has been built and optimised over time to massively speed up your implementation;
Trello 'To-Do' System: A perfectly structured, easy-to-follow checklist, making sure you keep taking exactly the right action at the exactly the right time…and ensures that you do actually take action, instead of just continuing to consume content;
Follow Along Case Study: Watch and learn as Gael and Mark build a brand new authority site from scratch, using the exact methods they teach in their training;
Facebook Community: Lifetime access to a very active student community;
Regular Q&A's – Hosted by the course creators these are the perfect opportunity to ask any questions you may not have been able to get answers for from the FB community.
One of the most valuable parts of this course lays inside one of the pre-built templates:
The 'Niche Research' template.
When you consider that a huge percentage of people who want to get into affiliate marketing never even get out of the starting blocks because of one recurring reason…
…failing to select a niche (that's right, many aspiring affiliate marketers get stuck at niche selection, and that's as far as it goes for them)…
…you start to see the massive power of having a pre-filled niche research spreadsheet, complete with automated scoring system, and everything you need to consider in order to find your perfect niche.
This alone is worth it's weight in gold!
Authority Hacker Pro (Progressing To A Stage 2 & Stage 3 Authority Site)
18 Advanced Blueprints – All built so that you can implement them in your already successful online business for even greater success;
200+ Over The Shoulder Video Lessons – Training that will teach you step-by-step how to implement the new blueprints for maximum success;
Access to Pro Members Community – Being able to talk with people at the same stage of you is invaluable when trying to progress your business. This community makes certain you have somewhere to turn.
What really makes Authority Hacker so good?
Always fully up to date and completely current;
Field tested – These guys are running their own affiliate sites in multiple niches;
In-depth and fluff free – Absolutely nothing is missed, all the pieces of the puzzle are given to you;
Step-by-Step – A lesson, a template, a list of actions for you to take before progressing to the next lesson;
It works!
What you'll find with all of the Authority Hacker training is that they have an extremely well defined strategy for how to develop a website through each stage of it's growth.
Most courses out there do not have a core strategy to follow, which means you end up getting confused about exactly where you should be concentrating your efforts.
You bring the motivation, commitment and time…combine it with the Authority Hacker training…
…and you will get success in less time than you thought possible.
---
#2. Affiliate Lab – By Matt Diggity
When it comes to affiliate marketing, Matt Diggity knows what he is doing.
Not only that, but he also knows how to teach what he knows. A rare combination.
If you don't know anything about Matt Diggity…
…he is a top-level affiliate marketer, SEO, Diggity Marketing site owner and founder of the Chang Mai SEO Conference.
In short, in the online marketing world, he is a boss.
Like Authority Hacker above, this is another course created by someone who built their success following the exact same strategies that they now want to teach you.
Here's a quick look inside the Affiliate Lab course:
Affiliate Lab – By Matt Diggity
Module 1: Niche Selection – In this opening module Matt takes you step-by-step, over 5 videos, through how to find and screen profitable niches;
Module 2: On-Site SEO – 12 sections, each made up of 2 or 3 videos, on making sure you get your site properly set-up and structured for success;
Module 3: Off-Site SEO – 8 sections on systemising your link building to make sure your efforts reap the maximum results;
Module 4: The Kitchen Sink – This module is all about tactics to use if your site gets stuck in the SERP's. Pure Gold;
Module 5: The Authority Site Module – 6 sections on how to build successful authority sites from the ground up;
Module 6: What's Next – A brilliant guide on how to scale up your efforts that is worth it's weight. Plus some words of encouragement from Matt.
Affiliate Lab is a serious affiliate marketing course, you bring the work ethic, learn what's being taught, apply what you learn and I reckon your chances of affiliate marketing success are pretty high.
I've seen it written in a couple of online reviews of Affiliate Lab that's all about quickly building and then selling the site.
Within affiliate Lab there is a whole bonus section about flipping the sites you have built, but all decent affiliate courses cover the eventual sale of your site/s. Why wouldn't they? You can get 25x your monthly profits when selling.
This course is full of highly actionable content so that you can build and run your own affiliate sites.
And the traffic strategies and tactics taught here work now, not five years ago.
Best Affiliate Marketing Course for:
Beginners and Intermediates: Affiliate Lab
Price: $997 (limited discounts to $797 available via my affiliate link directly above)
Rating: 9 /10
---
#3. Project 24 by Income School
This is another super high quality affiliate marketing course.
Jim Harmer and Ricky Kesler are the founders of Income School, which they launched in 2015, having been building profitable niche sites themselves since 2010.
In the world of affiliate marketing courses, Income School take a pretty unusual approach in a couple of areas when building niche sites.
This uncommon approach has led to them getting regularly slated on some online forums, but I would say, take a look at their success, and that of some of their students, and decide for yourself if you think they know a thing or two.
Here's a quick look inside Income School's 'Project 24' affiliate training:
Project 24
Module: 60 Steps to a Successful Site – The 60-step process for every niche site you build;
Module: Picking Profitable Niches – Make sure you pick a niche that is actually profitable;
Module: No Nonsense SEO – A step-by-step guide to real SEO;
Module: Web Traffic Snowball – Getting traffic quickly and consistently;
Module: Email Marketing 101 – Learn how to use email marketing to grow your audience and monetise your traffic.
There is a ton more stuff than is listed above, I just thought I'd run a highlight real.
When all is said and done, I believe that this training is fully loaded with the information you need to start a niche blog or YouTube channel from scratch, and make a full-time income by 24 months, providing you're prepared to work your backside off.
Similar to how Authority Hacker put their courses together, with Income School you are taught ethical business practices that will keep the search engines on-side.
I'm not a massive fan of their pricing model, but hey, you could do a lot worse than snap up this course for yourself.
Best Affiliate Marketing Course for:
Beginners and Intermediates: Project 24
Price: $449 Year 1, $199 per year thereafter
Rating: 8/10
---
#4. RankXL Authority SEO 2.0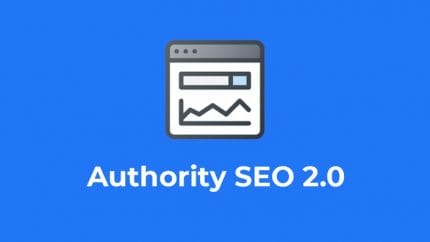 Chris Lee was the founder of RankXL and put the original version of this course together, and he did a hell of a job.
But Chris sold up to Andrej Ilisin during 2019 and I have to say this guy has done an outstanding job of updating the whole course and introducing more monetisation strategies.
Here's a quick look inside the RankXL Authority SEO course:
RankXL Authority SEO 2.0
Module 1: Niche & Keyword Research – This opening module is made up of 18 easy to follow sections. Tried and tested strategies to make sure you get your niche selection and keyword research right;
Module 2: On-Page SEO & Site Structure – 12 sections on making sure you get your site set-up and structured for success;
Module 3: Off-Page SEO & Link Building – Systemising your link building to make sure your efforts reap maximum results;
Module 4: Monetisation & Growth – A 14 section module all about how to optimise your site to make sure you actually make money from it;
Module 5: Bonus XL Strategies – Facebook learning group access, Outsourcing Guide, Conversion Rate Optimisation Guide.
This course is text-based rather than video, and all of the training is well-written, uncomplicated and easy to follow.
Similar to how Authority Hacker put their courses together, with Rank XL you are taught ethical business practices that will keep the search engines on-side.
Best Affiliate Marketing Course for:
Beginners and Intermediates: RankXL Authority SEO 2.0
Price: $599
Rating: 7.5/10
---
#5. Affilorama (extra course for anyone on a super-tight budget)
I've got this one in as an extra spot because while it doesn't offer the same quality and depth as the courses in the first three positions…
…I felt it only fair to include a course that is available to somebody operating on a really tight budget.
So keep in mind, this one won't get you to affiliate marketing success as quickly as the others above, but it will get you there if you put the work in…you're just going to have to do a bit more figuring stuff out for yourself.
Mark Ling is the founder of Affilorama which has been running since 2005, making it one of the longest running affiliate marketing courses you can get your hands on.
A Brief Outline Of The Affilorama Course:
Pathway to Passive: An entry level round-up on how to build a successful, high-quality, long-lasting affiliate website, and a passive income.
All of the training on offer form Affilorama is uncomplicated, to the point, and easy to follow.
I think very highly of the Affilorama training, they've got a few different packages available, starting with their 'Pathway to Passive' entry-level guide.
Let's look at what's inside this course/guide in more detail:
Pathway To Passive (How To Not Screw Up Affiliate Marketing)
This is a 'guide' for beginner affiliates who want a blueprint on what it takes to create passive income generating affiliate websites.
This is great value and you will learn an absolute ton about how to get started with affiliate marketing.
The guide is presented around the following key areas:
The 4 steps to success as an affiliate;
How to find profitable niches and products to sell;
How to build search engine optimised websites;
How to convert your visitors into buyers;
How to create content that attracts visitors and links.
Best Affiliate Marketing Course for:
Beginners: Pathway to Passive
Price: $37 (low-cost because it's a guide, not a full step-by-step course)
Rating: 7/10
---
The Difference Between Affiliate Marketing Success And Failure
As you may already be coming to realise…
…there are very few things online with more rubbish being told and sold about them than affiliate marketing.
Every man and his dog are on the internet trying to sell you their affiliate training program, and claiming that their's is the best.
Most of them won't get you anywhere quickly…if they'll get you anywhere at all!
Sure, most of them will offer you endless amounts of content.
But you'll find they mostly get pretty thin and sketchy when it comes to a couple of massively important areas:
How to get traffic to your website;
and…
…how to convert that traffic into paying customers.
The Missing Part Of The Affiliate Puzzle
I already touched on this earlier in this post…
...and it is important…
…for all of the the affiliate marketing courses now available online, there always seems to be one key area that is barely covered in any kind of meaningful detail.
Traffic!
Yeah, you can enrol on an affiliate training course that is high-gloss, super-slick and with an endless amount of material to work through.
But when it comes to getting traffic to your site…
…this is where you will often find that you're pretty much left on your own.
On your own, trying to work out how to get people to your spot on the internet.
That won't be your experience with any of the above programs.
Authority Hacker, Affiliate Lab, Project 24…they all have battle-tested traffic driving strategies that they will teach you.
They hold nothing back.
This is a big reason why I rate them all so highly and why they make my final list for best affiliate marketing course.
But Can't You Get It All For Free?
You can find endless blogs on the internet, telling you that you can find everything that's inside whatever course you care to mention, for free.
It may be possible in theory.
But I dread to think how long it's going to take you, from sourcing the information, learning, testing and everything else.
Probably years.
Note: If you're just not able to pay for training right now, start using the Authority Hacker Blog. It is packed with high value information…better than most affiliate marketing courses…all for free!
Ultimately, what you want from any training course of this nature, and what you're paying for, is to learn from someone who has already trodden the path you now want to go down, and who can also clearly show you how to do it.
But this combination, real experience and the ability to teach, not only how to start affiliate marketing, but how to grow and thrive for years to come, is hard to find.
And it's what all these providers mentioned in this post do so well.
All take this basic approach to how they build their courses:
This is what we do and what we've done it for many years, successfully;
This is exactly how we do it, right now, not five years ago;
These are all the tools we use;
Choose your niche and copy us.
Do You Have 2 Years To Waste?
That's how long it took me to start getting any real traction…two damn years!
The good news?
It doesn't have to take you that long.
But to get yourself a head start, you're going to have to avoid making a bad decision with your choice of affiliate marketing course.
Get this big decision right on day one, and you'll be well ahead of your competition and well placed for future success.
(Note: If you've come to this article pretty early in your search, early to the point where you're not even completely certain what affiliate marketing is and how it works, check out that link, it will take you to another post on this site covering exactly that)
Best Affiliate Marketing Courses – Wrapping It Up
Affiliate marketing is a very different thing to what it was ten, or even five, years ago.
Ten years back you could get into whatever affiliate niche you fancied, put together some ropey website and with just a little effort be pulling in traffic and bagging sales before you knew what was going on.
Those days are long gone!
And that's a good thing for anyone with a good work ethic, because a ton of people are no longer interested in affiliate marketing because it now requires effort.
And it also requires a lot of knowledge and skill.
To get affiliate marketing success now, fully up to date knowledge and skills are what you should be trying to get from any affiliate marketing training.
But which is the best affiliate marketing training course for you?
It depends on a couple of things:
What level are you at? I would say beginners can have their pick of those listed above. If you're more advanced I think you'll want to rule out Affilorama's 'Pathway to Passive'
Your budget. Some are pricier than others, but this does tend to play through in the quality.
Your own preference. Have a good look around their sites, jump on their webinars and get a feel for who seems to really speak your language.
The truth is that I think all of the training courses listed in this post offer outstanding value.
Now it's up to you.
Good luck.
Got something to add?
I'd love to hear about your experiences with any online affiliate marketing training courses…good or bad.
Who did you turn to when trying to find out how to start affiliate marketing?
Maybe you know of another provider who you believe is offering a better affiliate marketing course than those on this list.
Go ahead and leave me a comment in the box further below.
Last Updated on January 5, 2022 by andrewtk
Want More Stuff Like This?

Straight To Your Inbox
Then sign-up to thedoublethink free newsletter and get strategies I only share with subscribers...for free!
Thank you for subscribing.
Something went wrong.