Last Updated on March 17, 2023 by andrewtk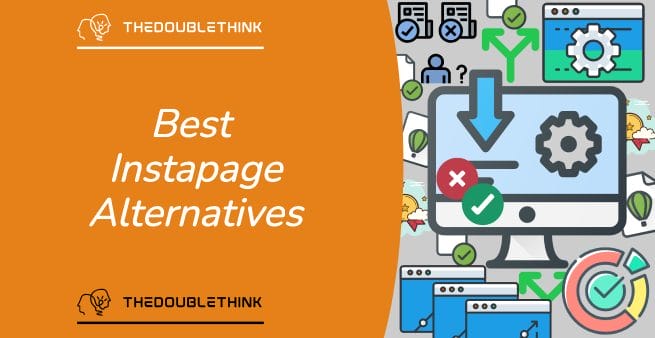 Hey there! Welcome to my 2023 roundup of the best Instapage alternatives.
I spent 40 hours researching and testing 10 of Instapage's most popular competitors.
These are by far the best of the group.
You don't have to spend thousands of dollars to get your hands on a great landing page builder. 
Choose one of these options and you'll get a highly usable, powerful page builder, that will have you creating top-notch landing pages in less time than you thought possible.
Ready to start building beautiful, high-converting landing pages without burning through your budget?
Okay then, let's get going!.. 
Instapage Alternatives
5 of The Best Instapage Alternatives
I have used a lot of landing page builders, and without a shadow of doubt, Instapage is one of the very best.
But it is not cheap!
And if you simply don't need all of the bells-and-whistles that Instapage comes fully loaded with, well…
…there seems little point in paying for them all!
Here are five outstanding Instapage competitors that it might be worth your while taking a closer look at:
#1. Unbounce
Unbounce is Instapage's primary competitor.
Whether or not it's the most suitable Instapage alternative for you, depends on your own circumstances of course.
Both Instapage and Unbounce are premium offerings in the space.
And I would say that if you are looking at buying a landing page builder for use by a medium to large size marketing agency, for client work, or;
If you're looking at buying for the marketing department of a medium to large business, Instapage and Unbounce are your most serious contenders.
Not only do they both offer some of the most cutting edge landing page technology available, but they are often the industry innovators.
Like Instapage, Unbounce has a powerful suite of tools aimed at getting you more clicks and higher conversion rates.
Their offerings are pretty close, but where Instapage offers more inside their own top-tier plan, is with 1:1 ad-to-page customisation, real-time visual collaboration, and the availability of heatmaps.
But as far as everything else goes, there isn't an awful lot of difference.
Unbounce has a ton of great conversion tested templates, plus…
…a page builder that's every bit as easy to use and as flexible as Instapage's, equally powerful A/B testing, Dynamic Text Replacement, and Accelerated Mobile Pages.
If you haven't done so already, take a read of my full Unbounce Review.
Plans & Pricing
Unbounce is a great Instapage alternative for smaller businesses because they offer more pricing tiers.
Both the Launch Plan, and Optimize Plan offer unlimited landing pages, pop-ups, and sticky bars at a pretty competitive price.
But for medium to larger agencies and businesses…
…you'll probably be looking at either the Accelerate Plan, or the Concierge Plan.
Launch: Starting at $74/mo if paid annually, $99/mo if paid monthly
Optimize: $109/mo if paid annually, $145/mo if paid monthly
Accelerate: $180/mo if paid annually, $240/mo if paid monthly
Concierge: $469/mo if paid annually, $625/mo if paid monthly
Try before you buy: Unbounce's 14-Day Free Trial
---
#2. Leadpages
Unlimited landing pages, unlimited pop-ups and alert bars, unlimited traffic, a page builder that is as solid as a rock and dead easy to learn to use…
…Leadpages is a serious player in the landing page space!
I took it for a full test-drive just a short while ago because I was writing a comprehensive Leadpages Review…
…and I was seriously impressed.
Sure you're giving up some of the cutting-edge tech that's on offer at Instapage and Unbounce, but not all that much…
…and given how much less Leadpages costs than those two builders, you'll definitely want to consider how much value you'd actually get from all that stuff, before coughing up your dough.
I think that the Leadpages target market is online solopreneurs, as well small businesses and agencies.
Maybe your landing pages won't have quite the same level of beauty and elegance as a landing page built with Instapage…
…but your bank balance won't have anywhere near the same dent in it either!
Plans & Pricing
The Leadpages plans start at the budget friendly price of just $37/month if you opt for annual billing, or $49/month if you pay monthly.
If you have more sites on the go, and need A/B testing, plus a few other bits-and-pieces…
…you can go for the Leadpages Pro Plan at $74/month if paid annually, or $99/month if paid monthly.
Standard Plan: $37/mo if paid annually, $49/mo if paid monthly
Pro Plan: $74/mo if paid annually, $99/mo if paid monthly
There is an Advanced Plan available, but not widely advertised, which goes for something in the region of $199/month if paid annually, and $320/month if paid monthly.
Try before you buy: Leadpages' 14-Day Free Trial
---
#3. Swipe Pages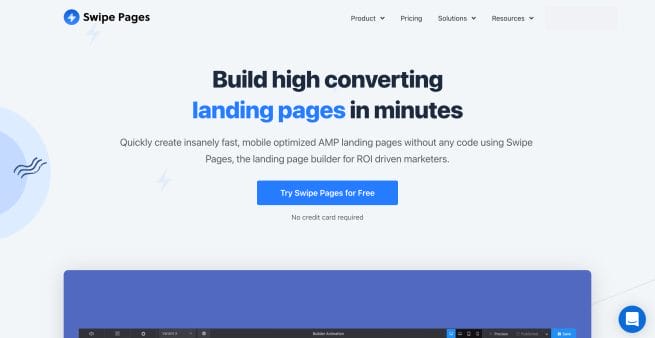 Swipe Pages are a relative newcomer who have built their technology with a priority on delivering mobile-optimised landing pages.
That doesn't rule you out if your audience is not a mobile-first audience, because you can build pages for a desktop audience, no problem at all.
Swipe Pages offer a stack of great looking, conversion optimised landing page templates, as well as integrating with payment platforms such as PayPal and Stripe.
The Swipe Pages page builder is stable, and fairly intuitive to use.
Like with Leadpages as an Instapage alternative, you maybe won't be getting the same level of elegance and beauty with your landing page creations…
…but elegance and beauty do not always translate into high conversion rates anyway!
Plans & Pricing
Three plans are currently available with Swipe Pages.
The usual deep discount is available should you opt to pay annually for your preferred plan.
Startup Plan: $29/mo if paid annually, $39/mo if paid monthly
Marketer Plan: $59/mo if paid annually, $89/mo if paid monthly
Agency Plan: $119/mo if paid annually, $199/mo if paid monthly
Try before you buy: Swipe Pages' 14-Day Free Trial
---
#4. Landingi
I very recently wrote a post for this site about the best affordable landing page builders, and that was the first time I'd given Landingi a go.
It's really quick and easy to get going with, and the drag-&-drop visual editor is nice and stable.
Landingi can be easily integrated with pretty much all of the major marketing tools.
If you already have a few high-performing landing pages on the go, the Landingi team can import them from your existing page builder…with three being transferred over totally free of charge.
Here's my full Landingi Review if you want to delve a little deeper.
Plans & Pricing
Landingi used to offer at least four plans but they've recently trimmed it back to three.
Going annual doesn't offer quite the same level of savings as others on this list.
Free Plan: $0
Professional Plan: $45/mo
Agency Plan: $119/mo
Try before you buy: Landingi's 14-Day Free Trial
---
#5. LanderApp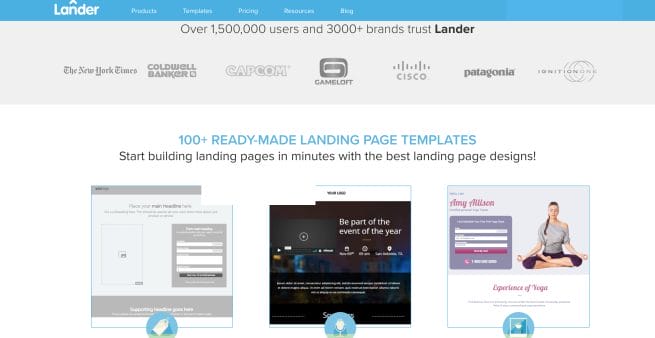 Lander have got over 1.5 million paying customers.
They've also got over and 3000 brands using their landing page builder.
That's pretty impressive numbers.
Can that many users be wrong?..Probably not!
Without a doubt, Lander is one of the most affordable dedicated landing page builders you can get your hands on.
Lander looks to have everything you need to create great looking, high-converting landing pages.
They've got a good selection of very decent looking templates, an easy-to-use editor, A/B testing etc.
Plans & Pricing
Just like the other landing page builders on this, you can choose either monthly or annual billing.
As you'll see, very significant savings available by going annual on the Basic Plan.
Basic Plan: $16/mo if paid annually, $49/mo if paid monthly
Professional Plan: $83/mo if paid annually, $99/mo if paid monthly
Try before you buy: Lander's 14-Day Free Trial
---
FAQ's
Is there a free alternative to Instapage?

There are some free landing page builders available, but in my experience to date, none of them come anywhere near close to Instapage with regards to usability, quality of the end product, and conversion rates.
A lot of people struggle to find the budget to spend on Instapage,…they may not be free, but there are a few very affordable landing page builders out there.

Can I get a free landing page?

I would doubt it. If you're a really persuasive person, you might be able to convince a new freelancer to build you a landing page in exchange for a review, a testimonial, or something similar.
Creating landing pages that convert is a lot more involved than simply building a page that looks good. Online marketing and conversion knowledge is needed.
At the end of the day, there is a cost of creating a landing page that converts.

Why is Instapage so expensive?

Instapage have spent significant time and money in developing a product that sits at the premium end of the market. It's been created to offer the most value to professional agencies and the marketing teams of medium to large businesses. The resources they have committed to the development of their offering simply comes at a certain price.

Are landing pages really worth it?

Most definitely. There is overwhelming evidence to show that landing pages convert at far higher rates than normal website pages.
Wrapping It Up!
Instapage is an absolutely awesome landing page builder!
And if you're a medium to large size marketing agency, or a medium to large size business, it has just about everything you'll need to help you deliver great conversion rates.
But for solopreneurs, smaller agencies, smaller businesses, the price of Instapage can be a bit too much.
If that's the case for you, give the Instapage competitors on this list a test-drive.
They all have a lot to offer, but you'll need to consider the detailed functionality of each of them to make sure they deliver what you need.
You could potentially save yourself a lot of money!
Want More Stuff Like This?

Straight To Your Inbox
Then sign-up to thedoublethink free newsletter and get strategies I only share with subscribers...for free!
Thank you for subscribing.
Something went wrong.