Landing pages that convert. That's what we all want right?
Website visitors into email subscribers…
…website visitors and email subscribers into paying customers!
Oh happy day!
Well, there's good reason why Instapage and Unbounce are causing such a buzz online right now.
They're delivering the most effective, HIGH CONVERTING landing pages in the industry.
For pros, bleeding-edge technology to out-strip competitor's conversion rates.
For beginners, intuitive user experience, so you build conversion-optimized landing pages from the get-go.
You need a top-quality landing page builder, or you're getting left for dead.
But which one is best for you?
Do you want to see what I found out?.. 
From 6 months of testing Instapage vs Unbounce side-by-side? On the sites that I live or die by? (Okay, that's a little dramatic, but you get my point).
Instapage or Unbounce?
Do I care whether you buy one of them, both of them, or neither of them?
Not really (I mean, I'd be delighted if you did because, at no extra cost to you, I'd earn an affiliate commission for the referral).
But…that's not my goal here, seriously it's not.
If you read this post and decide that neither landing page builder is for you, then that's a good job done…
…just the same as it's a good job done if you decide to sign-up with either Unbounce, or Instapage, and go on to absolutely love it.
I've tried to make this post about un-biased answers, based on my user experiences.
Un-biased answers for people, and businesses, who are looking at their options in this specific area…
…and who are finding it difficult to decide which of these two options will meet their needs the best.
Instapage vs Unbounce: Who Uses This Software?
Thought I'd start with an easy question to answer.
Both of these options are well suited to:
Marketing agencies
Small and medium sized businesses
Individual online marketers
e-commerce site owners
Anyone who uses online paid advertising
Neither Instapage or Unbounce require users to have any coding skills.
This makes them perfect for those of us who are more focused on driving and converting web traffic, than playing around in the backend of a website.
Why Not Use A WordPress Page Builder?
A reasonable question for sure.
And one that I couldn't get my head around when I was first looking to start building landing pages.
There just didn't seem to be any real logic to going out and getting a dedicated piece of landing page software, when I was spending most of my days building normal WordPress pages anyway.
I now see it completely differently, and here's why:
The software is totally dedicated to landing page creation and post-click optimisation/automation. WordPress page builders are not dedicated to building landing pages and their conversion rates reflect this;
Instapage and Unbounce are focused on quality on-page analytics and optimisation. You will have access to A/B testing, page analytics plus a bunch of other stuff that most WP page builders don't have. These analytics tools are invaluable to any online marketer or business owner;
You can manage landing pages for multiple websites from just the one account. A big, big time saver.
It would be easy for me to keep rattling on as to why I now much prefer to use a dedicated landing page tool.
But I just wanted to give you a small handful of strong reasons why, if you're serious about increasing your online conversions, a dedicated landing page creator is a must.
The #1 Reason I'm Using These Landing Page Builders Over Any Other:
Conversions!..Plain and simple.
Since I started using Unbounce and Instapage, I've seen my conversion rates go from a pretty dismal 2%, to over 15%.
If you're running pay-per-click campaigns, the difference in the above conversion numbers will not be lost on you.
And it's no coincidence.
Both of these software providers are obsessed with post click conversions, it's the foundations they've built their businesses on.
Unbounce vs Instapage – Which Is The Landing Page Builder For You?
If you really want to find out which of these two landing page builders is best for you…
Try This:
Block out a few hours over the next couple of weeks, to dedicate to using the software.
Then sign-up to each of their 14-Day Free Trials:
By the end of your free trial period, you will have a pretty solid idea of which landing page builder is the right one for you.
General User Experience
The general user experience of both Unbounce and Instapage is pretty good.
Most importantly, they both do what you expect them to do, and they do it to a high standard.
Which is great, but…
…I want to explain you how they both are to use, the real experience.
So here's my best effort at doing that:
Instapage: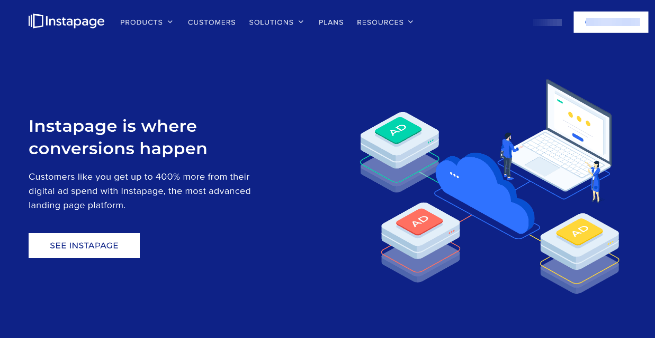 I'll talk about what I love about Instapage first.
User interface is just great.
We really are talking about a totally intuitive experience here.
Instapage have undoubtedly spent a lot of time in putting the dashboard together because it all makes perfect sense.
When you start creating your first landing pages, you'll find you have over 200 templates to choose from.
Once you have a template chosen you can start to make it your own by altering just about every element you wish.
This is where the super smooth usability of the Instapage drag-and-drop builder comes in to play.
The best thing about the drag-and-drop builder…
..is that it's completely limitless how you choose to move each element around.
Most other page builders work on a grid system, so you have a lot of restrictions as to where each element can go.
No coding experience needed, but, if you do have some coding skills;
You can still get to use them by selecting a blank template and building your page from the ground up.
Instapage really does make it possible to produce beautiful pages in minutes.
Unbounce:
In the interests of fairness let's start with what's great about Unbounce.
I think it would be hard to find another provider in this space that offers more landing page designs and tools, it really is extensive.
The final design of the landing pages you build with Unbounce will be 100% professional in both looks and functionality.
Genuinely, 99% of people would swear they had been designed and built individually by a highly skilled web developer.
Unbounce may not be as easy to set up and get out the gates with as Instapage, but that's because it is more feature rich.
And, they have an active active blog, podcasts and social media channels that they use to help new users get up and running.
Call support is available with the Enterprise plan. For all other plans, they have very knowledgable and helpful Live Chat, as well as email support.
Features Lists Compared
I've been wondering how much value there is in simply listing every feature of both Instapage and Unbounce.
Truth be told I don't think there is a lot of value to you in me doing that. You can easily take a look at each of their features list by going over to their respective websites.
Maybe what you can't do though, is see them side by side, so I'm going to go ahead and do it despite my reservations.
Advanced A/B testing

Drag & Drop Editor

200+ Customisable Landing Page Templates

Instablocks

Global Blocks

Advertising Attribution

Dynamic Text Replacement

Form Builder

Heatmaps

Mobile Responsive Page Builder

Video Embed Support

Lead-Gen Dashboard

Advanced Design Functionality

Widgets

Change Published URL

Collaboration Solution

Email Notifications

Free Subdomains

40+ Native Integrations

Instant Analytics & Data

Multiple Domain Publisher

SEO Plugin

Instapage Template Importer

AMP support

Custom Code Editing

Stock Image Access
Advanced A/B Testing

Drag-and-Drop Editor

100+ Customisable Landing Page Templates

Copy, Paste Between Pages

Clone & Edit Entire Pages

Popups, and Sticky Bars

Dynamic Text Replacement

Target and Trigger Functions

Form Builder

Mobile Responsive

Video Embed Support

Lead Generation Tools

Launch Scheduling

Multi-User and Client Management

Real-Time Data Dashboard

Script Manager

Speed Boost

Unlimited Users & Domains

Multiple Domain Publisher

AMP Support

Stock Image Access from Unsplash
Instapage: Unique…ish Features
Let' take a quick look at 3 key features that Instapage has that most other landing page builders don't.
1. Advertising Attribution:
If you're spending money, or thinking about spending money, on pay-per-click campaigns, you will love this feature as much as I do.
A heck of a lot can happen between your ad being clicked and making a sale.
And that's why it's so difficult to find any kind of solution that can keep track of exactly what does happen.
Multiple campaigns, multiple ads, hundreds of keywords. Which are converting, which are not, and at what rate?
"Half the money I spend on advertising is wasted; the trouble is I don't know which half."

John Wanamaker (1838-1922)
The better you can keep track of which campaigns, ads, keywords, landing page designs, are profitable…
…and which are just sucking up your ad spend without converting…
…the more profitable your business will be…(sorry about that little economics 101 lesson . I'm pretty sure you didn't need me to help you out with that one).
Bottom line…
I love the advertising attribution solution. It positively impacted my campaigns immediately.
I now have a much better grip on what's happening through the middle of my funnels, both for paid advertising campaigns, as well as for organic visitors.
2. Heat Maps:
How are visitors moving through your landing pages?
Where are they pausing, clicking, exiting from?
How many get all the way to the bottom? How many get only half-way down?
The world of heat mapping in an internet marketers dream.
Take the information you pull from your heat maps and use it as the foundation for running split-tests…
…gradually tweaking individual elements to see what gets your traffic moving to exactly the areas where you want them on your pages.
3. Real-Time Collaboration Tool:
This one isn't actually that valuable to me, because I tend to all of my landing page work myself.
But, if you work as part of a team, or with remote employees, or with clients, agencies etc. this feature is a big time saver
Instapage's collaboration tool enables you and your team to work on a landing page together.
You can live-chat and make changes instantly, without having to get together for a physical meeting.
You'll get rid of bottlenecks in the design phase which probably result in greater efficiencies.
Unbounce: Unique…ish Features
And now 3 key features that Unbounce has that most other landing page builders don't.
1. Sticky Bars:
Very simply, Sticky Bars are a proven way to get more conversions.
They are horizontal bars that you can place at either the top or bottom of your pages for an unobtrusive, yet prominent, display of your call to action.
You can set them up to be triggered, or hidden, by a number of different actions, so that you take your best chance of getting your visitors to convert.
Because they're unobtrusive, they are Google friendly, and visitor friendly, but still eye-catching.
The Sticky bar feature uses visitor cookies for targeting so you really do have the ability to make this a very tailored experience for each of your visititors.
2. Lead Notifications:
I tried this out through curiosity really.
I was kind of thinking it could be really useful, but was also thinking it could be massively annoying.
When one of your visitors clicks on your call-to-action and converts, Unbounce will send you, and whoever else you set-up to receive notifications, an email to let you know about the conversion.
Now I've been using it for about a year, I wouldn't want to be without it.
I also think that it becomes a more valuable feature, the more complex your offer is.
Because with complex and/or expensive offers, you may want to step in to the sales funnel with a more personal touch, such as scheduling a call etc.
The sooner you do this the greater the chances of success.
3. Agency and Client Tools:
This little bundle of features is perfect for anyone working as part of an agency, or in fact doing any client work at all.
This feature means you can easily duplicate all of your best elements, or entire landing pages across multiple campaigns.
It also enables you to put multiple-user permissions in place, organise your campaigns exactly how you want them, and archive (without deleting) inactive client accounts.
Which Features Are Behind The Industry Leading Conversion Rates?
#1 Drag and Drop Builders
The drag-and-drop builders of both Instapage and Unbounce are different level to most of their competitors.
The absolute flexibility that you get with these two is far from industry standard.
Previously, when I was using other landing page builders…
…I was never able to get the final look and feel that I really wanted.
There was always some element that wasn't quite how I needed it to be.
Always a compromise somewhere…bugging the hell out of me.
I was so unhappy with the final versions of my landing pages that I dedicate some serious hours looking into whether or not there was something better out there.
I signed up for the free trials of both Instapage and Unbounce on the same day.
Within the first hour of using each I saw a massive difference with what I was now able to produce.
This ability to create landing pages that are exactly how you want them…
…combined with the advanced split-testing capability, are the two most important contributors in my hugely improved conversion rates.
#2 Advanced A/B Testing
Both have A/B Testing functionality that puts most of their competitors in the shade.
Set-up is simple and it's easy to use.
You just start a new split test directly from the editor and they'll both then split all your visitors and send them to the different landing page versions that you've selected.
#3 Dynamic Text Replacement
Until pretty recently this feature was only available with Unbounce.
But now Instapage have got their hands on it too, albeit neither of them offer this in their basic plans.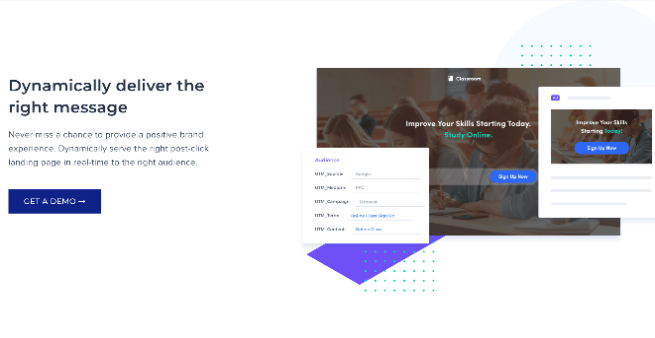 How to best describe this?
Dynamic Text Replacement enables you to include the exact search term that your visitors used to find your landing page.
So we're no longer just talking about the power of delivering highly personalised ads…
…but now, with this technology, we can also deliver highly personalised post-click experiences.
The result is that your target audience really feel like both your ad, and your landing page, have been tailor-made for them.
You already know that personalised marketing gets better conversion rates, so the gravity of this feature won't be lost on you.
The Big Pro's and Con's
Drag and drop page builder

Excellent A/B testing

Pages have professional look and feel

Advanced attribution tracking

Effective real-time collaboration solution

Instablocks feature

Zero coding required

Easy to use / intuitive
Drag and drop page builder

A/B testing super easy to set-up

Easy to use (once you're familiar with it)

Pages have professional look and feel

Easy to build mobile-friendly pages

A lot of integration options

Zero coding required

Excellent support

Helpful community
Support response time sometimes a little slow

Occasionally slightly buggy

Price
A/B testing only tracks 30 days

Steep learning curve

Price
Pricing
There are two pricing tiers to choose from with Instapage and three with Unbounce.
Unless you're really certain about which one to go for, my advice would be to sign-up for the free trial.
Once that's expired, join up at the basic level.
You can easily move up to the higher tier once you know either one is right for you.
Click to see full Instapage pricing and package breakdown
Click to see full Unbounce pricing and package breakdown
Instapage vs Unbounce – Have I Made This Worse For You?
Yeah I get it.
You clicked through to this Instapage vs Unbounce post thinking I was going to give you some massive clarity in your buying decision.
Tell you that one of these options is great and one really bad.
But instead what I've done is make your head explode.
How's this for an attempt to offer a little bit of guidance:
If I had to give up one, never to use it again, I wouldn't be happy about it because it's great, but I think I'd give up Unbounce and stick with Instapage.
Get In Touch
Drop me a line if there's something that you really want to ask about my user experience with either Instapage or Unbounce.
Or if you want to chip in with something useful about any other landing page tools.
You can either use the contact form on this site, which will send an email into my inbox.
Or you can leave it in the comments section directly below.
Want More Stuff Like This?

Straight To Your Inbox
Then sign-up to thedoublethink free newsletter and get strategies I only share with subscribers...for free!
Thank you for subscribing.
Something went wrong.