Last Updated on May 14, 2023 by andrewtk
Hey there affiliate marketer! Welcome to my best landing page builder for affiliate marketing round-up 2023.
I spent 50 hours researching and testing 10 of the most popular landing page builders. Then I ranked them based on quality of the landing pages produced, ease-of-use, essential features, and price.
These are, without doubt, the best 5 landing page builders for affiliate marketers of the group.
You don't have to spend hundreds of dollars a month to get your hands on a great landing page builder.
Choose one of these 5 and you'll get an easy-to-use, conversion focused solution that will give a powerful boost to your affiliate commissions.
Ready to start growing your affiliate sales without spending endless dollars, and hours, in the process?
Great, let's get going!
Top 5 Landing Page Builders For Affiliate Marketing
Best Landing Page Builder For Affiliate Marketing
Why is my list of 'best landing page builders', different to this here list of 'best landing page builder for affiliate marketing'?
Because as affiliate marketers who work for themselves rather than for clients, and who work alone rather than as part of a team, we need different things from our landing page software, compared to what a marketing agency might need.
Some features become more important, while some become less important.
#1. Leadpages
For me, Leadpages is definitely the best landing page builder for affiliate marketing.
It delivers in just about every area that is important for an affiliate marketer.
Leadpages will not burn your budget, it will leave you time to get on with other stuff, and it will grow your conversions.
Win. Win. Win.
And this from someone who used to hate Leadpages, way back when it was buggy and would happily lose the last hour of your work in the blink of an eye.
But all that stuff is a long forgotten thing of the past right now.
Leadpages in now a breeze to use, it is super-stable, feature rich and high converting.
And it is still very affordable.
Leadpages have done a great job at focusing in on the resources and key features that produce genuine benefits for solopreneurs and small business owners.
What You'll Love About Leadpages:
Quick to learn: The fuss-free interface is totally intuitive, and the drag-&-drop page builder the same. No steep learning curve here, just plug-in and play.
Easy to use: The drag-&-drop page builder is perfectly smooth, as well as being super-stable. No clunks, no glitches.
High-quality, useable templates: Whether you're creating sales pages, squeeze pages, contest pages, popups, alert bars, the template library will have something to give you a massive head-start. Just pick your preferred template and make it your own.
Optimize as you build: Real-time conversion tips that pop up as you build are not as annoying as they might sound. They are genuine conversion insights learnt from a decades worth of data.
Mobile responsive: Pretty much everything here has been built for mobile responsiveness.
Super-fast and SEO friendly: Leadpages definitely offer some of the fastest loading landing pages out there. Good for SEO and good for visitor retention and engagement.
Unlimited traffic and leads across all plans: A lot of landing page builders put maximum limits in each of their plans, thereby pushing you up into the next plan because you've been successful. Leadpages don't do that!
What You Won't Love:
Template customisation lacks fine detail: You can't always get the fine and precise look and feel that you may be hoping for.
No A/B testing in the Standard Plan: Leadpages only make this capability available with the Pro and Advanced plans, which is a bit tight. Surely some limited A/B testing function could be doable.
No online sales and payments in the Standard Plan: Again, this is a little tight and designed to drive people into the pricer plan.
Leadpages Pricing
Unlike many other landing page builders, Leadpages don't seem to change their pricing that often.
…the Leadpages plans and pricing is currently as follows:
Standard Plan: $37/mo if paid annually, $49/mo if paid monthly
Pro Plan: $74/mo if paid annually, $99/mo if paid monthly
Advanced Plan: $321/mo if paid annually
I know that some people think that Leadpages is beginning to get a little too pricey, but I think it offers a lot for the money.
Try before you buy: Leadpages' 14-Day Free Trial
Here's our full Leadpages Review
---
#2. Landingi
I only became aware of Landingi fairly recently, which is a bit odd seeing as I am a serial landing page creator.
But hey, better late than never I guess.
Landingi is a nice bit of kit.
It's quick and easy to get going with, and the drag-&-drop visual editor is smooth, stable and pretty easy to use.
I found that my first page building experience wasn't quite as intuitive to figure out as it was with Leadpages, but it was more than okay.
What you'll need to be careful with compared to Leadpages, is that Landingi's 'Free' and 'Professional' plans both have upper limits on traffic numbers.
Leadpages don't place upper limits on either traffic or conversions in any of their plans, but it's a fairly common thing amongst page builders.
If you exceed the traffic limits in the Free plan, you will be automatically upgraded to the Professional plan.
If you exceed the traffic limits in the Professional plan, you can either extend the limit at the cost of $5 per month for every 5,000 additional unique visits, or choose to upgrade your plan.
You can also add an additional custom domain for $5 extra per month, which is a pretty good idea.
Whilst I don't really agree with traffic limits, these $5 add-ons mean you have a little headroom to grow and don't get forced into having to upgrade too quickly.
What You'll Love About Landingi:
Easy to learn: I know I said that I didn't find it quite as easy and intuitive as Leadpages, but it is still pretty straightforward to get to grips with.
Easy to use: Not quite as intuitive as Leadpages out of the box, but once you have sussed it out, building new landing pages is quick and simple.
Good quality templates: The quality of Landingi's templates is high and they are very easy to adapt to your specific needs.
Free plan: I know it's very limited, but hey, it's free.
Great customer support: Very friendly and knowledgable support staff who are always quick to respond.
What You Won't Love:
Mobile Builder: There's a real disconnect between the standard builder and the mobile builder. The latter of which is quite tricky to get a good grip on.
Basic analytics: I kind of expect better from a landing page builder. Uou can do some analytics but it's simplistic. It's possible to track more through Google Analytics but it's hardly point-and-click easy.
Plans and Pricing: Landingi seem to change what's on offer all the time. Just figure out your pricing and roll with it.
Landingi Pricing
Subject to change, the Landingi pricing is currently as follows:
Free Plan: $0
Professional Plan: $45/mo
Agency Plan: $119/mo
If you think Landingi could be what you're looking for, a 14-Day Free Trial is available…
…on top of which they also have a 30-day full money back guarantee, should you buy but not be entirely happy.
Here's our full Landingi Review
---
#3. Swipe Pages
Swipe Pages is relatively new to the landing page builder space.
If you're main priority when building new landing pages is for them to be perfect for mobile devices, Swipe Pages could be what you're looking for.
I think this is one of the first dedicated landing page builders that has been built from the very outset, with a priority on landing pages for mobile devices.
We all know it's the future. Mobile-first design. Mobile-first everything!
You absolutely can build pages for a desktop audience, no problem at all.
But if your audience is mobile-first, You could be onto a real winner with this one!
What You'll Love About Swipe Pages:
Building mobile landing pages is a breeze: It's what they built it to do, and it works like a charm.
Great page-speeds: Swipe Pages offers AMP pages which Google loves because they load super-fast on mobile devices.
Small but perfectly formed range of templates: There's not that many of them but what's on offer is great quality and easy to customise.
A/B testing is solid: Solid and super-easy to set-up. You can produce a few variants and set what percentage of traffic should be sent to each one, all with a few clicks.
Free-Trail is fully loaded: You get the full range of features when you sign-up for the free-trail, which is unusual as most others offer a restricted feature list.
What You Won't Love:
User interface and dashboard could be easier: I mean, it's not super-bad or anything, but it does take a little getting used to before you're really flying along.
Support was a little slow: Not too frustrating for me because it was a made-up issue, but if you were waiting to get on with something, a little too slow.
Unprofessional sub domain URL: Not a problem if you plan on using your own custom domain, which you will want to do, because the sub domain URL that Swipe Pages provide looks unprofessional.
Swipe Pages Pricing
Subject to change, the Swipe Pages pricing is currently as follows:
Startup Plan: $29/mo if paid annually, $39/mo if paid monthly
Marketer Plan: $59/mo if paid annually, $89/mo if paid monthly
Agency Plan: $119/mo if paid annually, $199/mo if paid monthly
If you think you might like to give Swipe Pages a go, they too have a 14-Day Free Trial available, with no credit card required.
---
#4. GetResponse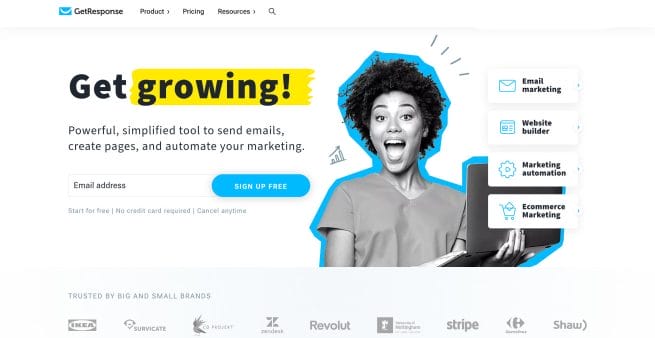 I don't tend to be a massive fan of 'all-in-one' marketing software suites.
Because it can be a case of putting all of your eggs in one basket…and that makes me a little uncomfortable.
But, for affiliate marketers, solopreneurs, pretty much anyone involved in online marketing who doesn't have a team around them, and a chunky budget, it can be an attractive option.
And it's only fair to say, that GetResponse are great at what they do, their all-in-one package is compelling.
The GetResponse landing page builder is certainly no after-thought. It can stand on it's own against some of the best in the industry.
Easy to use, enough high-quality templates, easily customisable, competitively priced…it's worth thinking about.
What You'll Love About GetResponse:
Totally fuss-free interface and dashboard: You won't be wasting your time figuring out how everything fits together, it's all crystal clear.
Smooth drag-&-drop editor: Smooth, stable. reliable.
200+ high-quality templates: All of them are easy to customise, and most of them are mobile responsive.
A/B testing: Easy to set-up and easy to understand. You can create multiple versions of pages with just a little bit of pointing and clicking.
Free-Trail is fully loaded: You get the full range of features when you sign-up for the free-trail, which is unusual as most others offer a restricted feature list.
What You Won't Love:
Page builder lacks fine detail: A little bit of improvement needed to compete with the dedicated landing page builders.
No phone support: Well, no phone support unless you're on the Max2 plan, which is a plan only available with custom pricing.
Analytics is a little basic: I just feel they could fairly easily deliver more analytics functionality.
GetResponse Pricing
Subject to change, the GetResponse pricing is currently as follows (in Euros):
Email Marketing Plan: €13/mo if paid annually, €16/mo if paid monthly
Marketing Automation Plan: €44/mo if paid annually, €54/mo if paid monthly
Ecommerce Marketing Plan: €87/mo if paid annually, €106/mo if paid monthly
GetResponse offer a 30-Day Free Trial, which is pretty generous.
---
#5. Thrive Architect
Thrive Architect is a page builder that's a little bit different to most other landing page builders, because it's actually a WordPress plugin.
And it works amazingly well.
Just about every element of your new landing pages is customisable with Thrive Architect.
Thrive Themes are all about providing tools to improve website performance and conversions.
They've been doing it for years and the Thrive Architect plugin offers rich functionality and ease of use that is hard to find.
What You'll Love About Thrive Architect:
Easy to use and intuitive.
Robust and stable page builder.
270+ conversion focused landing page templates.
Fully customisable.
A/B testing.
What You Won't Love:
Steep learning curve.
Some page templates are a little dated looking.
Thrive Architect Pricing
Well this one is pretty simple:
Thrive Architect Single Site License: $199 yearly
---
Which The Best Landing Page Builder For Affiliate Marketing?
Each one of the solutions above offer a solid option for affiliate marketers.
You just have to make sure that the one you choose fits with your specific needs.
Draw up a list of what you consider to be the most important features.
You might want to consider some of the following:
Price: What's your budget? Is this the biggest driver for you?
Ease of use: Do you tend to have a good grasp of this type of software? Do you need to go with the easiest to use?
Design: What industry are you in? Is look and feel your priority? Accepting Payments: Will you be creating pages for e-commerce? Make sure your builder has a checkout solution and the integrations you need. 
Integrations: If you need to hook up to other tools, check the one's you want are available as an integration.
A/B Testing: Make sure your choice has enough capability for your testing requirements.
This isn't an exhaustive list by any means.
Have a good think about what you want and need for your landing pages, and make the best choice for you.
Do You Even Need To Buy A Landing Page Builder?
If you only need a small handful of landing pages, shelling out for a landing page builder might not actually be the best option for you.
A dedicated agency, or a freelancer, could actually work out more cost effective.
Because it's not just the cost of paying for the page builder software…
…you've also got to consider how much of your time is going to be taken up by building the landing pages you need.
Definitely give some thought as to the true cost of a landing page before you pull the tigger on some new software.
Have You Enjoyed Reading This Article?
FAQ's
Are landing pages even worth the time and money?

Landing pages are totally focused on getting the conversions you want. So yes, on the back of many years of evidence, landing pages are worth it.

Are there any free landing page builders available?

There are a few out there. But, in my experience they tend to be pretty clunky and difficult to use. Plus, the end product is often a little disappointing.

How much does it cost to build a landing page?

What is the cheapest way to create a landing page?

If you only think of cost in terms of financial outlay, the cheapest option is to buy one of these affordable landing page builders, and put the time in to creating pages yourself. But if you take time spent into account, using an experienced freelancer is probably the cheapest option overall.

How much time does it take to create a landing page?

If you have zero page building experience, probably something like 30 hours to produce something half decent.
Wrapping It Up!
Not too much left to say on this one.
Spend a little time thinking about your own needs before totally committing.
The great thing is that all of these builders offer free-trail periods. So dive in and give them a go for yourself.
Want More Stuff Like This?

Straight To Your Inbox
Then sign-up to thedoublethink free newsletter and get strategies I only share with subscribers...for free!
Thank you for subscribing.
Something went wrong.