Last Updated on July 20, 2022 by andrewtk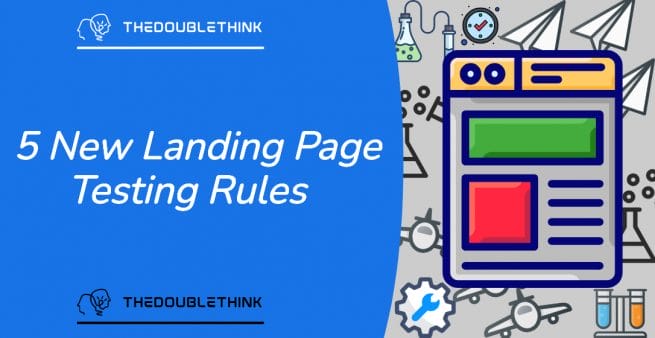 There have been big changes in the capability of landing pages over the last couple of years.
Seismic changes that have totally changed the way the top online marketers build and test their landing pages.
And that's why, in this post, we're going to take a real quick and straightforward look at the new landing page testing rules.
Let's get going!…
The 5 New Landing Page Testing Rules
Don't worry. We're not throwing the baby out with the bath water here.
We're still going be relentlessly A/B testing.
We're still going to be obsessing over Call-to-Action copy.
We're merely taking a close look at a few different things to test…
…so that we are bang up-to-date with all that is new in the world of landing pages.
#1. Traffic Conversion Intent & Call-to-Action Intent
Traffic conversion intent relates to the intention of each page visitor converting into a paying customer, at the point when they click through to your landing page.
If your CTA isn't a good match to your page visitor's intent, when they actually clicked through, from wherever they clicked through from…
…it pretty much doesn't matter what else your landing page has going on…
…you're going to find getting landing page conversions tough!
Matching traffic intent to CTA intent is one of the most important landing page elements you should keep a close eye on.
Some traffic to you landing page will be cold, low intent traffic. They don't know you, they don't your brand, they may not even know much about your offer.
Other traffic to your page will be hot, high intent traffic. They know you and your brand, and they know all about your offer…
…they're almost begging to buy from you.
And of course some traffic sits somewhere in-between these two.
So, the first stage of landing page testing should be to make certain your traffic conversion intent is aligned well with your on-page CTA's.
#2. Test the Life Out of Your CTA Copy
Endless research and testing has been carried out on the power of CTA copy.
And the results are compelling!
Landing page visitors pay attention to the CTA, and in particular the CTA copy.
This one element alone can supercharge your conversion rates…or destroy them if you get it wrong!
And to cut a very long story short, the upside is that if you can find a way to increase visitor motivation with your CTA copy, you're going to get an uptick in your conversion rates.
Nothing else needs to change for this one.
You simply need to experiment with your CTA copy until you find something that your visitors find compelling.
I don't l know the conversion numbers for this one…
…but I would bet good money that the example CTA by Glossier directly below, is absolutely smashing it!
Actually, the entire form is top-quality.
Testing your CTA copy takes minimal effort, and has maximum impact.
The skill with this one is to take the primary questions and/or objections that visitors have, and turn them into CTA copy that suggests closely aligned answers.
#3. Use The Breadcrumb Technique
The Breadcrumb Technique is all about gently persuading page visitors to buy-in to your ultimate request, by first persuading them to buy-in to some smaller request.
And so landing page terms, this means setting up a multi-step form.
The Breadcrumb Technique is based on something called "The 'Consistency Principle' of Persuasion", which forms part of the basis of behavioural psychologist Robert Cialdini's book: "Influence: The Psychology of Persuasion".
The Consistency Principle of Persuasion, very basically, says that:
When somebody has actively committed to doing something, they are then significantly more likely to see it through to completion.
So a multi-step form can easily leverage this principle, through being structured to first ask the visitor to engage by adding some very un-intrusive snippet of information…
…so they are then much more likely to complete what they have started, and provide their name and contact information in the second step.
It's basic human nature apparently. We just feel compelled to finish what we have started.
#4. Thank You Page Next Steps
Is your thank you page really a goodbye page?
Most are!
Do you believe that a thank you page should only be used to say "thank you"?
Or does the marketer in you feel that;
If you only use it to say thank you, you're missing out on the opportunity to further engage with someone that has just taken positive action and converted…
…and is therefore probably more than ready to be persuaded to take one more step?
Below is a great example of a thank you page, that says thank you, and then goes on to ask if you might invite a friend to join.
Look at your thank you pages as a stage of your funnel, kind of early-to-mid-stage if possible…
…definitely not to the final stage!
Thank you pages are perfect opportunities to make your new found customers to feel good about whatever action they just took.
They are also a great chance to immediately leverage off those warm feelings towards your brand.
Just make sure that whatever you are going to try and persuade them with next, is super-relevant to the conversion they just completed.
#5. Commit to Smart Traffic
Smart Traffic is pretty smart!
We're talking AI driven algorythm's built to match all your page visitors' to the landing page variant that is the most likely to convert them.
Sounds like witchcraft right?
And it kind of is, but it's built on completely rational thinking.
We all know that once-size does not fit all when it comes to landing pages!
Smart Traffic just takes this idea the boundaries of what is currently possible.
You create a few variations of each of your landing pages, each targeting a slightly different visitor, or visitors at a different stages of the buying journey…
…and the Smart Traffic algorythm directs each visitor to the most appropriate variation of your landing page.
Witchcraft? Robotcraft?..Total GENIUS!
At the time of writing, Unbounce are out there in front with this technology, to the extent that I'm not sure they haven't trademarked the phrase 'Smart Traffic'.
Not far behind though, as you might expect if you know your landing page builders, is Instapage with their '1:1 Ad-to-Page Personalisation' technology.
Wrapping It Up!
A/B test until your hearts content.
Experiment with your landing page copy 'til hell freezes over.
Just make sure that you're focusing your tests on all the right areas.
Your CTA copy, your thank you pages, multi-step forms…all minimal effort but super high-impact elements where you should be focusing most of your time.
Here's to bigger, better landing page conversions!
Want More Stuff Like This?

Straight To Your Inbox
Then sign-up to thedoublethink free newsletter and get strategies I only share with subscribers...for free!
Thank you for subscribing.
Something went wrong.