Before writing this Landingi review, I'd never actually used this particular landing page builder.
So I was coming at it with zero experience of Landingi itself, albeit I do have a fair bit of experience with landing page builders generally.
So what's it like?
The price looks pretty appealing, but does it take endless hours to learn how to use?..
…and even more importantly, can you create great looking, high converting landing pages with it?
Let's dive in and find out!..
Landingi Review – What We're Going To Cover?
I always tend to think that there's a handful of key areas to look at when considering a new landing page builder.
So with that in mind…
…here are the questions I've tried to answer in my Landingi review:
How easy is Landingi to learn how to use?
Are the Landingi pre-built templates good quality and usable?
How stable/robust is the Landingi page builder?
How conversion focused is Landingi?
How easy to set-up is the A/B testing function
Does Landingi integrate easily with third-party software?
Given price and functionality, is Landingi good value?
Is the Landingi customer service decent enough?
Landingi Alternatives
So that's nine areas we're going to look at in a bit of detail.
I have very briefly summarised my thoughts on Landingi directly below.
But to get to the detail, you'll need to read the full review.
Do I Recommend Landingi?
Yes, on balance, I do recommend Landingi, but it won't be for everyone.
I think that Landingi is probably best suited to online solopreneurs, and small business owners.
I'm not sure why, but when I started out with this Landingi review, I had the feeling that I wasn't going to be impressed.
But that didn't turn out to be the case at all!
Landingi comes with features such as a drag-and-drop editor, thank-you page builder, and 300+ landing page templates.
You also get a pop-up builder with templates, triggering options, and plenty of integrations.
On top of all these features, it is dead-easy to learn and to use!
Landingi Pros and Cons
Here's a roundup of what I both liked, and didn't like about Landingi:
Landingi Pros:
Easy to learn
Easy to use
Landing pages can be built quickly
Affordable
Quality, useable templates
Free plan available
Landingi Cons:
Free plan is very limited
Only basic analytics
Mobile builder seemed clunky
Use-ability – How Easy Is Landingi To Use?
Overall, I found it to be pretty straightforward.
I signed-up to the 14-day free trial, and I was able to get a reasonable landing page built inside a couple of hours.
It's only fair to say though, that I do have a lot of page building experience, so I only had to get used to Landingi's particular nuances.
Let's dig into this a little bit deeper…
How Many Hours Will You Spend Learning to Use Landingi?
Just how fast can someone new to building landing pages get to up to level where they can produce decent landing pages?
Let's break this down into 3 key areas:
Dashboard Layout and General Navigation
Are the Landingi Templates High Quality and Usable?
Building Your First Page
a) Dashboard Layout and General Navigation
Nothing too surprising here.
Easy-on-the-eye, clutter-free.
When you first sign-in, you'll see a page looking like the one below:
Once you've clicked on 'Let's Start' you can choose to either watch an introductory video, or just crack straight on with creating your first Landingi landing page.
I'm not really one for instructions, so I just got involved and clicked on 'Create Your First Landing Page'.
And you're in, ready to start building landing pages.
As you can see from the image below, you now get the option to either create a new landing page from a template or a blank page, or…
…upload an existing landing page file.
Let's say you've opted to create a new landing page from either a template or blank page…
…you'll then arrive at Landingi's huge selection of pre-built templates.
From here you have all of the pre-built templates available, the blank page option…
…as well as a training template should you want to get to know the Landingi page builder before going any further.
The left-side menu presents you with the different ways you can choose to filter and view the templates.
You can select to view them by page goal, funnel step, or industry, as shown below:
b) Are the Leadpages Templates High Quality and Usable?
Most people using Landingi for the very first time are probably going to start off by selecting a template to build from.
Without a doubt, there's certainly enough quantity available.
But is the quality high enough? And are the templates relatively simple to adapt to your own specific needs?
I picked a few different templates to test-drive…
…starting with this one:
I went with this particular page because it has a lot of different elements, and it's fairly long…
…so plenty of scope for testing.
This is the top of the template page once selected for editing:
You'll see that everything is now live and it's all set to start working on.
The box that pops up in the bottom left-hand corner lets you very easily mix-and-match both the visual and technical elements that you want included, or excluded from your page.
It's a nice touch and get's you thinking about your overall layout right from the beginning.
From here, it's easy to move abound the page, selecting whichever element you would like to work on.
Simple, comprehensive, easy to follow, and effective.
I would say that Landingi have done a great job of making a whole lot of very decent templates available.
The quality of the templates is high and they are very easy to adapt to your specific needs.
c) Actually Creating Your First Page
Landingi gives you a drag-and-drop landing page builder, to make those of us without coding skills feel like we are tech-geniuses.
This WYSIWYG design principle has been adopted by many landing page builders over the last few years…
…to varying degrees of success I would say!
But the Landingi page builder is definitely one of the better ones I've used, especially at their price-point.
It's intuitive, uncomplicated, and nice and fluid to use.
All of the design elements are clickable with their existing borders and parameters clearly marked.
The menu that now runs down the left-hand side of the page comprises all of your individual sections and elements…
…forms, boxes, buttons, counters, images, videos etc.
You can simply drag-and-drop any of these into your page…and place them pretty much wherever you like!
The menu that runs down the right-hand side of the page is where you set your page up with regard to colours, fonts, sizings etc.
It's also where you have the option to add your own custom CSS, should you be so inclined.
Once you've got your page how you want it, it's time to publish.
This is just a click on the green button in the top right corner, which once clicked, will take you to this page:
You now are given three different ways you can go about publishing your new page.
'Add Custom Subdomain', 'Publish on WordPress', or 'Embed on Server.'
Each of these options is made about as straightforward a possible, so nobody should be coming unstuck at this stage.
And you're done! Page built and published!
How Stable/Robust is the Landingi Page Builder?
I tried out a ton of different designs during my Landingi trial period.
Knowing, from experience, that drag-and-drop, WYSIWYG, page builders can be seriously glitchy, I really tried to push Landingi's builder to it's outer limits.
But, this one remained completely stable and easy to use throughout.
I didn't once think that it was about to fail me and lose all of my current design work.
For anyone who doesn't have the coding skills to create pages form scratch, the combination of both fluid, and stable, is a massive plus in a page builder.
A/B Testing – Set-Up And Accuracy
Landing pages should always be considered as works-in-progress.
Once built, your landing page should not be published and forgotten about.
You're going to want to keep checking on your conversion numbers and continuously optimize wherever possible.
Unfortuntely not with the free plan, but with the paid plan, Landingi provides A/B testing functionality.
So you don't need to spend your time guessing what wording, positioning, colours etc. convert better than the next.
All you need to do is set up A/B tests, and let the data show you.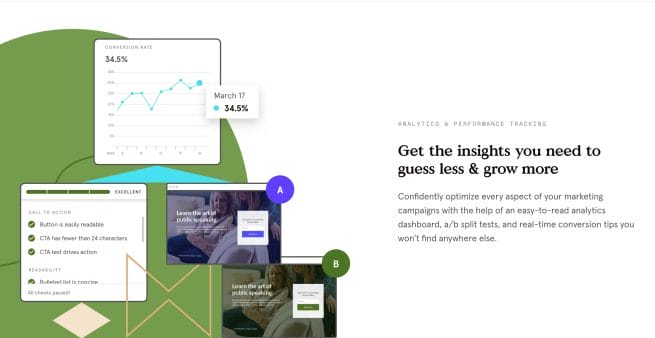 With Landingi it is super-easy to set-up A/B tests.
You simply click on the three dots icon next to the landing page you want to set-up the test for, and select 'Optimization' from the dropdown…
…create your variant page, make the change you wish to test, select your traffic distribution…
…click on 'Start the Test' and you're just about there!
Conversions – Is Landingi Conversion Focused?
Everybody wants a beautiful looking landing page!
But it's whether or not they convert well that matters!
Some of the highest converting landing pages of all-time are seriously ugly.
How Conversion Focused is Landingi?
Landingi have this 'Design to Convert' page on their website:
The page is made up of case studies where current users of Landingi give examples of designs they have used which have resulted in big increases in their conversion rates.
It's useful stuff and completely genuine.
Each case study provides the company details and gives information on conversion rate changes brought about by the design changes in focus.
I had a real good dig into this page and I was pretty impressed with some of the tips being shared within the case studies.
Integrations – Enough And Easy To Set-Up?
If you're buying a new landing page builder, you want to know that there's a decent number of popular marketing integration options available through your chosen provider.
Does Landingi Integrate Easily with Third-Party Software?
Landingi has a good selection of standard integration options available.
This list is by no way exhaustive…it's just a few noteworthy examples.
Email Marketing: Integrations include ActiveCampaign, Aweber, Campaign Monitor, ConvertKit, Drip, GetResponse, MailChimp, MailerLite.
CRM and Sales: Integrations include HubSpot, LeadsBridge, Livespace, Pipedrive, Salesforce, SalesFlare, SALESmanago, ZenDesk Sell.
Callback and Chat: Integrations include CallPage, Dzinga, FreshChat, Intercom, LiveChat, ZenDesk Chat.
Analytics and Tracking: Integrations include Facebook Pixel, Google Analytics, Google Tag Manager, Kissmetrics, Mixpanel, Google Ads Conversion.
Other Integrations: A few of the big players that don't fall into any of the above categories include PayPal, Facebook Tab, Shopify, Webhook, WordPress, Zapier.
Zapier: The Zapier integration itself enables you to connect Landingi to over 2,500 additional apps.
If you're serious about signing-up with Landingi…
…I would definitely suggest that you hop over to Landingi to make sure that any specific integrations you need are definitely available.
Pricing – Is Landingi Good Value?
Well, they've got a free plan, and whilst it's not got a lot of features and capacity, it's hard to argue that it's not great value for the zero spend.
For the paid plan, I think that if you are either a digital solopreneur, or a small business owner looking for a decent and affordable landing page builder…
…the Landingi Professional Plan represents solid value for money.
Given Price and Functionality, is Landingi Good Value?
Sure you don't get the beautifully intuitive and totally fluid landing page builder that you do with some of the premium brands such as Instapage and Unbounce.
But those two particular alternatives are going to take you quite a bit longer to learn…
…and they'll cost you a ton more money!
Landingi gets you a landing page builder that is easy to learn, easy to use, and converts very nicely…
…at an affordable price.
Landingi Pricing
Landingi used to have a lot of different plans available. Too many in fact.
Well, they've certainly addressed that particular issue, because they now offer three plans.
…the Landingi plans and pricing is currently as follows:
Free Plan: $0
Professional Plan: $45/mo
Agency Plan: $119/mo
As you would expect, the Free Plan is pretty basic with a lot of restrictions, but hey, it's free.
Landingi do state that there are Add-Ons available within the Professional Plan, which will be at additional cost obviously.
Customer Service – Great? Good? Okay? Poor?
While using Landingi for the purposes of writing this review, I didn't have any genuine need to contact support.
So I had to make up a fictional problem.
I've noticed that there are a quite a few fairly old reviews out there where users said that there is no live chat option available.
Well, that's all sorted now, because all of phone, email, and live chat are available of the paid plan.
I initially contacted support by email, and received a comprehensive answer the same day.
I also contacted them by live chat, and I immediately picked up by a live agent and my fictitious issue was dealt with very quickly.
If you prefer to try and sort yourself out in times of need, you do have the option of searching Landingi's comprehensive Help Center, which is well laid out and comprehensive.
Landingi Alternatives
I think Landingi is great for anyone new to landing page building…
…as well as many online solopreneurs and small businesses looking to keep a tight grip on the purse strings.
But of course there are many Landingi alternatives out there!
Swipe Pages – Probably the closest in price and functionality to Leadpages
Leadpages – Fairly similar pricing, a little more functionality
Lander – A budget option that works just fine
Thrive Architect – A dedicated WordPress plugin solution
Unbounce – More money, more advanced
Instapage – A lot more money, a lot more advanced
Find out more about these Landingi competitors in my 'Best Landing Page Builders' roundup article…
…and for more for budget-friendly alternatives, my 5 Affordable Landing Page Builders post.
Landingi Review – Wrapping It Up!
Over the 14 days that I used Landingi, I think I gave it a pretty good workout.
No, I'm not going to jack-in my Unbounce subscription just yet, but for sure there is a lot to love about Landingi.
A very usable page builder, lots of great templates, quality integrations…
…all coming in at a pretty good price.
Want More Stuff Like This?

Straight To Your Inbox
Then sign-up to thedoublethink free newsletter and get strategies I only share with subscribers...for free!
Thank you for subscribing.
Something went wrong.