Last Updated on June 9, 2023 by andrewtk
Hey there marketer! Welcome to my round-up review of the best Leadpages alternatives.
I don't know exactly how many years of my life I've spent building landing pages, but if I think about it too hard, my head will explode.
Let's just say it's a lot!
And to find the best Leadpages alternative, I spent even more time, using a few landing page builders side-by-side, to try and figure out which are the very best Leadpages competitors.
Without doubt, these five are the best of the bunch!
Shall we get right into this?
What we're going to cover:
Top 5 Leadpages Alternatives
5 of The Best Leadpages Alternatives
Which one of the five builders on this list will be best for you, is going to depend on your reasons for seeking out a suitable Leadpages alternative.
If you're looking for a slightly cheaper option, numbers three and four on this list might be for you.
If you're a heavy user of PPC advertising and need every advantage you can get in converting that costly traffic, options one and two will be the better fit.
The fifth and final position is taken up be an all-in-one marketing suite option.
#1. Instapage
Without doubt, Instapage is an exceptional landing page builder.
But it doesn't come cheap!
So if you're looking for an alternative to Leadpages that is less expensive than Leadpages…
…keep moving on down this list, Instapage is not what you're looking for!
But if have the buying power of a professional marketing agency, or corporate marketing team, Instapage could within your reach.
Instapage has a powerful suite of tools, all laser focused on getting you more clicks and higher conversion rates.
So if you are a big user of PPC advertising, Instapage should help you improve the ROI of your campaigns.
Market-leading landing page personalisation, working hand-in-glove with their ad-to-page message customisation technology, is what makes Instapage so attractive to PPC advertisers.
Of course, you will also be getting a beautifully smooth and precise page-builder, powerful A/B testing function, and Accelerated Mobile Pages.
Plans & Pricing
Building Plan: $199/mo if paid annually, $299/mo if paid monthly
Converting Plan: Based on your unique goals and business needs
Ignite Plan: Flexible option to align with your current and future business needs
Try before you buy: Instapage's 14-Day Free Trial
Find out more in my full Instapage Review
---
#2. Unbounce
We're still with the pricier Leadpages competitors here.
Not quite as pricey as Instapage, but still not cheap.
Similar to Instapage, Unbounce has a suite of dynamic tools to help you get higher conversion rates from your PPC campaigns.
And if you are running PPC ads, you know yourself that clicks that come without conversions are a terrible and expensive thing.
Unbounce are focused on the post-click experience, trying to make sure that every bit of traffic that can be converted, is converted.
Unbounce offer a ton of high-quality, conversion tested templates, a page builder that's silky smooth and easy to use, powerful A/B testing, Dynamic Text Replacement, and Accelerated Mobile Pages.
Both the Launch Plan, and Optimize Plan offer unlimited landing pages, pop-ups, and sticky bars at a pretty competitive price.
Plans & Pricing
Launch: Starting at $74/mo if paid annually, $99/mo if paid monthly
Optimize: $109/mo if paid annually, $145/mo if paid monthly
Accelerate: $180/mo if paid annually, $240/mo if paid monthly
Concierge: $469/mo if paid annually, $625/mo if paid monthly
Try before you buy: Unbounce's 14-Day Free Trial
Here's my full Unbounce Review
---
#3. Swipe Pages
If it's price that's driving your search for a top Leadpages competitor, we're now getting into the options that might interest you.
Swipe Pages haven't been around all that long, but their star is definitely rising pretty rapidly.
While you can easily build and deploy landing page builders for a desktop audience with Swipe Pages, their real big focus is on delivering mobile-optimised landing pages.
So if you're looking to get a bit of a cost saving over Leadpages, and your audience is a mobile-first audience…this one could be exactly what you're looking for.
The people at Swipe Pages have prioritised mobile over desktop, which is the other way around to most landing page builders on the market right now..
Swipe Pages offer a wide selection of beautiful, conversion optimised landing page templates, as well as easily integrating with payment platforms such as PayPal and Stripe.
The Swipe Pages builder is nice to use, very stable, and intuitive enough that there isn't a steep learning curve.
Plans & Pricing
Startup Plan: $29/mo if paid annually, $39/mo if paid monthly
Marketer Plan: $59/mo if paid annually, $89/mo if paid monthly
Agency Plan: $119/mo if paid annually, $199/mo if paid monthly
Try before you buy: Swipe Pages' 14-Day Free Trial
---
#4. Landingi
Well, if you're looking for a more affordable landing page builder than Leadpages, you can't get more affordable than free!
Yes, Landingi are one of the very few (possibly the one-and-only) landing page builder to offer a free plan.
Sure, it comes with a lot of restrictions and limitations when compared with the paid plans, but hey, if it has enough for what you need, you're onto a resounding winner.
Landingi is super quick and easy to get up-and-running with.
The drag-&-drop visual editor is perfectly stable, it's precise and very easy to use.
Marketing integrations are available for pretty much all of the major marketing tools that you would usually expect with a landing page builder.
And, if you are going for the paid plan, and you already have a few landing pages that you're using, the Landingi team will import them from your existing landing page builder…with up to three being transferred over totally free.
Plans & Pricing
Free Plan: $0
Professional Plan: $45/mo
Try before you buy: Landingi's 14-Day Free Trial
Read my full Landingi Review
---
#4. GetResponse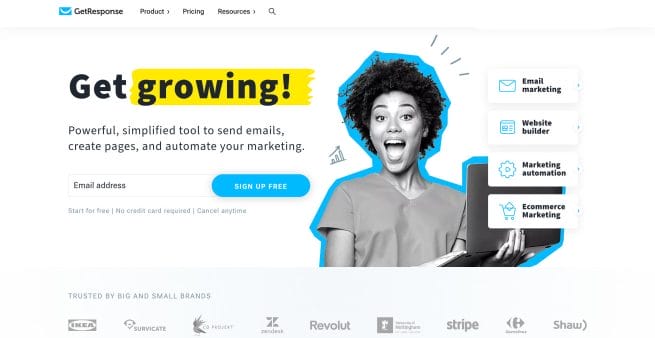 For affiliate marketers, solopreneurs, or just about anyone involved in digital marketing who doesn't have a team around them, and a big-fat budget, this all-in-one marketing suite can be a very attractive option.
GetResponse are great at what they do and their all-in-one package is extremely compelling.
GetResponse's landing page builder can stand on it's own against some of the best in the industry.
It has a fuss-free interface and dashboard, so you won't have to spend hours trying to work out what everything does.
A smooth and reliable drag-&-drop editor, 200+ high-quality templates, easy A/B testing function…
…all the important stuff is here!
Plus, the free-trail is fully stacked with the full range of features.
Plans & Pricing
Email Marketing Plan: €13/mo if paid annually, €16/mo if paid monthly
Marketing Automation Plan: €44/mo if paid annually, €54/mo if paid monthly
Ecommerce Marketing Plan: €87/mo if paid annually, €106/mo if paid monthly
GetResponse offer a 30-Day Free Trial, which is a nice boost over the usual 14 days.
---
FAQ's
Wrapping It Up!
Leadpages is a great landing page builder!
But if for some reason you're just not feeling the love, well, I hope you find it for one of the five Leadpages alternatives listed in this post.
Hopefully you'll find there's something for you here, regardless of exactly why you are scouring the market for a different landing page builder.
Want More Stuff Like This?

Straight To Your Inbox
Then sign-up to thedoublethink free newsletter and get strategies I only share with subscribers...for free!
Thank you for subscribing.
Something went wrong.