Hey there marketer! Welcome to my 2023 Leadpages review.
Leadpages was the first landing page builder I ever used.
At first, I loved it.
But then I grew to hate it, because as I started wanting more from my landing pages…
…I found Leadpages got pretty glitchy and clunky to use.
So like a drowning rat, I didn't hesitate to jump ship!
But what about now, roughly seven years on from when I ditched it?
I've been told that this page builder has come a long way…
…no more clunks and no more glitches…so I'm told!
And that's why I decided to write up this Leadpages review, to see for myself just how far they've come.
Let's find out!..
Leadpages – Key Info
| | |
| --- | --- |
| 📣 About | An affordable builder for solopreneurs and small businesses. |
| 💲 Price | Starts at $37 per month if paid annually. |
| ✅ Pros | Easy to learn and easy to use. |
| ❌ Cons | Doesn't always deliver the super-fine detail you might want. |
| 🏁 Conclusion | A very decent landing page builder at a great price. |
My Leadpages Review – What I Focused On
For me, there's a few real key areas to look at when considering a new landing page builder.
They may not be exactly the same as your criteria, but just so you know where I'm coming from…
…here are the questions I really set out to answer in my Leadpages review:
How easy is Leadpages to learn how to use?
Are the Leadpages pre-built templates good quality and usable?
How stable/robust is the Leadpages Page Builder software?
How conversion focused is Leadpages?
How easy to set-up is the A/B testing function
Does Leadpages integrate easily with third-party software?
Given price and functionality, is Leadpages good value?
Is the Leadpages customer service on-point?
Leadpages Alternatives
So that's nine areas that I've really tried to pin down.
If you're super pushed for time, I've briefly summarised my thoughts on Leadpages further below.
But to get the whole picture, and find out the detail, you will need to read the full review.
Do I Recommend Leadpages?
Yes, I do recommend Leadpages, but I don't think it's for everyone.
Personally, I believe that Leadpages is well suited to online solopreneurs, and small businesses.
During my Leadpages review, I have mostly been pretty impressed…
…but not with everything!
If you're the sort of person who has a crystal-clear vision of how you want your landing pages to look, down to the last detail…
…I'm not sure Leadpages will be a great fit for you, because its templates are not quite as customisable as they could be.
Anyway, we're getting close to digging into detail here.
Let's move on to the full review.
Leadpages Pros and Cons
Here's a brief roundup of what I liked, and didn't like about Leadpages:
Leadpages Pros:
Easy to learn and to use.
Landing pages can be built quickly.
Affordable.
Templates can be filtered by user conversion rates.
Unlimited traffic and leads.
Over 40 standard integrations.
Leadpages Cons:
Template customisation lacks fine detail.
Limited A/B testing in Standard Plan
No online sales and payments in Standard Plan.
Use-ability – How Easy Is Leadpages To Use?
Pretty damn easy.
I remember when I first started out, when Leadpages was the first page builder I'd ever used, that I was up and running real quick.
And that's not changed.
I signed-up, and I was churning out half-decent landing pages within the hour.
Of course, I do now have a lot of experience in building landing pages, but I also understand what makes some page builders easy to get going with…
…while others are just a complete nightmare!
Leadpages is easy to learn and easy to use.
Let's dig into this a little bit deeper…
How Many Hours Will You Spend Learning to Use Leadpages?
How quickly can someone totally new to building landing pages get to a decent level of competency with Leadpages?
Let's break this down into 3 key areas:
Dashboard Layout and General Navigation
Are the Leadpages Templates High Quality and Usable?
Actually Creating Your First Page
a) Dashboard Layout and General Navigation
Pretty much what you would expect from a modern piece of hosted software.
Simple, easy-on-the-eye, fuss-free.
Each time you sign-in, you'll be greeted with a page looking like the one below:
Don't spend too much time worrying about my terrible conversion rates…
…the above screenshot was taken as soon as I signed-up!
If you then select 'Landing Pages' from the menu on the left hand side, you'll be taken to another simple, fuss-free page.
Here you can select to either edit an existing landing page of yours, or 'Create New Landing Page' as outlined below:
Let's say you've opted to create a new landing page…
…you'll then be presented with Leadpages vast selection of pre-built templates.
Which will look something like this:
The menu down the left-hand side presents you with a number of different ways you can view the templates.
You can select to view them by industry, by popularity, conversion rates, newest, style, colour etc.
Also available at this stage is to select by 'Page Type'. This is where you can choose to start with a totally blank page if that's what you want to do.
The 'Page Type' option is also where you can select by your specific page goal.
For example, maybe you're building a webinar sign-up page, maybe it's to join an email newsletter, or to sign-up for an event…
…safe to say, there are a number of helpful ways you can select the best template to start building with.
b) Are the Leadpages Templates High Quality and Usable?
I'm going to guess that most people using Leadpages for the first time…
…are probably going to start by choosing to work form one of the pre-built templates.
Quick time-saving tip before you start building:
Head over to your dashboard and click on 'Set-up Your Brand' from the central menu.
Which will take you to a page that look like the one below…
…where you can add your brand colours and fonts.
Well worth doing as it results in massive time saving once you start building pages.
Here's mine after I'd added my brand colours:
Okay now we're all set to actually start building our first page from a Leadpages template.
For the purposes of this Leadpages review, I decided to start with a 'Product Giveaway' template.
I chose this page mainly because there are a lot of different elements on the page, and it is quite long…
…so it offered a lot of scope for testing.
This is the top of the template page once selected:
It's real easy to just move around the page, selecting whichever element you would like to change.
As soon as you click on an element, you are presented with the side-bar menu, which offers the choice of Layout, Sections, Widgets, Styles, Settings.
And if you click on one of these menu options, you'll get an expanded menu so that you further select what you want to do.
In the example below, I simple clicked on 'Layout' and was given an expanded menu to select any section of the landing page…
…to either drill into, or simply re-order by dragging them to a different position within the menu itself.
Moving further down the template page, I clicked into the page layout option once again and tested out how easy it is to manipulate columns, image positioning, sizing etc.
As you can see from the following three images, it's a simple process of just clicking into whatever element you want to alter…
…which is followed by Leadpages opening a new menu that shows you everything you can do to the chosen section.
Simple yet comprehensive, easy to follow, and very effective.
So far, so good!
c) Actually Creating Your First Page
I set myself a target to see how much I could customise this Leadpages template in just thirty minutes.
I decided to create a landing page for my imaginary new company: 'Donut Lord' (yeah I'd recently watched the Sonic The Hedgehog movie).
It's fair to say that I didn't think through the target market and business strategy of Donut Lord to any great degree…
…let's just say they make and sell donuts both online and in stores.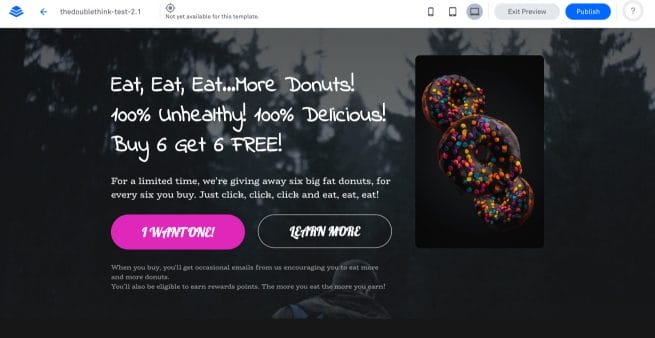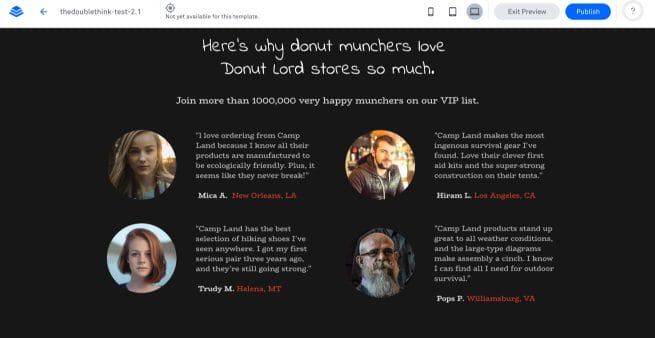 So what do you think?
Thirty minutes flat.
I've got images, I've got narrative, I've got happy donut munching customers, I've got an 'Ultimate Survival Guide', I've got a Call-to-Action.
Come on…thirty minutes…that's pretty good!
Well, whatever you think, I was seriously impressed with just how easy this was to pull together.
How Stable/Robust is the Leadpages Page Builder Software?
Solid.
Definitely nothing like my experience with Leadpages way-back.
When I used to build pages with Leadpages, I remember I used to always feel like I was only ever one click away from all my work being lost.
This was not the case this time around!
No more clunkiness, no more glitchiness.
A/B Testing – Set-Up And Accuracy
There's no need to spend endless hours trying to second guess what colour, wording, positioning might convert better than the next.
All you need to do is set up A/B tests, and let the data tell you.
So once you have your landing page looking how you want, just put it live and set up your split-test.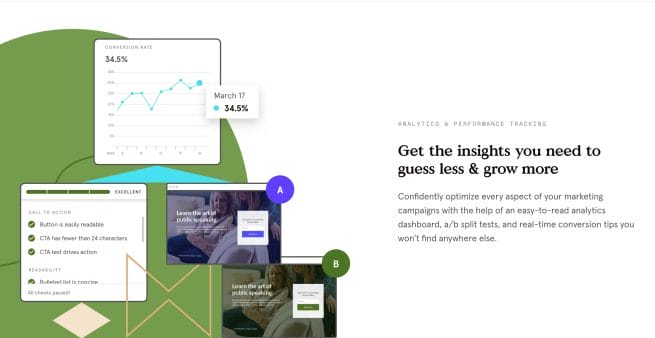 And Leadpages makes it really simple to set-up new split tests from inside your dashboard.
You just click the button that says 'Create New Split Test'…
…choose the control page you want to test, create your variation/s (making just one change per variant page), choose your traffic distribution…
…and you're good to go.
Be careful though!
Leadpages only make this capability available with the Pro and Advanced plans, which is a little bit tight.
Surely it would be better to enable some limited number of split-tests to be run on the Standard plan, rather than offering no access to the function?
Conversions – Is Leadpages Conversion Focused?
We all want beautiful landing pages, but at the end of the day, it's whether or not they are converting well that matters!
You may be thinking that this is an odd question to ask about a landing page builder!
Surely all landing page builders are conversion focused?
Well, kind of…but some more so than others.
So, I'm always pleased to see it, when providers are creating a decent amount of quality material to assist their customers.
How Conversion Focused is Leadpages?
Leadpages have made this 'Conversion Optimization Guide' available on their website:
It's made up of six chapters, as follows:
What Is Conversion Rate Optimization?
How Do I calculate My Conversion Rate?
What's a Good Conversion Rate?
How Can I Improve My Conversion Rate?
A/B Testing
Creating a Conversion Optimized Website
I had a real good dig into this guide and it is packed with high-quality content.
Each of the above six chapters goes into genuine depth on its topic.
Really good, genuinely helpful stuff.
Integrations – Enough And Simple To Set-Up?
Pretty much everyone looking for a new landing page builder, wants to see that there's a decent number of popular marketing integration options available.
And that the process of hooking up an integration is not a massive pain up the backside!
Does Leadpages Integrate Easily with Third-Party Software?
Leadpages has a good selection of standard integration options available.
A shade over forty I believe.
These are the categories of integration options available:
Analytics
CRM
Digital Advertising
Ecommerce
Email Marketing
Live Chat
Marketing Automation
Payments
Scheduling
Social Media
Video
Webinar
Website
Analytics
Other
If you're serious about signing-up with Leadpages…
…I would definitely suggest that you hop over to Leadpages to check that any specific integrations that you need are definitely available.
Pricing – Is Leadpages Good Value?
Well, it depends who you are and what you want I suppose.
But I think it's fair to say that if you are either a digital solopreneur, or a small business owner looking for a very decent and affordable landing page builder…
…Leadpages represents pretty good value.
Given Price and Functionality, is Leadpages Good Value?
You may not be able to build landing pages with Leadpages, quite as beautifully as you might with Instapage.
You may not be able to build landing pages with Leadpages, that convert quite as well as you might with Unbounce.
But those two alternatives are going to take you longer to learn…
…and they will cost you roughly 3x the money!
Leadpages offer you the ability to get your hands on a landing page builder that is easy to learn, easy to use, and converts just fine…
…at a very fair price.
Leadpages Pricing
Unlike many other landing page builders, Leadpages don't seem to change their pricing that often.
…the Leadpages plans and pricing is currently as follows:
Standard Plan: $37/mo if paid annually, $49/mo if paid monthly
Pro Plan: $74/mo if paid annually, $99/mo if paid monthly
Advanced Plan: $321/mo if paid annually
Leadpages offers a lot for the price.
I do wish they would be more generous with the A/B Testing function within the Standard Plan, but at $37 per month, it's hard to complain too much!
Customer Service – How Much Do They Care?
I kind of hate answering this question as part of a product review.
Because if you haven't actually had any issues that need dealing with, you have to make up some BS reason to test them out.
During the period I was using Leadpages for the purpose of this review, I didn't have any issues worthy of contacting support over.
So I'm left having to make something up, so that I can reach out to the service team about.
Is the Leadpages Customer Service On-Point?
I found it to be very good.
There is the usual first port of call in their "Knowledge Base" to try and help you solve fairly common and straightforward problems.
If you can't get sorted out there, you can contact a member of the support team.
A human member of the support team at that, not a crappy robot!
That's right, Leadpages have actual humans answering queries, not chatbot robot things that can only answer with pre-programmed responses.
My experience was excellent.
Leadpages Alternatives
I think you probably know by now, that I think Leadpages is great for anyone new to landing page building…
…as well as online solopreneurs and small businesses.
But there are other landing page builders available!
What high-quality Leadpages alternatives are out there?
Just so you know, I tend to prefer dedicated landing page builders, over marketing software packages where a landing page builder is just part of the stack.
If you're widening your search and are interested in a Leadpages alternative, you might want to check out a couple of these:
Swipe Pages – Probably the closest in price and functionality to Leadpages
Landingi – A little less money, a little less functionality
Lander – A budget option that works fine
Thrive Architect – A WordPress plugin solution
Unbounce – More money, more advanced
Instapage – A lot more money, a lot more advanced
You can read more about these Leadpages competitors in my 'Best Landing Page Builders' roundup article…
…and if you're looking more for budget offerings, this 5 Affordable Landing Page Builders article.
Leadpages FAQ's
Is Leadpages easy to use?

Leadpages is easy to learn and easy to use. The builder is both intuitive and uncomplicated.

Are pages built with Leadpages mobile responsive?

Yes, the pages you build with Leadpages will be mobile responsive. You can quickly toggle between views to check how your page looks on mobile as you work.

Can I sell products on Leadpages?

You can, Leadpages integrates with a number of point-of-sale apps…but, online sales and payments are not supported within the Standard Plan.

Is Leadpages good for SEO?

I think Leadpages have done pretty much everything they can to help you make SEO friendly landing pages. They have mobile-friendly templates, excellent page load speeds, and they place a raft of extra SEO settings at your disposal.

Is there a free version of Leadpages I can use?

Only for the duration of the free-trial period. Once that expires. you'll need to pay.
Leadpages Review – Wrapping It Up!
Using Leadpages again was like driving a VW Golf, after driving a BMW.
Not quite the high-level of refinement, but never a doubt that it would get the job done in a very decent and fuss-free way!
Through offering a very solid product, at a competitive price, that is both uncomplicated and easy to use…
…Leadpages have kept themselves accessible to their original target market.
And the product that they're offering is getting better and better!
I hope this review has helped you in your decision making.
Got something to add? Go ahead and put it in the comments below.
Want More Stuff Like This?

Straight To Your Inbox
Then sign-up to thedoublethink free newsletter and get strategies I only share with subscribers...for free!
Thank you for subscribing.
Something went wrong.