MarketPlace Superheroes Review…
…a Quick SnapShot:
EFFECTIVENESS
USEABILITY
SUPPORT
PRICE
Summary:
The MPSH training is made up of seriously high quality content that is bang up to date, and easy to follow!

Plus, MPSH have a rock solid product selection strategy.

They show you the type of products to sell, how to find them, and how to filter those products through the MPSH software to leave only the very best opportunities!

MarketPlace SuperHeroes 7-Day Free Trial

Are you interested in starting up your own Amazon FBA business?
But are you also finding yourself wondering where to start?
Maybe you're seriously considering signing-up with the guys at MarketPlace Superheroes, and that's why you're here reading my MarketPlace Superheroes Review.
The truth is, there's a lot involved in setting up and running a successful Amazon business.
You not only need to learn 'how to sell on Amazon' but also 'what to sell on Amazon'…and just about everything in between!
Back in mid 2017…and I was on the verge of jacking in my own Amazon FBA business.
I was finding it time consuming and expensive, because I was making costly mistakes, time and time again!
And as it turns out, those costly mistakes were all totally avoidable.
As I'm sure you can imagine, this wasn't really what I had in mind when starting out…not exactly the passive income dream!
After an awful lot of indecision, I decided to double my effort and give it another few months.
But to be honest, the whole way I was approaching this business had to change.
I put off pressing ahead with my next product order. Instead, I decided to spend the money I'd put aside for that, on getting some top-level Amazon FBA training.
And so my next problem became this…
Which Amazon FBA Course To Choose?

Thankfully there's some great quality help out there, delivered by some seasoned Amazon sellers.
But…not all Amazon courses are created equal!
There's just as much rubbish being sold online as there is quality stuff, as I'm sure you're well aware.
And Amazon FBA courses are no different. There's a few out there that only really cover the basics of how Amazon FBA works.
While a small select handful take you through all of the critical detail!
And it's the critical detail that you'll need if you want to be super successful in as short a space of time as possible.
Now, with the benefit of hindsight, I know that this is where I'd gone wrong in the past.
When starting out, I'd learned very broadly about setting up and running an Amazon FBA business. But I didn't know some of the finer, all important details.
My Amazon FBA Business – 3 Years On
My Amazon business is going from strength to strength and I love working on it…because it's successful and no longer feels like a chore.
What made the difference?
The quality training program that I selected…and that I worked my butt off learning and following to the letter!
Important heads-up:
Amazon FBA takes work, it is not a push-button opportunity…but it is a real business opportunity, and one where your rewards are potentially huge!
Enough of the fluff and me blowing my own trumpet…
…here's my review of the Amazon seller training that I eventually selected, and still use today…
MarketPlace SuperHeroes Review
Is the training worth spending your money on?
Does it deliver what is promised? In case you don't know, this is what's promised…
The exact formula that brings in at least $18,750 in net profit every single month selling just 5 simple, every day products on Amazon (100% possible even if you're a complete beginner).
MarketPlace SuperHeroes
You'll probably agree that this is a big claim, and you're likely wondering if it can be delivered on?
I joined MarketPlace SuperHeroes in mid 2017 and I still use and apply their training. The reason I rate them so highly is because of the strategy that MPSH use for finding exactly what to sell on Amazon…
The MPSH Strategy
There are two big differences in the Amazon FBA business strategy being taught within this course, to that of most other Amazon seller training courses:
Product Selection: MPSH have a rock solid product selection strategy. They show you the type of products to sell, exactly how to find them, and how to filter those products through the MPSH software to leave only the very best opportunities.

International Expansion: This aspect is rarely taught on other Amazon courses who tend to focus on only the United States market. Building your business for international expansion is a core part of the MarketPlace SuperHeroes strategy.
The heavy emphasis on product type, as well as how to find and screen product opportunities, is massively important and I believe one of the main reasons why the guys at MPSH are producing so many success stories.
Program Details
Product/Program: MarketPlace SuperHeroes System 2.0
Product/Program Owners: Robert Rickey and Stephen Somers
Opportunity: How to build a 5 – 7 figure global Amazon FBA business
Price: $997 (or 12 x $97 per month option available)
Visit MarketPlace SuperHeroes here: MarketPlace SuperHeroes
Here's a bit of background on the two MPSH founders…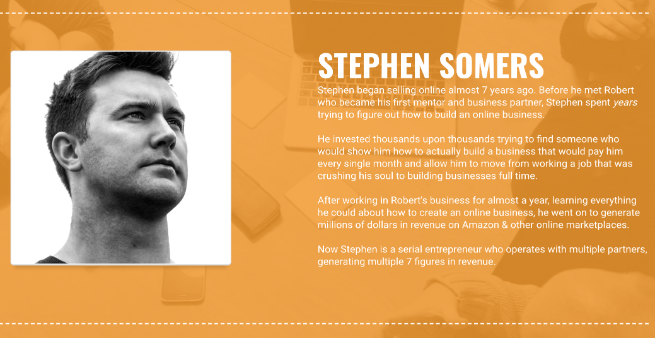 My MarketPlace SuperHeroes Experience – What's Inside?
Members Area:
Exactly what you want from this type of training platform, everything is clearly laid out and simple to navigate your way around.
Every part of the training is available in video, audio and written transcript, so pretty much all preferences are catered for.
The MarketPlace SuperHeroes training program is divided in to the following sections:
MPSH Core System v2 Phase 1: Mindset and Research – 6 modules made up of 45 videos in total;

MPSH Core System v2 Phase 2: Importing and Logistics – 6 modules made up of 51 videos in total;

Bonus Resources: 6 bonus training blocks of highly focused training.
MarketPlace SuperHeroes Core System Training:
The two phases of the MPSH Core System are the nuts and bolts of this Amazon seller training program. With 12 modules comprising over 90 tutorials between them, nail these and it will be harder to fail than succeed as an Amazon seller.
Here's a bit more detail on how the MPSH Core System training is put together…
MPSH Core System v2 Phase 1: (the focus here is on the types of products to go for and how to pick the best opportunities)
Module 1: Marketplace Mindset – 7 Videos on what to expect from the course and how to maximise what you get from it.

Module 2: Search Phase – 9 Videos on the product research strategy and how to use the MPSH product analysis tool.

Module 3: Shortlist Phase – 6 Videos on how to further filter your best product opportunities from the search phase.

Module 4: Select Phase I – 5 Videos on how to select your best product opportunities.

Module 5: Select Phase II – 7 Videos on choosing your best product opportunity and starting your supplier search.

Module 6: Source Phase – 11 Videos on finding suppliers, negotiating, placing sample orders, packaging and branding.
MPSH Core System v2 Phase 2:
Module 7: Business Structure & Seller Central – 8 Videos on structuring your business and setting up your seller account.

Module 8: Purchasing & Importing – 7 Videos on the full purchasing and importing process.

Module 9: FBA Road Map – 5 Videos on the FBA process, including Amazon Seller Central, labelling requirements etc.

Module 10: Listing Optimisation – 9 Videos on creating world-class product listings that convert.

Module 11: Account Management – 13 Videos on how to manage your new Amazon business on a day-to-day basis.

Module 12: International Expansion – 7 Videos on expanding your Amazon business internationally.
All of that is pretty comprehensive and if you go through it fully, you will have all the knowledge you need to set up and run a successful Amazon FBA business.
In addition to the course itself, you are also provided you with a software tool called the 4S Product Gauntlet.
This tidy bit of software assists you in filtering and shortlisting products so that you only progress the best opportunities. It also accurately costs products once you have all of the product details from your potential suppliers.
Visit MarketPlace SuperHeroes here: MarketPlace SuperHeroes
MPSH Bonus Resources:
The MPSH Core System really does provide all that you need to know to establish yourself as an Amazon seller.
The bonus training provided takes you deeper into some of the more complex aspects of running an Amazon FBA business.
Here's how the bonuses material is put together…
Fuel Your Empire: Follow Robert and Stephen over the shoulder, as they search for product opportunities on Amazon.

Superhero Journey: Follow the journey of successful students as they build a new Amazon business from scratch.

$1k Per Day Road Map: How to get your business to $1,000 per day in sales.

Invincible Importing: Discover exactly how to master the importing process and easily import your products.

SuperHero Sprint: Robert and Stephen work with you virtually to help you fuel your own Amazon empire.

30 Minute Legendary Listings: The MPSH exact process for creating auto-selling Amazon listings that convert.

Fuel Your Empire: 3 videos focused on how to speed up and streamline the product research process.

Map the Market: 3 videos focused on market analysis.
I've been a member for a while now and since joining there has been regular updates to older material and new bonus videos added.
You get the feeling that looking after the quality of this Amazon selling course is of the highest priority to the two Irish guys who developed it; Robert Rickey and Stephen Somers.
MPSH Community:
To be fair, it's not the biggest community, or the most active when compared to those of other Amazon courses.
So there's is a bit of downside here.
I definitely don't utilise this resource as much as I should do.
Whenever I do turn to the MPSH private Facebook community, I always end up kicking myself that I didn't do it earlier, as I could have had my question answered a lot sooner, rather than struggle along with it on my own for a week or so.
One big plus point that the community has going for it, is that it's is pretty common place for course co-founder Robert Rickey to jump on and answer questions himself. Another example of how seriously these guys take nurturing their course.
What About Up-Sells?
You certainly don't get bombarded with up-sell opportunities like is so often the case with online courses.
These are the two programs offered to those that have already joined the Core program:
Origin Program

Invasion Program
There is no hard-sell here however. Robert and Stephen promote these programs to their members, but they don't push it on them.
Marketplace Superheroes Origin Program
As the people at MPSH will tell you themselves, the Origin program is not the best fit for everyone.
This is a high-ticket program requiring a chunkier start-up budget.
If you are lucky enough to fall into that category there are some outstanding benefits to be had, such as:
One-to-One Mentoring Calls.

Access to group mastermind calls.

Access to Superheroes Freight as well as some pre-purchased freight.

Access MPSH's sourcing agent for an agreed number of products.

Done-for-You product photography + listings for agreed number of products.

The MPSH Origin Workbook.
Marketplace Superheroes Invasion Program
The other major program that MPSH offer is Invasion.
Basically, the Invasion program is about finding products that sell well on amazon.com and establishing whether or not there is potential for those same products acrossAmazon's European market place.
If the answer to that question is yes, you then try and negotiate becoming a reseller for those products on behalf of the U.S. sellers.
Here's what you get:
One-to-One Mentoring Calls

Access to group mastermind calls

Access to Superheroes Freight as well as some pre-purchased freight

Lifetime Access To The Invasion Program training
Additional Services Offered By MPSH:
Superheroes Freight
Superheroes Freight is massively popular amongst members.
They only open the doors to new joiners maybe twice a year and spaces sell out almost instantly.
Why is it so popular?
Because it will save you a ton of money and time.
This is full freight forwarding and warehousing service made available to save members a money on shipping fees and long-term storage.
They have a warehouse in the USA, the UK and Australia.
SuperHeroes Freight members can send products to these MPSH warehouses for long-term storage, instead of straight to the Amazon warehouses.
From their you only need to send your products to Amazon as and when your stock gets low. This is a big cost saving.
The other big benefit to you is that your products will be inspected for damage on arrival at the MPSH warehouse.
MarketPlace SuperHeroes Review – Conclusion
The MarketPlace SuperHeroes Amazon training is made up of high quality content that is bang up to date and constantly being updated so that it remains completely current.
It's user friendly, easy to navigate and super easy to follow your progression through the course material.
What makes this course such a big favourite of mine:
The focus on showing you the best types of products to sell on Amazon;

The time spent showing you exactly how to find suitable products time and again;

The MPSH product screening software that ensures you only progress the very best opportunities;

The International expansion strategy.
The training is delivered by the two founders who are genuine Amazon seller success stories with many years of experience on their side.
In addition to this, the MarketPlace SuperHeroes course is aimed at in international audience when most of their competitors are only focused on providing training that is tailored to United States residents.
Regardless of where in you live on the world, the MarketPlace SuperHeroes training is geared up for eventual international expansion.
MarketPlace SuperHeroes is the Amazon course that I'm using…
…there are Amazon FBA courses popping up left right and centre at the moment but I honestly believe that you will struggle to find many others where the founders are as hands-on involved on a daily basis as Robert and Stephen are.
My Experience: 9.5 / 10
Recommendation:
If you are serious about learning how to sell on Amazon, want to fast-track your success and avoid numerous expensive potential pitfalls along the way, then I believe this Amazon course is up there with the very best.
Apply yourself fully to this training, follow everything that founders Robert Rickey and Stephen Somers teach, and I have little doubt that you will soon be enjoying the rewards as a successful Amazon FBA business owner.
I hope you found my review helpful.
View Now: MarketPlace SuperHeroes Free Training Webinar
Good luck.
Have Any Questions About The MarketPlace SuperHeroes Training?
I'd love to hear from you.
Just sign-up to my thedoublethink email group in the box below.
Once you receive the welcome email from me, you'll have my contact details so you can email me your questions directly.
I usually try to reply within 24 hours.
Want More Stuff Like This?

Straight To Your Inbox
Then sign-up to thedoublethink free newsletter and get strategies I only share with subscribers...for free!
Thank you for subscribing.
Something went wrong.