Last Updated on September 29, 2023 by andrewtk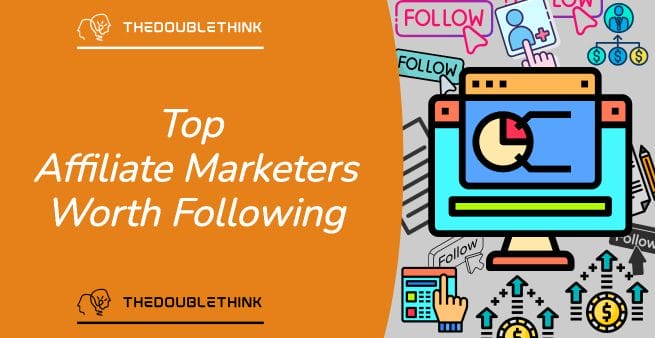 So many gurus, so little time!
The affiliate marketing world is awash with fake gurus and never-ending bullshit.
I know it. You know it!
So who can you trust?
Take a few minutes to come with me as we look at a few affiliate marketers who are definitely not peddling crap.
There are other top affiliate marketers of course, who are high-quality and genuine, but who are not on my list…
…this is simply a list of affiliate marketers that I know to be the real deal and who I personally follow.
What we're going to cover:
Top Affiliate Marketers Worth Following
#1. Gael Breton and Mark Webster
Gael Breton and Mark Webster are the nailed-on geniuses behind Authority Hacker.
Via their Authority Hacker website and YouTube channel, they share their tried, tested, and often unique views on affiliate marketing.
Authority Hacker has become one of the top go-to sites for those wanting to seriously up their affiliate marketing game.
I totally believe you can learn more from the free content these guys share than with most affiliate training courses.
As well as all the amazing free content, Authority Hacker also run one of the very best affiliate training programs money can buy.
Get their free stuff here:
#2. Matt Giovanisci
If you like your affiliate gurus sharp-witted and direct Matt Giovanisci might just hit the spot with you.
I love the guy. He makes me a better affiliate marketer, and he makes me laugh.
Matt started his first affiliate site, Swim University, back in 2006. And he started MoneyLab in 2016 as a way of sharing what he's learned.
He did a bunch of other authority site-building and digital marketing stuff in between, and if you start hitting the MonayLab site, you'll pretty much find out exactly what.
There is, of course, a MoneyLab YouTube channel which is also full of top affiliate content.
Find Matt here:
#3. Marcus Campbell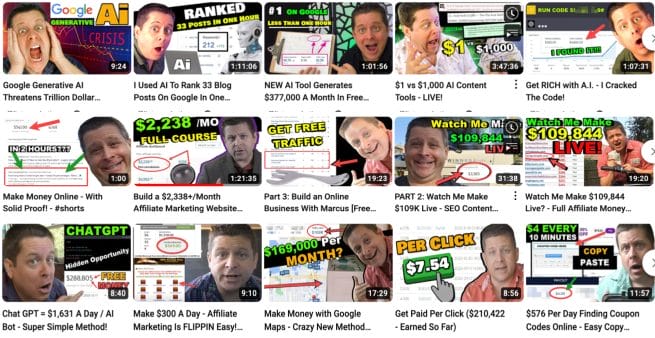 I'm going to ask you to put your affiliate marketing and website-building snobbery to one side for a few minutes.
A bit of an odd thing to ask?
Well yeah, a little….but it is for good reason
Because Marcus Campell does not build beautiful-looking Web 3.0 sites.
His sites are not a triumph in pushing the boundaries of modern-day graphic design!
But what he does do, and has been doing since the dawn of the internet, is make serious money online.
To say his strategies and tactics are battle-tested would be a massive understatement…
…this guy has survived every Google update since the beginning of time.
And he's not just merely survived them. We're talking massive traffic destruction one day…
…and bouncing back to a position where he's earning even more money from his sites a few weeks later.
And he has done it time and again.
Sometimes things just need to be simplified, and simplification is Marcus Campbell's USP.
Find his stuff here:
AffiliateMarketingDude on YouTube
#4. Matt Diggity
Matt Diggity is one seriously clever guy.
He's built a well-earned reputation as a relentless tester of new SEO and digital marketing ideas, all carried out with scientific attention to detail.
Thankfully, when he's got something new figured out, he can also explain it with perfect clarity to dumb-asses like me!
Matt is the man behind Diggity Marketing, Authority Builders, and the outstanding Affiliate Lab training program.
Here are the links:
#5. Miles Beckler
Miles Beckler used to bug the crap out of me.
But not anymore.
I don't know why that is. Maybe I've changed, maybe he's changed…maybe we've both changed.
Truth is, now I love his stuff.
On his website, Miles offers a free course called Million Dollar Business Blueprint.
This course teaches how to get more traffic, leads, and sales using free and paid methods.
He also offers up some great advice about paid ads on Facebook, sales funnels, low-ticket vs high-ticket offers, and a bunch of other stuff.
Find Miles here:
#6. Spencer Haws
Spencer Haws is the founder of Niche Pursuits and he has since created the SEO tools LongTailPro and Link Whisper.
He's experienced in affiliate marketing, and his site and YouTube channel offer top tips for people at all levels of affiliate marketing.
The site covers blogging, affiliate marketing, side-hustles etc.
Spencer also has a Facebook Group for Niche Pursuits where people can talk with coaches and students, get the latest news in digital marketing, and share their own strategies.
It's all great stuff and well worth following.
Find Spencer here:
#7. Jim Harmer and Ricky Kesler
Founders of Income School, Jim Harmer and Ricky Kesler have been building profitable niche sites since 2010.
They give an unconventional but effective approach to building niche sites, which seems to really bug a lot of people online…that's the internet for you!
The pair originally purchased Income School as a domain name in 2013.
The site is full of valuable affiliate content and their YouTube channel even more so.
Find them here:
Wrapping It Up!
Well that's it.
Only seven. Not the twenty or so that other articles on the subject reckon they're following.
Where do they find the time?
Want More Stuff Like This?

Straight To Your Inbox
Then sign-up to thedoublethink free newsletter and get strategies I only share with subscribers...for free!
Thank you for subscribing.
Something went wrong.