Last Updated on March 10, 2023 by andrewtk
Unbounce is one of the very best landing page builders on the market right now.
No doubt about that!
But for some people, it's just not the best fit.
Thankfully there's no shortage of some really great Unbounce alternatives on the market.
I've tried to make sure that the landing page builders on this list all offer something slightly different.
And so hopefully, each of these Unbounce alternatives will appeal to a slightly different type of user.
That's enough intro…let's get on with this round-up!..
Unbounce Alternatives
5 of The Best Unbounce Alternatives
If, for one reason or another, Unbounce simply isn't what you're after…
…here are a few top Unbounce competitors that it's probably worth your while taking a look at:
#1. Instapage
Instapage is Unbounce's biggest competitor.
It is an absolutely outstanding landing page builder.
It's only fair to say though, that if you are looking for an Unbounce alternative that is a little less expensive than Unbounce…
…Instapage is definitely not your answer!
But, if you are part of a professional marketing agency, or marketing team, Instapage is very probably your most suitable Unbounce alternative.
Instapage has a super-powerful suite of tools, all focused on getting more clicks and higher conversion rates.
It offers market-leading landing page personalisation, alongside ad-to-page message customisation.
Instapage has been built with maximising paid advertising Return on Investment (ROI) and lead generation in mind.
You also get to speed up your team's landing page review, approval, and launch process, with their real-time visual collaboration feature.
As you would expect, Instapage has a stack of conversion tested templates available to work from…
…as well as a smooth and precise page-builder, powerful A/B testing function, and Accelerated Mobile Pages.
Plans & Pricing
Building Plan: $199/mo if paid annually, $299/mo if paid monthly
Converting Plan: Based on your unique goals and business needs
Ignite Plan: Flexible option to align with your current and future business needs
Try before you buy: Instapage's 14-Day Free Trial
Find out more in my full Instapage Review
---
#2. Leadpages
Leadpages have come a long way in the last couple of years.
I used to hate their clunky, glitchy page builder.
But that's a thing of the past.
Now they offer a rock-solid page builder that is super-stable, as well as being extremely easy to learn how to use.
Also gone is their old, miserly approach to the limits within each of their respective plans.
Now it's all unlimited landing pages, unlimited pop-ups and alert bars, unlimited traffic etc, etc.
Leadpages is now a very serious player in the landing page market!
And it is now my top-pick Unbounce alternative for solopreneurs, or; start-ups who are keeping a close eye on the purse strings.
Leadpages comes in at a much more budget friendly price-point than Unbounce…
…but you still get more than enough powerful tools to create amazing landing pages, and to assist you in ramping up your lead collection.
Yes, you'll be giving up some of the cutting-edge technology that's on offer at Unbounce, but not too much.
What you will get is smart conversion guidance technology, that will analyse your pages and provide suggestions on what you might want to change…
…all based on Leadpages own landing page performance data.
You'll also get super-fast landing pages as Leadpages landing pages are some of the fastest loading in the industry.
Plans & Pricing
Leadpages plans start at a very budget friendly price of $37/month if you opt for annual billing, or $49/month if paid monthly.
Standard Plan: $37/mo if paid annually, $49/mo if paid monthly
Pro Plan: $74/mo if paid annually, $99/mo if paid monthly
There is an Advanced Plan available, but not widely advertised, which goes for something in the region of $199/month if paid annually, and $320/month if paid monthly.
Try before you buy: Leadpages' 14-Day Free Trial
Here's my full Leadpages Review
---
#3. Swipe Pages
Swipe Pages haven't been around all that long, but they're already getting pretty well known.
They've targeted a very definite segment of the market, as they've built their technology with a priority on delivering mobile-optimised landing pages.
That's not to say you can't use Swipe Pages if your audience is not a mobile-first audience…
…they've simply prioritised mobile over desktop, which is the other way around to most landing page builders.
Swipe Pages offer a wide selection of beautiful, conversion optimised landing page templates, as well as easily integrating with payment platforms such as PayPal and Stripe.
The Swipe Pages page builder is nice and stable, and reasonably intuitive to use.
No, you probably won't be creating landing pages to the same high-level of elegance and beauty as you might with Unbounce…
…but great-looking, super attractive landing pages are not necessarily the ones that convert the best!
Plans & Pricing
Three plans are currently available with Swipe Pages.
The generally accepted industry standard discount is offered should you opt to pay annually for your chosen plan.
Startup Plan: $29/mo if paid annually, $39/mo if paid monthly
Marketer Plan: $59/mo if paid annually, $89/mo if paid monthly
Agency Plan: $119/mo if paid annually, $199/mo if paid monthly
Try before you buy: Swipe Pages' 14-Day Free Trial
---
#4. Landingi
I hadn't even heard of Landingi before doing my research for a post all about the best affordable landing page builders.
Not only did that research lead me to first hearing about Landingi, it also lead me to giving it a try, and becoming seriously impressed by it's unexpected power and usability.
Landingi is super quick and easy to get up-and-running with.
The drag-&-drop visual editor is totally stable, as well as being both precise and easy to use.
Integrations are readily available for just about all of the major marketing tools that you would usually expect.
If you already have a few high-performing landing pages on the go, the Landingi team can import them from your existing page builder…with up to three being transferred over free of charge.
Plans & Pricing
Landingi used to offer a whole range of plans, but just recently they've trimmed it right down to just the three.
Opting to pay annually doesn't offer the same level of savings as most other page builders.
Free Plan: $0
Professional Plan: $45/mo
Agency Plan: $119/mo
Try before you buy: Landingi's 14-Day Free Trial
Read my full Landingi Review
---
#5. LanderApp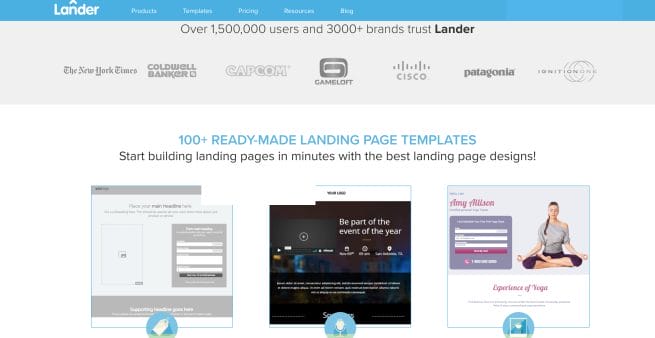 LanderApp have managed to land themselves more than 1.5 million paying customers.
Impressive stuff!
And apparently, they also have more than 3000 global brands using their landing page builder.
Double impressive!
Now, all those big numbers don't necessarily mean that it's going to be the right solution for you…
…but they definitely add a little gravitas to LanderApp's offering.
If you take a quick look at their pricing, you'll see that LanderApp is one of the most affordable landing page builders available.
LanderApp does seem to have pretty much all that you need to build great looking, high-converting landing pages.
This includes all the usual stuff like good looking templates, an intuitive, easy-to-use editor, A/B testing etc.
Plans & Pricing
The LanderApp plans let you select either annual or monthly billing.
Massive savings to be had by opting to go annual on the Basic Plan.
Basic Plan: $16/mo if paid annually, $49/mo if paid monthly
Professional Plan: $83/mo if paid annually, $99/mo if paid monthly
Try before you buy: Lander's 14-Day Free Trial
---
FAQ's
Is there a free alternative to Unbounce?

There are precious few totally free landing page builders available, but there are just a few very affordable landing page builders out there.
You will also no doubt have noticed from the info above, that Landingi currently offer a free plan, which if you're totally cash-strapped, has got to be worth a go.

Can I get a free landing page?

Probably not one that's actually going to get you any conversions. I guess if you're a persuasive person, you might be able to convince a totally new freelancer to build you a landing page in exchange for something or other…like maybe a testimonial.
Creating landing pages that convert is a lot more involved than simply building pages that look beautiful. Online marketing and conversion knowledge is needed.
When all is said and done, there is definite cost of creating landing pages that convert.

Why is Unbounce so expensive?

Unbounce have undoubtedly committed signifiant resources into creating their total offering. They've developed one of the industry leading landing page builders, with all of the state-of-the-art tech made available to their users. They've positioned themselves to offer the most value to professional marketing agencies, as well as the marketing teams of medium to large businesses.

Are landing pages really worth it?

Yes. Without a single shadow of a doubt, yes! There is a massive stack of industry evidence to show that landing pages convert at far higher rates than normal website pages.
Wrapping It Up!
Unbounce is a high-quality, great to use, landing page builder!
And if you're part of their target market, it offers pretty much everything you're going to need to create landing pages that deliver outstanding conversion rates.
Many solopreneurs, smaller agencies, start-up businesses, will unfortunately find that the cost of Unbounce is just too much to shell out.
If you're part of the large group of landing page creators that can't justify stumping up the big bucks for Unbounce…
…give a couple of the Unbounce competitors on this list a quick test-drive.
You could just save yourself a whole stack of money!
Want More Stuff Like This?

Straight To Your Inbox
Then sign-up to thedoublethink free newsletter and get strategies I only share with subscribers...for free!
Thank you for subscribing.
Something went wrong.