When you're about to shell out for a new online software tool, you do sometimes wonder whether you really know what you're getting for your money.
Have you definitely selected the best plan for you?
Are there any hidden costs further down the line?
Does the company have a habit of hiking their prices on the regular?
That kind of stuff!
And that's why I thought I'd put this Unbounce pricing article together…to try and add some clarity that you maybe aren't getting from the Unbounce site itself.
Let's dive right in!..
Is Unbounce Free?
Unbounce is not free!
Never has been, and I doubt it ever will be.
Unbounce are one of the landing page providers that are very firmly positioning themselves as a premium offering.
And the Unbounce pricing tends to reflect that.
You can't be all things to all people, and firms that try, generally fail.
Unbounce offer a 14-day free trial, so that you can test-drive before you buy.
But once that ends, anyone who hasn't cancelled pays according to the plan they originally selected.
What Plans Does Unbounce Currently Offer?
Unbounce currently has four different pricing plans on the go.
So there's a plan to fit almost every kind of landing page users budget, albeit I'd say that total newbies might not want to spend quite so much.
If you haven't already, give our Unbounce Review a read, and find out exactly why we rate it so highly.
These are the four plans that Unbounce currently have available:
Launch Plan
Optimize Plan
Accelerate Plan
Concierge Plan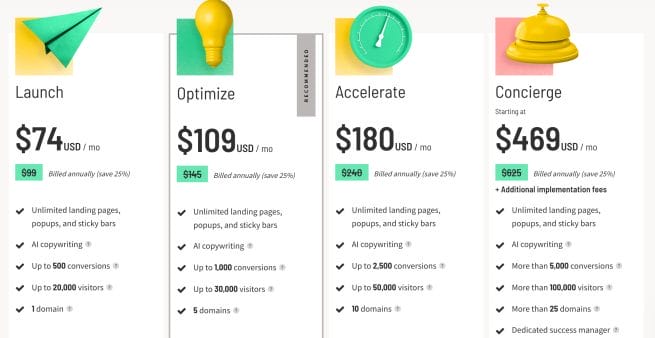 And here they are, one-by-one, with a bit more detail and their respective pricing:
#1. Unbounce 'Launch' Plan
Currently, if you click through to Unbounce from one of the affiliate links on this page…
…the pricing will be structured as follows:
Unbounce Launch Plan Pricing:
$74/mo if paid annually
$99/mo if paid monthly
And for that pretty significant sum of money…
…you'll be getting the following bag of cutting edge goodies:
500 Conversions per month
20,000 Unique Visitors per month
1 Domain
2 Users
Unlimited Client Sub-Accounts
Smart Builder
Unbounce Apps
Optimized Page Sections
Style Guide
Copy Assistant
Design Assistant
Copy Insights
Builder Grid
Mobile Breakpoints
Mobile-Responsive Design
Multi-Device Page Preview
Conversion Goals
Integrations & Webhooks
Classic Builder
Popups & Sticky Bars
Fully Customizable Templates
Real-Time Conversion Analytics
Speed Boost
Auto Image Optimizer
---
#2. Unbounce 'Optimize' Plan
The next rung up the ladder is the Optimize plan.
This is where you start to see quite a few more bells and whistles getting added in.
And if you decide to click through to Unbounce right now…
…the pricing will be structured as follows:
Unbounce Optimize Plan Pricing:
$109/mo if paid annually
$145/mo if paid monthly
Certainly a much more significant amount of money.
Here's what you get on top of everything in the Launch Plan:
1,000 Conversions per month in total
30,000 Unique Visitors per month in total
5 Domains
Unlimited Users
A/B Testing
Dynamic Text Replacement (DTR)
Smart Traffic
Visitor Attributes
Time-To-Learn
Conversion Mapping
Smart Traffic Reports
---
#3. Unbounce 'Accelerate' Plan
Now we're talking about a pretty significant spend on your landing page builder.
But with this plan you're really starting to get some real advanced features that represent the very latest in landing page builder advancements.
This is how the pricing looks right now:
Unbounce Accelerate Plan Pricing:
$180/mo if paid annually
$240/mo if paid monthly
If you're looking at this kind of budget for your landing page builder…
…you're probably already spending a reasonable amount of both time and money on your online marketing campaigns.
Here's what you get that's different to the Optimize Plan:
2,500 Conversions per month in total
50,000 Unique Visitors per month in total
10 Domains
Advanced Targeting & Scheduling
---
#4. Unbounce 'Concierge' Plan
This is a big expensive plan with just about everything on offer that you could hope to get with a top quality landing page builder.
Businesses with dedicated marketing people, and marketing agencies, are probably the main buyers of this particular plan.
If you don't have a big fat monthly marketing budget to spend, look away now:
Unbounce Concierge Plan Pricing:
Starting at $469/mo if paid annually
Starting at $625/mo if paid monthly
In all seriousness, if this is within your budget, you are no doubt already allocating a fair old monthly sum towards PPC campaigns.
And that's exactly the type of market that this plan is aimed at.
Experienced, sophisticated users will get a lot out of this plan.
Here's what you get that's different to the Accelerate Plan:
5,000+ Conversions per month
100,000+ Unique Visitors per month
25+ Domains
Dedicates Success Team
Okay, if you think the same way I do, you're now wondering why on earth you would pay more than twice the amount of the Accelerate plan for just a few more limits.
This is looking like an expensive plan put together to squeeze more money out of their most successful users!
And whilst I totally disagree with a landing page builder placing limits on conversions…
…the Concierge plan does come with quite a few 'softer' benefits, such as:
Personalised Onboarding
Full Team Training,
Ongoing Campaign Support
Migration and Set-Up of existing landing pages
Without doubt these are powerful benefits for the right users.
Keep in mind that the pricing of this plan is variable (in an upward direction) depending on specific needs.
If you think this could be the plan for you, you'll need to book a demo with the Unbounce team.
---
Who Is The Unbounce Launch Plan Best For?
Given the price-point and the type of features available, as well as the limits on domains, unique visitors and conversions…
…this plan is probably best suited to users that need high-quality landing pages for a single domain.
Users who are maybe something like these examples:
Solo online marketers and site owners
Affiliate marketers and authority site owners
Small…ish ecommerce site owners
Small businesses
Given that the price the next plan up is not too much of a price jump form here, this is a solid option for any serious online marketer to get going with Unbounce.
Who Is The Unbounce Optimize Plan Best For?
This one probably has a similar potential user as the Launch plan, albeit they're likely a bit further along the road with their online business.
With more domains, higher monthly unique visitors and conversions, plus unlimited users…
…this plan is an option for online business owners with a few sites on the go, and who maybe have a couple of employees or outsource tasks to VA's.
Even given the array of flashy new features that are pulled in to this plan…
…personally I still would not make it a serious option for marketing teams or agencies, mainly because of the monthly visitor and conversion limits.
Who Is The Unbounce Accelerate Plan Best For?
I think the increase in monthly visitor numbers, and the increase in monthly conversions, opens this plan up to professional users.
This plan is a viable option for all of the following types of potential user:
Experienced online marketers and multiple site owners
Experienced affiliate marketers and authority site owners
Established ecommerce site owners
Small businesses with a dedicated marketing team
Small to medium size marketing agencies
Any other online marketer running extensive PPC campaigns
If you've got a fairly significant monthly PPC spend, this plan should help you maximise your ROI.
Who Is The Unbounce Concierge Plan Best For?
Okay this is serious stuff now.
No need to waffle on.
This plan has the same features as the previous plan, but comes with higher starting limits…
…and has a personalised user experience, looking to utilise the experienced Unbounce team in helping you get everything possible out of Unbounce.
Best suited to the following types of users:
Established ecommerce site owners with strong growth
Medium to larger businesses with a dedicated marketing team
Medium to large size marketing agencies
Any other online marketer running extensive PPC campaigns
Without doubt this plan is built to assist experienced landing page users with a fairly significant monthly PPC spend.
If this is you, this plan is well worth your consideration.
Unbounce Monthly Plans vs Annual Plans
The Unbounce annual plans offer the same features as the monthly plans, and are usually priced at a pretty generous 25% discount.
That's a reasonable saving to go annual, but it's not exactly got me turning somersaults!
I invest in software with this kind of payment option pretty much the same way every time.
I take up the maximum free trail period, and if I like it, I opt for the plan I want on a monthly payment basis…
…if I still like it after say one of two months, I convert to the annual option.
Why Does Unbounce Cost So Much?
It is fair to say that once you move up from the Launch Plan, Unbounce is up there as one of the more pricey landing page builders.
And I tend to think that with Unbounce, you are paying the premium for a handful of key features and benefits that the higher-tier plans offer.
You're going to get the Unbounce Smart Builder to help you create high-performing landing pages in a few simple steps.
With Smart Builder, you provide information about your campaign and it suggests layout designed to resonate with your audience.
You can then complete a few prompts and let Smart Builder generate on-brand copy for your new landing page.
You're then free to make whatever changes you might want and then go live with a landing page that's optimized to convert.
The Unbounce Classic Builder for experienced marketers, designers, and agencies.
Classic Builder offers a super-smooth building experience in creating, testing, and optimizing your campaign.
It offers market leading drag-and-drop control, custom code, and absolute precision in how you build your pages.
Smart Traffic is a hugely powerful feature.
Within the same campaign, you create a few variants of a specific landing page.
You then turn on Unbounce's Smart Traffic, and in as few as 50 visits, it'll start sending your visitors to whichever landing page variant is most likely to convert them…
…depending on where they've come from and which ad they clicked on.
On top of these specific features, if you're paying for the top-tier plan, you're also getting a lot of experienced professional assistance as part of the deal.
Unbounce Free Trial
Unbounce offers a 14-day free trial to all new sign-ups.
The trial period gives you access to a good range of features, but not all.
It should be enough for you to get a decent feel as to whether Unbounce is going to be a solid fit for you.
If you don't like it…
…make sure to cancel your account before the 14-day free trial period ends, or you'll get charged for whichever plan you selected at account set-up.
Have You Enjoyed This Article?
Does Unbounce Offer A Lifetime Deal?
At the current time, Unbounce does not offer a lifetime deal.
I don't think they ever have done.
And I doubt they ever will!
Does Unbounce Offer Coupon Codes?
At the current time Unbounce has not made any coupon codes available.
And once again, I can't find anything to suggest that they ever have issued coupon codes.
So don't hold your breath!
Wrapping It Up!..Is Unbounce Worth It?
Yes, overall I think Unbounce have a great product at a competitive price.
Sure, the limits on unique traffic numbers, and of course conversion figures, really bug me.
I just do not get why a landing page builder that is so focused on conversion optimization, then wants to limit users in this exact area.
Anyway, other than that ongoing gripe, this is till a fine landing page builder that I believe is worth the price.
Want More Stuff Like This?

Straight To Your Inbox
Then sign-up to thedoublethink free newsletter and get strategies I only share with subscribers...for free!
Thank you for subscribing.
Something went wrong.