Hey there! Welcome to my 2023 round-up of the best Unbounce alternatives.
I spent over 40 hours researching and testing 10 of Unbounce's most highly-rated competitors.
Without doubt, these are the best of them.
You don't have to wipe out your marketing budget to get a great landing page builder.
Choose one of these options and you'll get a super-powerful page builder, that will see you creating top-notch landing pages in less time than you thought possible.
Ready to start building beautiful, high-converting landing pages without burning through your budget?
Okay then, let's get going!..
Unbounce – Key Info
| | |
| --- | --- |
| 📣 About | Market leading solution led by innovation & cutting edge tech. |
| 💲 Price | Starts at $74 per month if paid annually. |
| ✅ Pros | Outstanding builder lets you create perfect pages that convert. |
| ❌ Cons | Monthly conversion limits. |
| 🏁 Conclusion | Beautiful pages, totally conversion focused, no coding. |
My Unbounce Review – What I Focused On
There's a lot going on inside this landing page builder software.
And unless I'm going to write a 20,000 word Unbounce review, let's be honest, it's unlikely that I can answer every single question that you might have about this particular landing page builder.
So before I waste your time reading any more of my review…
These are the questions I've really set out to answer:
How easy is Unbounce to learn to use, from scratch?
Are the Unbounce pre-built templates good quality and usable?
How conversion focused is Unbounce?
How workable/flexible is Unbounce for agencies and teams?
How easy to set-up is the A/B testing function?
Does Unbounce integrate well with third-party software?
How stable/robust is the Unbounce software?
Given price and functionality, is Unbounce really worth it?
What is the Unbounce customer service like?
Unbounce Alternatives
So that's 10 points that I really want to add clarity to, for anyone seriously considering Unbounce as an option.
If you're real short on time, I've super-briefly summarized my thoughts on Unbounce directly below.
But to get the deeper info, and find out all the juicy detail, you'll need to read the full Unbounce review.
Do I Recommend Unbounce?
Yes, I do recommend Unbounce.
But, like almost everything else in life, it's probably not for everyone.
I'm a website owner/builder, solopreneur, internet/affiliate marketer…or whatever else you want to call it!
I do outsource a few bits and pieces, but landing page creation is not one of them, because I enjoy that part of the business.
If you really hate building landing pages, maybe it's a task you should consider outsourcing entirely?
I've always tended to think that Unbounce is best suited to people in a similar business/work situation to me.
But, over the last couple of years, Unbounce has added a ton of high-level functionality that could also make it a very attractive option for agencies, marketing teams and businesses.
Anyway, this is the super-brief summary for people with no time, so I won't go into the detail right here.
If you want the detail, keep reading!
Unbounce Pros and Cons
Here's a snapshot of the main stuff I like, and don't like, about Unbounce:
Unbounce Pros:
Easy-to-use, drag-and-drop landing page builder.
Quick and easy to build and publish landing pages.
A/B testing function is quick, easy and accurate.
High-quality, genuinely useable templates.
Smart Builder uses shows you what works.
Smart Traffic increases your conversion chances.
Unbounce Cons:
Monthly limits on conversions.
Launch plan could be more generous.
Cost possibly too high for those just starting out.
Use-ability – How Easy Is Unbounce To Use?
I think you'll agree, that there's little point in buying a piece of software with all the bells and whistles if it takes 10,000 hours to learn how to use it?
We all except that any new bit of kit like a this is going to require some dedicated time and practice to get the best out of it.
But if the learning curve is just too steep and too long, well, most of us will start looking elsewhere.
So let's take a look at how easy it is for new users to get to grips with Unbounce.
How Many Hours Will You Need to Spend Learning to Use Unbounce?
I had to pull someone in to help me out with this.
Purely because I already know how to use Unbounce, and I can't un-learn what I already know.
So I got someone with zero landing page building experience to sign-up to the free 14-Day trial and take Unbounce for a spin.
The feedback was pretty damn good…but not 100% perfect!
This came as a relief, I was a little worried that a total landing page newbie might find Unbounce overwhelming, but that was far from the case.
Let's break this down into a couple of key areas:
a) Dashboard and General Navigation
The dashboard interface is uncluttered and easy-on-the-eye. You won't find yourself getting frustrated simply finding your way around.
On sign-in, you get a basic overview of your account, like the one below:
Nothing too surprising about that. Pretty standard stuff.
To get straight down to it and start building your first landing page, just click on 'Create New' in the top right-hand corner.
So let's do exactly that…one-click 'Create new'.
b) Creating Your First Landing Page
Once you've clicked through, you are given a couple of different options to choose from.
You can choose to go with either 'Classic Builder' or 'Smart Builder'.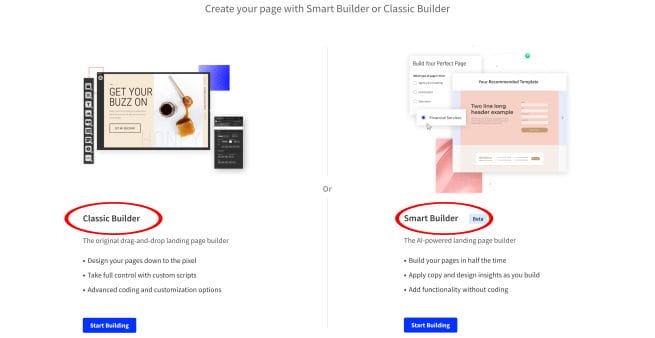 For our very first page, we decided to give the new fangled 'Smart Builder' a go.
And, as any AI software would do, it wanted to know stuff about what we were planning on doing.
This didn't seem to bother my able assistant at all, but I'm the sort of person who gets a little bugged by stuff like this…
…I just want to to get on with things myself.
But hey, we live in a world of increasing AI assistance and this is part of the deal.
Here's the couple of stages you get taken through when you run with the Smart Builder:
As you can see, the Unbounce AI bot first wants to know what industry you are creating a page for, so that it can spew out helpful stuff.
Once you've chosen the most appropriate, this is the next one:
No big deal, just asking what the purpose of your page is.
There's a couple of other snippets of info it wants to know but that's about it. From here you're allowed to get on with things yourself.
So now we're all signed-in, the Unbounce AI bot has shaken us down for info…
…let's get on with building our landing page.
If you simply continue on from the couple of questions you just answered…
…you will be presented with something like this:
What your page looks like and the headings and text will be dependent on what you answered previously.
You can choose to what extent you want to go with the page you're presented with by selecting either 'Suggested' or 'Custom' from the menu on the left, as shown below: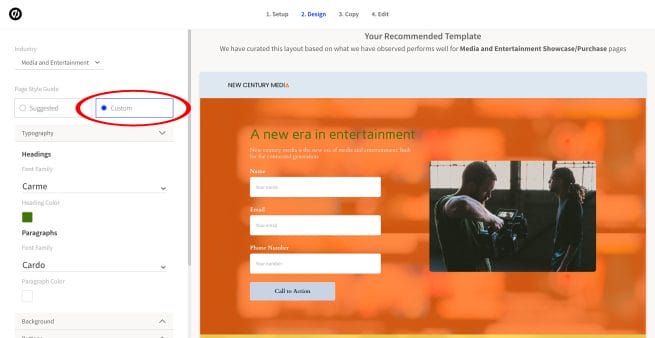 We went for 'Suggested' because we really wanted to see what the output was like.
But the bot wanted a company description, to enable it to write the copy better.
Fair enough I suppose, we had just asked it to basically produce our first draft landing page for us.
Once this was done, the copy got updated and the page was ready to edit as we wanted.
You can see that there is now menu options allowing you to select to work on either paragraphs, styling, settings, conversions and apps:
Once you have clicked on one of these, you get the corresponding drop-down to choose from:
So far so good. All very intuitive and useable.
Something that we found to be really helpful was the ease of adding apps into the page.
All you do is click the app icon that is part of the menu, and you get a ton of options to choose from:
This all seemed to be coming together pretty nicely.
At this stage we decided to that my helpful…err…helper, would spend another 45 minutes (15 minutes had already been spent by this point)…
…to see how far a total landing page newbie could get in just a single hour with Unbounce.
Would our landing page be utter garbage?
Or would it be half-decent?
Let's take a look at the whole page as it stood, one hour after very first sign-in: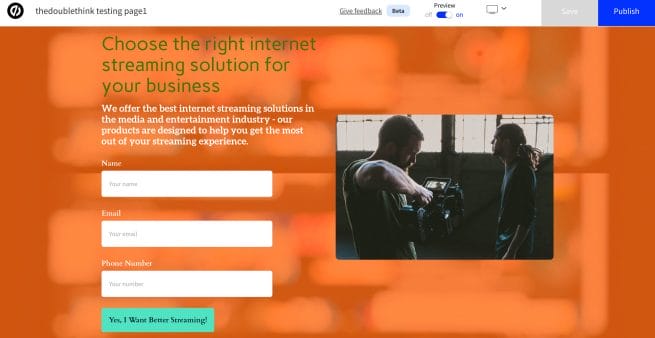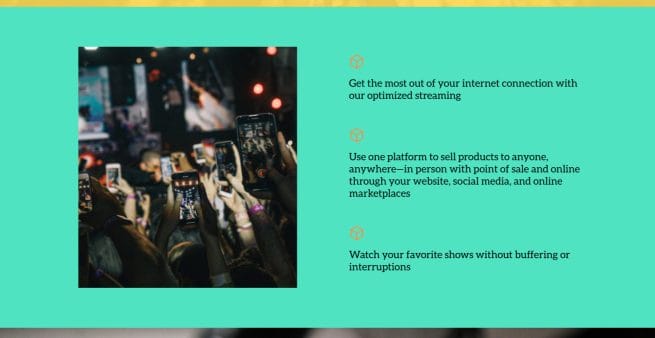 Well, it's probably not going to win any design awards…
…and I don't think it will be a conversion monster, but, for a total landing page newbie, in one hour flat, from first ever sign-in with Unbounce…
…I think this is a pretty decent effort.
I've seen worse landing pages actually being used by big businesses.
But what about if we ditch the AI Smart Builder and run with creating a new page with the Classic Builder?
Let's give it a go!
Once 'Classic Builder' has been selected, you'll be taken to this page:
Here you can choose to select to use a template as your foundation, or to start with a totally blank canvas.
Or, you can go with a kind of hybrid of the two, by choosing the 'Builder Basics Template'.
We decided to give the Builder Basics Template a go.
A simple case of selecting 'Builder Basics Template', naming the new page, clicking, sends you to this:
All ready to start building your new landing page, from almost scratch.
Here's how the whole template looks as you scroll all the way down to the bottom: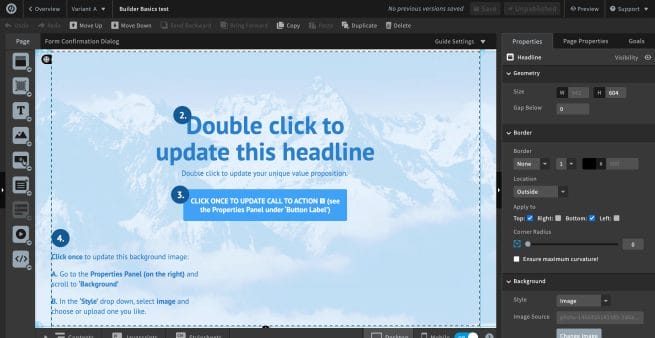 So was this any better than selecting one of the standard pre-built templates to build from?
Well, my landing page building assistant said yes, most definitely.
As someone new to creating landing pages, and new to Unbounce, the Builder Basics Template made life easier than when selecting a standard template.
Why?
Because the Builder Basics Template is put together as a series of steps to follow, and each step includes instructions and guidance as to how to deal with that element.
For anyone new to Unbounce, this is pretty neat because it speeds up the learning process a lot.
Me personally?..
…I tend to start with a pre-built template when I want to create a totally new page.
I find it quicker than starting from a blank page, and I don't need the instructions that come with the Basics Builder.
Anyway, finally, back to our original question, which was:
How easy is Unbounce to learn to use, from scratch?
Easy…ish.
There's a lot going on inside Unbounce and it is a little easy to get distracted and start mucking about with stuff you don't actually need at that particular time.
But, the general feedback from my page creating newbie assistant…
…was that Unbounce does not take too much time to get up to basic/competent user standard.
A massive boost to the ease of use of Unbounce, is down to its outstanding drag-and-drop editor.
The Unbounce drag-and-drop builder works like a dream, it allows you to work totally without boundaries…
…as you can see from the example below, where I have randomly dumped different elements all over the page.
If you're not too familiar with landing page builders, this freedom may not mean that much to you just yet.
But, if you are an experienced landing page creator, the beauty of this will not be lost on you I'm sure.
Even for someone new to building landing pages…
…a single day totally dedicated to learning Unbounce should probably get you to a decent level of competence.
Are the Unbounce Pre-Built Templates High Quality and Usable?
There are just over 100 templates available to select from inside Unbounce.
Personally, I pretty much always use one as my starting base.
I always do a fair bit of tinkering around with them to get them exactly how I like them, but…
…what works particularly well for me, is that the templates are already formatted nicely, with all the main landing page elements where they should be.
I'm then left with the simple job of swapping elements to get the exact copy, look and feel that I want.
You can see from the image below that the templates can be selected by either of 'tool', 'campaign', 'type', or 'special features'.
If you're building landing pages on the regular, over time you will have the added advantage of building up your very own library of templates.
How Stable/Robust is the Software?
If you're just starting out down the road of using page builders you are unlikely to be aware of just how clunky, unstable and glitchy some of them can be.
I think it's fair to say that both Unbounce and Instapage have left those days well and truly behind.
Which is impressive seeing as both are also using market leading page builder technology.
Unbounce is super stable and robust.
Day-to-day, I find it a real pleasure to use, and so did my helper in carrying out the bulk of the page building we did for this Unbounce review.
A/B Testing – Set-Up And Accuracy
If you're serious about conversions, you should be totally committed to A/B testing all of your landing pages.
It is staggering how much difference changing just a single element can make!
It's easy to set-up A/B testing with Unbounce.
You can duplicate a page to create a variant with a single click.
All you need to do then, is you make the change you want to test for…
…and then one click to select the percentage of times each should be be presented to visitors (I always choose 50:50)…
…and one further click to run the A/B test.
Unbounce will then present you with conversion effectiveness of each within the 'Confidence' column.
Conversions – Is Unbounce Conversion Focused?
We all love to knock-out beautiful looking landing pages…
…but beautiful design doesn't always mean that visitors will be falling over themselves to hit your CTA's.
How Conversion Focused is Unbounce?
Unbounce regularly go to a lot of work to pull together material like their 'Conversion Benchmark Report'.
This is made available to try and give real insight per industry sector as to conversion rates and trends.
It's useful stuff.
As well as this, Unbounce have a lot of information and training on their site to help users boost their conversion rates.
In fact, all of the AI that Unbounce is deploying is aimed entirely at improving conversion rates for its users.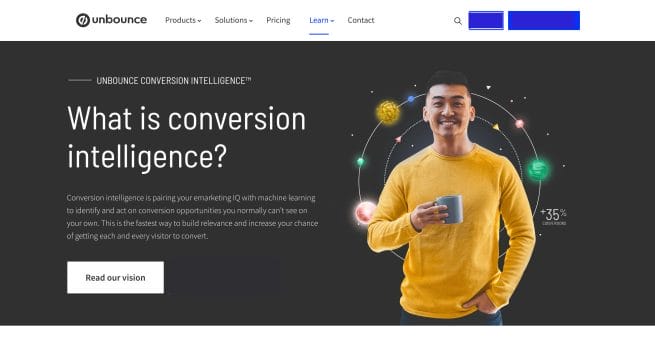 'Unbounce Conversion Intelligence'™ is its focused platform that includes 'Smart Builder', 'Smart Traffic', 'Smart Copy', all of them AI driven and aimed at conversion optimisation.
Agencies & Teams – A Workable Solution?
A couple of years ago, I would have said that Unbounce's end-product did not deliver enough high-end quality be be seriously considered by professional marketing agencies.
But nowadays, I think it is a serious contender.
In my personal opinion, if you're looking at committing to a new landing page builder for a professional marketing agency, or the dedicated marketing team of a business…
…you have two top-level options to consider:
Instapage and Unbounce.
There are a small handful of other providers that are real close, but I still think that these are the two that currently deliver what a pro agency, or marketing team will want.
Easy for me to say of course, so only fair that I give a few of my main reasons
How Workable/Flexible is Unbounce for Agencies and Businesses?
Let's take a look at a few features of Unbounce that are particularly useful for teams and agencies.
1. Sub-Accounts and Flexible Permissions
For anyone that needs to collaborate, or simply share at some level, with either team members, and/or clients, Unbounce offers a really clean and workable solution.
Inside your single Unbounce account, you can manage multiple clients, users, campaigns.
It also gives the flexibility of setting different permissions for each user, plus the option to easily duplicate work between accounts and sub-accounts.
2. Send Client Leads in Real Time
Super-confident that you're doing a great job?
Well then, simply set-up to send your clients, or boss, an email notification, with your agency logo attached, every time a new lead comes in.
Keep them focused on that ROI you're relentlessly delivering!
3. Smart Traffic to Maximise PPC Campaigns
Unbounce's 'Smart Traffic' is focused on agencies and businesses who deploy PPC campaigns.
By using Smart Traffic, your landing page content will match the tone and context of the very ad that got your page visitor to click.
This alone has a significant impact on reducing bounce rate.
Building your pages with Smart Traffic will ensure that your pages have few distractions, and that it is structured to drive visitors to your CTA's.
All of this will mean higher Quality Scores from Google and reduced cost-per-click for you or your clients.
4. Easily Scale Publishing Across Accounts
Quick and easy one-click page cloning across accounts and sub-accounts, as well as the ability to group, publish, un-publish, and copy client pages in bulk.
Integrations – Enough And Simple To Set-Up?
I think we're at the point now with quality landing page builders, that an extensive range of integrations is taken as a given.
So we're kind of covering this off as a bit of a formality…but one that is still worth looking into.
So, yes, there is a ton of all the usual integration partners that you would expect to find?
But does it all set-up and work nicely?
Does Unbounce Integrate Easily with 3rd-Party Software?
I use integrations quite a bit when building landing pages, and I've always found Unbounce to be real easy on this front.
My assistant in carrying out this Unbounce review also found that bringing integrations into landing pages was pretty straightforward.
With 100+ tools available to integrate with, I'm not going to list them all…
…but here's the headline categories they fit into:
Marketing Automation
Email Marketing
CRM
E-Commerce
Analytics
Advertising
Call Tracking
Exit Intent & Pop-Ups
Live Chat
Webinar
Other
On top of all the integrations available to install by just pointing and clicking, there is also the ability to use:
Zapier Integrations, Webhook Integrations, and custom code via Third-Party Embedding.
Pricing – Is Unbounce Good Value?
Without doubt, Unbounce is one of the more expensive landing page builders available.
And like many of their closest competitors, they did seem to take a while to settle on the exact plans and pricing available.
But that said, I now can't remember the last time Unbounce altered their plans and pricing structure.
Given Price and Functionality, is Unbounce Good Value?
Personally, I find that the extra cost does deliver a better user experience and extra quality to the end product.
You also pick up time savings with Unbounce because the page builder is so stable and easy to use.
Add to this the boost to visitor conversions that 'Smart Traffic' can deliver…
…and all-in-all, I would have to say that Unbounce does deliver strongly on value for money.
Unbounce Pricing
Subject to change of course…
…Unbounce currently offers the following plans and pricing:
Launch: Starting at $74/mo if paid annually, $99/mo if paid monthly
Optimize: $109/mo if paid annually, $145/mo if paid monthly
Accelerate: $180/mo if paid annually, $240/mo if paid monthly
Concierge: $469/mo if paid annually, $625/mo if paid monthly
As you can see, this clearly isn't a budget offering.
But, for the quality on offer, I think this pricing is just fine.
My only real problem with their plans and pricing…
…is that they place limits on the number of monthly conversions available in each plan.
I just think this is totally tight.
Obviously this works well for them, because they're pushing users that are getting quite a bit of success to upgrade, so it's kind of an easy win…
…but is it fair?
Customer Service – How Much Do They Care?
Although I've used Unbounce extensively, I don't recall ever having to get in touch with their customer support.
So, for the purposes of this part of the review, I just went right ahead and made up a problem to test them out with.
Is the Unbounce Customer Service Good?
Unbounce has a lot of DIY resources available via its Help Center.
It's divided up by topic such as: Getting Started, A/B Testing, Integrations, Community etc.
I do feel that they could organise this resource a little better, some fairly common issue types for a landing page builder were quite difficult to find.
In addition to this, if you can't find the answer you're looking for in the Help Center…
…Unbounce also has other options:
I tried out both while trying to resolve my made-up issue, and I found both to provide helpful, knowledgable and courteous support.
But there certainly used to be a big problem…
…it won't take you too much digging around online to see that a recurring gripe about Unbounce was their 'live' customer support only being offered Monday to Friday during business hours.
But, it looks like they've taken this seriously, because they now run the following hours:
Weekdays from 1am-8 pm Pacific Standard Time.
On weekends, email support from 9am-9 pm PST.
That already looks quite a lot better!
Unbounce Alternatives
There is an ever increasing number of landing page builders available to choose from.
But, quite a few of them are clunky and buggy.
But of course, not all of them.
There are definitely some great alternatives to Unbounce out there.
Here are my personal favourites right now:
Instapage – Pricey? Yes. But worth the money if you run PPC ads
GetResponse – A slick and powerful page builder
Thrive Architect – A WordPress plugin solution
Wishpond – Very good pricing and easy to use
LeadPages – The budget option, a little glitchy at times, but still good
You can read a little more about these Unbounce competitors in my 'Best Landing Page Builders' roundup post.
Unbounce FAQ's
Is Unbounce easy to use?

Yes, Unbounce is pretty intuitive so it's quite easy to get up and running. Also the page builder is a dream, so once you are actually creating pages, it is real easy to work with.

Are pages built with Unbounce mobile responsive?

All of the pages you build with Unbounce will be mobile responsive, and you can easily keep an eye on how your page looks on mobile as you build.

Can I sell products on Unbounce?

Yes! Unbounce connects and/or integrates with all the most popular ecommerce tools, enabling you to sell products and accept payments right from your landing page…without even a single snippet of code.

How do I publish my Unbounce landing page?

Whether you are publishing to WordPress, Drupal, Facebook, a custom domain you already own, or an Unbounce domain, it's a pretty simple process of just a short-round of pointing-and-clicking.

Can I use Unbounce for free?

No, there is not a free version of Unbounce available.
Unbounce Review – Wrapping It Up!
Unbounce is both great to use and it's stacked to the rafters with powerful features…a rare combination in my experience! 
I definitely recommend Unbounce for anyone in a similar business situation to me; website owner/builder, solopreneur, internet/affiliate marketer…type thing!
And if you run or work at an agency, or are part of a full marketing team utilising PPC advertising as a key online strategy, nowadays it's really fronting up to Instapage as a genuine option.
I hope this review has gone some way to adding a little clarity to your decision making.
Got something to add? Go ahead and put it in the comments below.
Want More Stuff Like This?

Straight To Your Inbox
Then sign-up to thedoublethink free newsletter and get strategies I only share with subscribers...for free!
Thank you for subscribing.
Something went wrong.